by
Mark A. Keefe, IV, Editorial Director
posted on September 29, 2014
Support NRA American Rifleman
DONATE
Laserlyte, at one time, was best known for its universal laser bore sighters. And they still make those, but then the Arizona company expanded into lasers for aiming, often picking guns that had no other option for mounting a laser sight. More recently, Laserlyte has spent a lot of time, money and R&D developing laser trainers.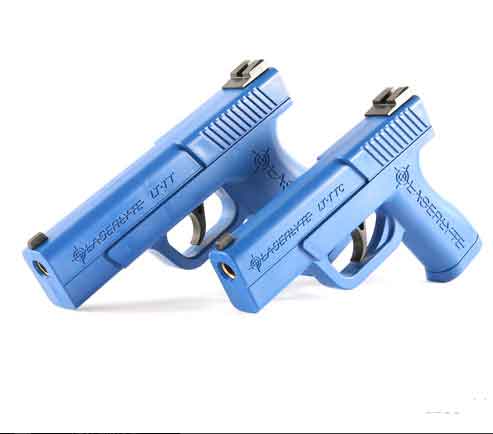 Initial efforts went into putting a laser into your firearm for training, either with bore-mounted lasers or the really handy laser training cartridges that are inserted into a gun's chamber. From there, the company developed a Trigger Tyme laser training "blue" gun that replicates the handling of popular personal protection handguns with a separate laser inserted into what would be the bore. New for this year is a Trigger Tyme blue gun that has an integrally mounted laser. Offered in large or small sizes, pulling the trigger fires a momentary laser beam at a target. And Laserlyte has developed a series of laser training targets that make training fun, including the Golden Bullseye Award-winning Training Target, and the Reaction Tyme targets that have timers and react when hit by a laser. Then came the Plinking Cans that knock themselves over when hit.
Laserlyte has really upped its game with the new Score Tyme target. It has 164 sensors that register when hit, and it not only reacts, but keeps score. You can set the time limit by "shooting" the sensor on the lower right, then it starts after hitting the sensor on the lower left. We recently had Laserlyte's Vice President Aaron Moore here at NRA HQ and, as you can see from the video below, the Score Tyme really ups the fun factor. You can shoot from the comfort of your Barcolounger or from your desk, or even put together a friendly practical match in the hallway. While my staff editors seem to be mastering trigger control, I am going to have to take the batteries out of these things so we can get some work done around here.