by
Mark A. Keefe, IV, Editorial Director
posted on October 1, 2015
Support NRA American Rifleman
DONATE
Here are directions to the tank farm," said American Rifleman's Design Chief Steve McKelvain as he handed me a still warm, already curling fax with a crudely drawn map. It was late fall 1993, and I was this magazine's assistant technical editor, as low on the totem pole as it got at that time. Rifleman's veteran Managing Editor, Ron Keysor, assigned me to work up an article from a new contributor, author and collector Bruce N. Canfield. The author of A Collector's Guide to the M1 Garand and M1 Carbine, Canfield had just written his first article for this magazine, "The Unknown M1 Garand," and we needed to illustrate the story—a challenge we still face month in and month out.

The "unknown" M1 was, of course, the "gas trap" Garand, the very earliest production version of the M1. But where to get one? The National Firearms Museum had a T3E2 in .276 Pedersen, but not an actual production gas trap M1 as made from 1936 to 1940 before Springfield went with the much-improved "gas port" design. Most were converted to the later configuration or lost during World War II, and the gas trap M1 is among the rarest and most valuable U.S. military rifles. After weeks of trying to find one, I contacted Allan Cors, a well-known collector and NRA Director, who had not only one, but two gas traps. It was like finding a guy with a breeding pair of unicorns.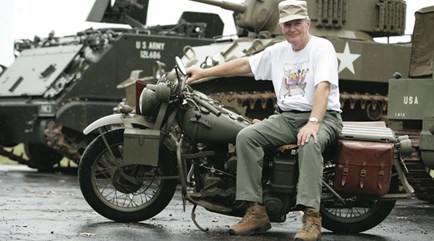 We met Cors at the "tank farm" (you can read more about Cors' passion for firearms, marksmanship, freedom and preserving the stories of our nation's veterans and their families in Jim Norell's story) and set to work. McKelvain placed the two gas trap M1s on a 1942 vintage Harley Davidson motorcycle—the very same one you see Cors sitting on here—and staff photographer Brian Payne took the photos using natural light. The article appeared in the January 1994 issue, and you can read it at americanrifleman.org/gastrap.

McKelvain went on to a career as a marketing executive with Interarms and Benelli, and is currently in charge of worldwide branding of Beretta Optics, including Burris and Steiner. Having written more than a dozen books and hundreds of magazine articles, Canfield is looking forward to retiring from banking and writing about Garands and other U.S. military arms even more regularly. He's also carving out time for "American Rifleman Television" starting with the spring 2016 season.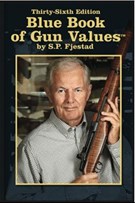 Perhaps the busiest of the three today is Allan Cors. He was elected NRA's 63rd president at the NRA Annual Meetings in Nashville, Tenn., and he is also featured on this year's Blue Book of Gun Values with, what else, an M1 Garand. But that is not just any M1, it is serial number 1,000,000. The very rifle presented to John C. Garand upon his retirement as a
 government employee at Springfield Armory. You can read about it in the interview with Cors in the "Thirty-Sixth Edition," which is six pages out of the 2,512 in this year's impressive reference tome, by Stephen P. Fjestad.