Support NRA American Rifleman
DONATE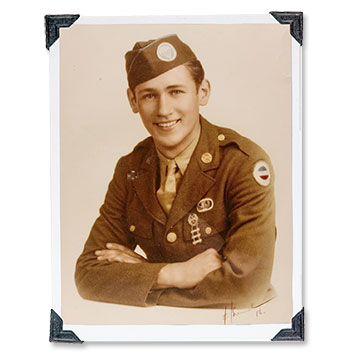 If you look on the June cover of American Rifleman you'll find a photograph by Bob Landry, taken about a week after D-Day, of a young soldier in the 508th Parachute Infantry Regiment, 82nd Airborne Division. That photo of 2nd Lt. Kelso C. Horne remains one of the most powerful images of the American rifleman as he helped liberate Europe from Nazi tyranny. Second Lieutenant Horne—an NRA member after the war—landed near Ste.-Mére-Église and fought at La Fière, and he was wounded in the battle for Hill 95 on July 4, 1944. When Landry's photo appeared on the Aug. 14, 1944, cover of LIFE magazine, Lt. Horne was in the hospital in England. The LIFE cover was tightly cropped, focusing in on Lt. Horne's face. For this issue, in which we commemorate the service and sacrifice of American riflemen 75 years ago—as they embarked upon the "great crusade"—we thought it best to show the whole image. In his hands is an M1 Garand rifle, not the gun he jumped into France with, but one he picked up from a major who had been wounded. The M1 Garand rifle is but one of the guns covered in Field Editor Martin K.A. Morgan's "D-Day+75: Arms Of The Airborne." 
Even though it is covered up by our mailing label, on Lt. Horne's hip is a U.S. Model of 1911 in .45 ACP. When you turn to the center of this magazine you'll see a very special M1911, one carried by NRA Life member Jack Agnew (above)—then of the 506th Parachute Infantry Regiment—when he jumped into occupied France on D-Day. Thanks to the generosity of the Agnew family, you can go and see that gun every day at NRA's National Firearms Museum.
Speaking of .45s, on p. 41 you'll see a smiling NRA Life member Don Burgett, in his later years, holding the nickel-plated .45 his dad mailed him—concealed beneath a date cake—before he jumped into Normandy on June 6, 1944. Sadly, Jack and Don, both men I knew and admired, are no longer with us.
As this is written, another D-Day sky soldier, Ray Geddes, is still with us and doing well. At the center of this magazine is a photograph containing artifacts, including the watch issued to Geddes. A radio operator in the 501st Parachute Infantry Regiment, 101st Airborne Division, Geddes broke that watch when he hit the ground in the early morning hours of June 6, 1944—1:25 a.m., to be precise. We interviewed Geddes for a special "American Rifleman Television" series on the Outdoor Channel.
Also in this issue is a "Cable From Normandy," written by one of my predecessors as editor of The American Rifleman, Bill Shadel. He was on assignment for this magazine as one of only 28 reporters on the ground covering the "Longest Day." 
As long as there is evil and oppression in the world, we will need riflemen. We will need men and women who believe in freedom and liberty, who take seriously the values that make us American, and who are willing to fight to preserve our way of life. We will need patriots like those men who, in the darkness and dawn of June 6, 1944, did nothing less than save the world from evil. Remember them, and remember their sacrifice. They fought against an evil that, hopefully, the world will never see again. But if it does, we will need American riflemen willing to stand up and face it.