Support NRA American Rifleman
DONATE
Joe Kurtenbach of American Rifleman is about to embark on his adventure of a lifetime: hunting plains game at the Maroi Conservancy on the Limpopo River in South Africa. Several days ago Joe came to me asking if we had any tough cases lying around which he could use to pack some gear in for Africa. As luck would have it, I happened to have a Pelican case in the vault and the correct length to accommodate a set of PH Series shooting sticks from J&B Pro Outfitters.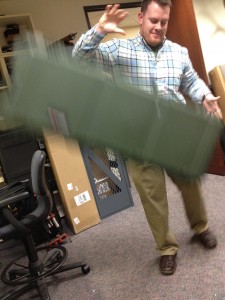 I mentioned to Joe we should take the time to modify the case foam for his gear, considering the airlines treat luggage like a 3 year old does a bag of skittles. With a few sharp knives, marker, measuring stick and 10 minutes of our time we were able to recess the two S&W Performance Center revolvers (.460 S&W and .500 S&W) with mounted EOTech Holographic sights as well as a set of Weaver 10.5X 45mm Super Slam binoculars and not to mention the PH Series shooting sticks fit about as snug as a bug in a rug.
Of course we couldn't leave well enough alone; part of our job here is to test stuff, as you may see in the picture, fully packed with gear, we took the liberty of dropping the case from chest height. Upon opening the case we noticed nothing different from when we originally closed it. It looks like our work is done and Joe is ready for South Africa, except, we forgot to make a spot for his pen. At any rate…Good Luck Joe!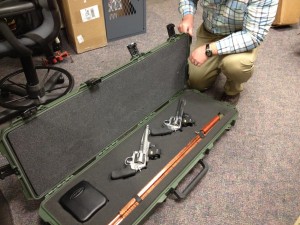 When taking on a task of this nature take your time and carve little by little until you achieve a perfect fit-you can't grow more foam, unless you know something I don't.