The latest issue of American Hunter magazine hit my desk last week and the first thing I did, as many of you do, was start at the back and thumb through the pictures before reading the Table of Contents. Maybe it's my short attention span or the mere excitement of wanting to dive into a coyote hunting article and live vicariously through the writer's hands-all because a simple picture grabbed my kitten-minded curiosity. Photography is quintessential to what we do at NRA Publications; without great photographers and designers we could not give you the quality of magazines that we produce.
My job plays a major role in the stages of photography, mainly because I have the goods in my inventory. Unfortunately, it's not as simple as just handing the photographers their subjects. Sometimes I may need to outfit a specific firearm with a specialized optic, laser, grip, sights, etc. Once I evaluate the necessary gear, I break everything down to clean and degrease (shhh.... outdoor writers aren't the best at cleaning their guns). Next, I sign the gear over to our photo studio and then the magic begins.
Between producing art for five magazines, blogs and other departmental projects, our photo department is grinding its wheels 24/7, and part of my job is to assist in production.
I am often asked to help out with special projects. For instance, this past weekend I was asked to take pictures and video of whitetail deer. Since I am an avid hunter and planned on spending my weekend afield anyway, I agreed to take one for the team. Now, by taking one for the team, I mean taking an FLIR Scout TS32r Pro Handheld Thermal Night Vision Camera and putting it to use.
"Dangit, now I have to work this weekend!" Wait a minute, who am I kidding?
In my job, a wide variety of equipment passes through my office. Often I am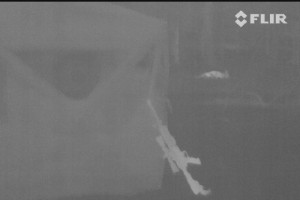 complacent with the products, but this one in particular grabbed my attention, not because of its "cool" factor but merely because I am a colorblind hunter. My disability has forced me to become a better shooter and ultimately a more ethical hunter. The big one that got away? Neither you or I will have to tell that tale anymore, as long as the FLIR is by our side. After seeing the capability and possibilities, I will make it a 2014 goal to budget for an FLIR camera.
If you want to know why I am willing to shell out a little more than I normally would for an optic, check out a full review of the FLIR Scout TS32r Pro in February's issue of American Hunter, and bonus material via the iPad digital edition. Until next time, I hope everyone has a safe and happy holiday season!