by
Mark A. Keefe, IV, Editorial Director
posted on March 17, 2015
Support NRA American Rifleman
DONATE
Okay, so they didn't really save the NRA, but the Irish played a key role in the National Rifle Association of America's formative years. In 1871 William C. Church used an editorial in The United Sates Army and Navy Journal and Gazette of the Regular Forces and Volunteer Service to promote the idea that "An association should be organized … to promote rifle shooting on a scientific basis … Let us have our rifle practice association, also a Wimbledon [today's tennis club was then the NRA of Great Britain's rifle range] on American principles." The result, was the National Rifle Association of America being granted a charter by the State of New York on Nov. 17, 1871. By 1873, the range at Creedmoor was open and the first annual matches were held.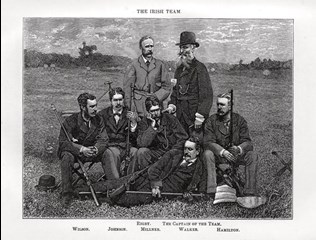 The Irish Rifle Team, under the leadership the Maj. Arthur B. Leech, challenged America, meaning the fledgling NRA, to a long-range rifle match. The Irish were then undisputed champions of the British Isles and were considered the finest marksman of their day anywhere in the world. The match, fired at Creedmoor in 1874, pitted the veteran Irish shooters against a relatively inexperienced American team firing American-made rifles. The Irish used muzzleloading target rifles, thought to be more accurate than any breechloader, while the Americans used Remington and Sharps breechloaders especially made of the event. Ever heard of John Rigby? Yeah, he was on the Irish Team, and they were shooting Rigby target rifles.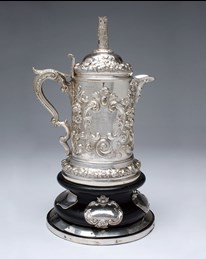 As a token of international friendship, Maj. Leech, thinking his team would surely win, presented a handsome silver tankard to the Americans. The American team, against all odds, won the match. The tankard became known as the Leech Cup and today remains one of the most coveted trophies in NRA long range competition. In 1875, an American team beat the Irish again at its Dolleymount Range, and the Wimbledon Cup was given to the Americans by the NRA of Great Britain. Every year, during the Long Range phase at Camp Perry, American shooters compete for the Leech and Wimbledon Cups. For those, we can thank the Irish.