by
posted on August 31, 2010
Support NRA American Rifleman
DONATE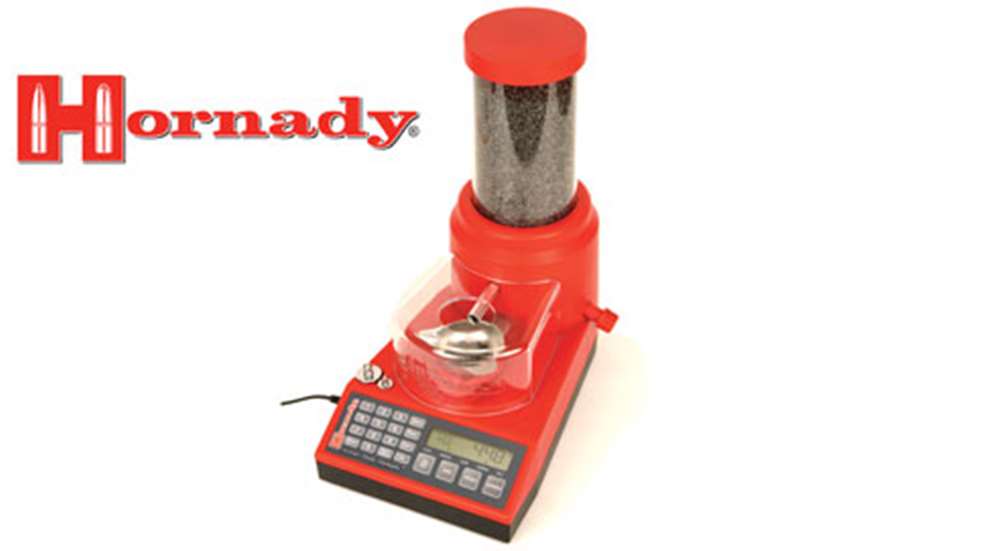 Recent years have seen the introduction of automated powder charging systems consisting of a digital scale that controls an electronic powder measure. Such systems provide an alternative to manually weighing each charge—a slow and tedious process—or throwing charges with a hand-operated powder measure, a procedure that requires periodic checks with a scale. The latest of these automated units is the Hornady Lock-N-Load Auto Charge, introduced in early 2010.
The Auto Charge has a clear propellant cylinder that holds more than a pound of propellant, a 1,000-grain scale accurate to plus or minus 0.1 grain, a scale pan with a 300-grain-plus capacity, an electronic propellant dispensing system, and a control panel with a keyboard and bright backlit screen. A quick-discharge valve allows rapid emptying of the propellant cylinder without inverting the unit. Power is provided by an AC adapter.
Set-up is quick and easy. For most consistent results, the unit should be placed away from other electrical devices and allowed to warm up for about 15 minutes before use. The scale is first calibrated using the supplied 10- and 50-gram weights. Next, the cylinder is filled with propellant, the target weight is entered on the keypad and stored with the "ENTER" key, and the dispensing mode—"MANUAL" or "AUTO"—is selected. In "MANUAL" mode, pressing the "DISPENSE" button commences metering; in "AUTO" mode, dispensing starts whenever the empty scale pan is placed on the scale. The "TRICKLE" button is used to slowly add propellant if necessary.
A key feature of the Auto Charge is its three dispensing speeds—"SLOW, NORMAL" and "FAST"—for different-sized propellant granules and charge weights. With each speed, propellant is initially metered out quickly, then slows to a trickle to bring the dispensed charge to the target weight. An on-screen "OVER" warning flashes if the dispensed charge exceeds the desired weight by more than 0.1 grain (as might occur when too fast a dispensing speed is used). Fine-tuning the speed to eliminate overcharges is accomplished by lengthening the "TRICKLE" period in 0.2-second increments.
We used the Auto Charge to measure 25-grain charges of H322 on the "FAST" speed, 45-grain loads of Varget on the "NORMAL" setting, and 70-grain charges of Alliant Reloder 25 and IMR7828 on the "SLOW" speed. Dispensing times averaged 16-18, 20-25 and 30-36 seconds, respectively. Using the "NORMAL" speed to meter 70-grain charges of IMR7828 reduced dispensing time to about 22 seconds, but resulted in about 25 percent of the charges being 0.2-0.4 grains too heavy, triggering the "OVER" warning. Only when the "TRICKLE" time was extended by 0.6 second were the charges consistently at the proper weight.
Hornady designed the Auto Charge to be, first and foremost, simple to use, and thus it does not offer the option of storing numerous charge weights in memory, as do some competitive units. For many, this lack of memory will be offset by the Auto Charge's three dispensing speeds, ease of setup, and small footprint on the bench—the smallest of all such devices.
The Hornady Lock-N-Load Auto Charge's accuracy, speed, convenience and simplicity will likely make it a useful addition to any precision shooter's reloading bench at the price of $318.