by
posted on October 22, 2019
Support NRA American Rifleman
DONATE
Hornady has launched its "Hornady Handbook of Cartridge Reloading" in app form on Apple and Android stores. Like the hard cover and eBook versions, the new Hornady reloading app provides the novice to the seasoned hand loader everything needed to successfully reload a variety of handgun and rifle cartridges.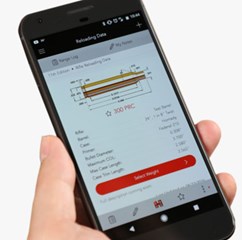 Included with the free download are hundreds of pages of reloading information, bullet guides, tips and techniques plus limited free data on recent offerings like the 6 mm Creedmoor, 6.5 PRC and 300 PRC. A reloader only pays for the information he chooses. Reloading information is available for download in three ways: Á la carte; purchase the entire handbook;or subscription based.
Those who select the "a la carte" option are able to purchase the cartridge or cartridges they need for $.99 each.
If a user decides to purchase the entire handbook for $19,99, he will receive the "10th Edition Hornady Handbook of Cartridge Reloading" in app form.
The subscription option gives users who pay $19.99 per year for full access to the 10th Edition data, plus all the new data developed for the next edition and automatic updates as more data is developed. Plus, as a subscriber, he'll receive a printed edition of the "11th Edition of the Hornady Handbook of Cartridge Reloading" upon its released (estimated fall 2020).
The app features more than 200 calibers with a variety of loads using Hornady bullets, including A-Tip Match, ELD Match and ELD-X bullets. Velocity and powder charts are included with each cartridge for easy reference. Reloaders will find an impressive lineup of new powders including, Power Pro 2000 MR, IMR4451 and 7977, CFE Pistol, BE-86, Reloader 23, 26, 33 and 50, Accurate LT-30 and 32 and some offerings from Shooters World. Popular established powders like Reloader 17, Superformance and LeverEvolution have also been expanded.
For more information regarding the Hornady Reloading App, visit hornady.com/reloadingapp.