by
posted on August 4, 2015
Support NRA American Rifleman
DONATE
Some shooting enthusiasts (like myself) are just never satisfied. We flip through gun catalogs and think of how we wish some of the features of one model could be combined with bits and pieces from another to produce that just-right rifle we've been dreaming of. This year
Henry Repeating Arms
has released a new lever-action rifle called the Big Boy Steel. It successfully blends the hunting and sporting features of the company's .30-30 rifles with the fun and practical advantages of the pistol-caliber Big Boy platform.
I had the opportunity to test fire the
Big Boy .357 Mag.
rifle last year with positive results, so I couldn't wait to get my hands on the latest version. However, the Big Boy Steel has several key differences that are most easily identified using a side-by-side comparison to its predecessor. Available in .357 Mag. (H012M), .44 Mag. (H012) and .45 Colt (H012C ), I opted to test drive the .44 Mag. version. 

The most notable difference between the Big Boy Steel and the Big Boy is the use of a blued steel receiver instead of polished brass. This makes it a more practical hunting and field rifle because it weighs less, sports a non-reflective matte finish and it can handle the rigors of wilderness use without being as easily scratched or dented. The barrel is still 20" long but the octagonal version with polished flats has been replaced by a lighter rounded barrel with a matte finish. The front sight is a steel blade fitted with a brass bead. The rear sight is a fully adjustable Marble semi-buckhorn style with a white diamond insert. The top of the receiver has been drilled and tapped to accept the Henry BB-RSM scope mount which does not require the removal of the rear sight.
Below the barrel is a fixed 10-round steel tube magazine with a cartridge shaped cut out and a removable spring-loaded brass liner that twists into place using a knurled knob at its top end. Whether or not it's preferable to load a lever action through a side gate (Winchester 1886, Marlin 1894) or the magazine (Henry) is mostly a matter of preference. Both systems have their advantages. But one thing I like about the Henry magazine is that the gun can be safely and quickly unloaded by opening the magazine tube to dump out the live cartridges instead of cycling each round through the action.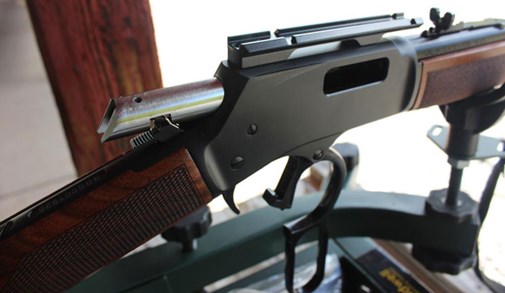 The rifle's action is classic Big Boy. A standard size lever cycles a round bolt which cocks the hammer as the action is opened to eject a spent cartridge. The action on this rifle cycled smoothly right out of the box, just like the other models I've tried. But the steel version required a little more pressure to operate than the brass version. The Big Boy rifles do not have any external safety levers or buttons. The hammer contains a transfer bar safety which prevents the rifle from firing unless the hammer is cocked and the trigger is pressed. The flat-faced steel trigger of this particular rifle demonstrated a short travel distance with a crisp, clean break requiring 4 lbs. 2 ozs. of trigger pull to drop the hammer.
Henry is courteous enough to provide its customers with professionally finished American walnut stocks which are neatly and tightly fitted to their rifles. While the brass Big Boy has smooth wood, the Steel version has deep diamond checkering that wraps around the forend and the straight grip of the shoulder stock. The brass barrel band has been replaced with a steel cap fitted to the fore-end that does not wrap around the barrel. The shoulder stock is fitted with a vented recoil absorbing soft rubber butt pad instead of a brass butt plate. The Steel is also fitted with sling swivel studs which are not found on the brass version.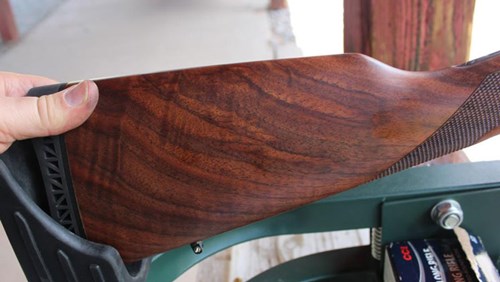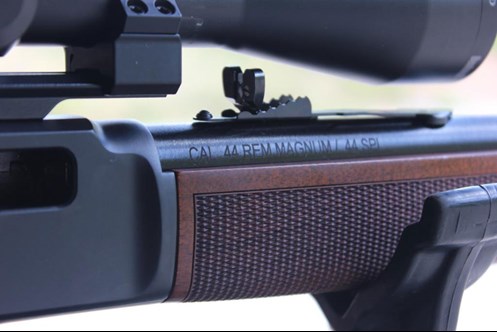 At the shooting range, the new Big Boy Steel proved to be as handy as it was handsome. The steel receiver and round barrel shave just over a pound and a half off of the rifle's unloaded weight, which makes it easier to hold and swing when shooting from a standing position. The trade off is a little more pronounced level of felt recoil. Shooting .44 Mag. in this rifle was an enjoyable experience. Firing full power loads produced a good, solid thump to the shoulder, although the recoil was certainly not uncomfortable to work with thanks to the recoil pad. Those who are looking to use the iron sights for brush work and close to mid range hunting will not be disappointed.
Formal accuracy testing was conducted from a rifle rest with a
Bushnell
Legend Ultra-HD 3-9x40mm scope affixed to the rifle using targets set at 100 yards. Much like the brass .357 Big Boy, the .44 Mag. Steel shot accurately but the different types of ammunition hit at measurably different vertical points of impact. There was about a 4-inch spread between the groups from different loads. If you are preparing for a hunt, stick to the load you sighted in with or plan to re-sight the rifle.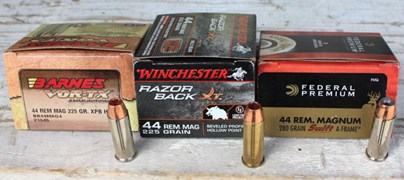 Because the Big Boy Steel lends itself to hunting applications, it provided the perfect opportunity to break out some excellent hot and heavy .44 Mag. loads.
Barnes Bullets
offers a 225-gr. all-copper XPB hollow-point load as part of its Vor-Tx handgun hunting line which produced a best five-shot group of 1.06" with a five-group average of 1.20". The
Federal Premium
Vital-Shok line includes 280-gr. Swift A-Frame partitioned lead core hollow points designed with big game in mind. This load yielded a best group of 1.18" with an average of 1.44". In 2013,
Winchester
released the Razorback XT line of ammunition specifically designed for hunting wild hogs, including a 225-gr. all-copper beveled hollow point. This round had a best group of 1.21" with an average of 1.32".
The new American-made Henry Big Boy Steel offers a just-right balance of features for those who are serious about taking a revolver-caliber rifle along for their outdoor adventures. Chambered in .44 Mag., it's an ideal long gun to pair up with your favorite big bore revolver. The 10-round magazine capacity and fast-handling characteristics make it an ideal brush gun and hog hunter. With real-world prices hovering closer to $699 than the suggested retail price of $850, the value and quality of this Henry rifle make it hard to beat.
Henry Steel Big Boy .44 Specifications
Manufacturer:
Henry Repeating Arms
Model:
Big Boy Steel (H012)
Action:
Lever-Action Rifle
Caliber:
.44 Mag./.44 Spl.
Stock:
Straight-Grip Checkered American Walnut
Barrel:
Blued Steel, Round
Receiver:
Blued Steel
Front Sight:
Brass Beaded
Rear Sight:
Adjustable Marble Semi-Buckhorn Barrel
Length:
20.00"
Overall Length:
37.50"
Length of Pull:
14.25"
Weight:
7 lbs.
Capacity:
10 Rounds
Twist:
1:38" RH
Rifle Grooves:
Six
Accessories:
Owner's Manual, Lock
MSRP:
$850