by
posted on October 25, 2017
Support NRA American Rifleman
DONATE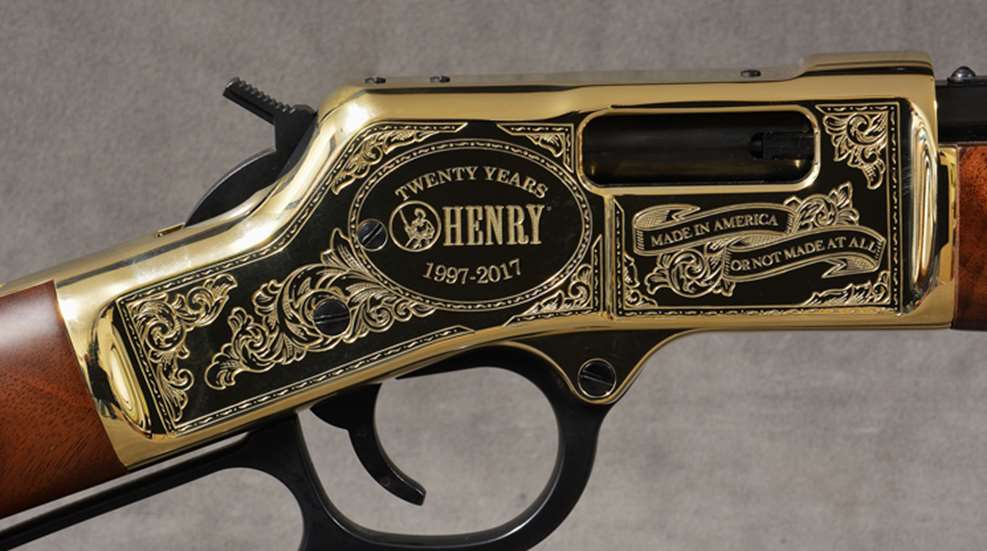 Henry Repeating Arms is celebrating 20 years of American manufacturing, honoring its unwavering commitment to providing customers with firearms that are "Made in America or not made at all."
"Over the past two decades, I've come to realize that it's our customers that make Henry the brand it is today," said Anthony Imperato, president and owner of Henry Repeating Arms. "Henry is a brand that represents many different things for customers from all walks of life. It's their stories, their passion for Henry and shooting sports that continue to push us to be the best possible firearms manufacturer we can be."



To mark its 20th anniversary, the iconic gun maker has partnered with Hunting Heritage Trust to auction off 20 Anniversary Edition Big Boy .44 Mag. rifles, with 100 percent of the proceeds going to a variety of non-profit organizations working to support hunting, shooting and wildlife conservation in America.
"The incredible, positive impact that these organizations have had on the shooting sports industry is immeasurable and we're proud to have the opportunity to help fund their work for years to come," said Imperato (below right, signing Certificate of Authenticity for each rifle). "Collectors and Henry enthusiasts alike will be drawn to the intricate, hand-engraved details these rifles will feature, along with their special Anniversary-edition serial numbers."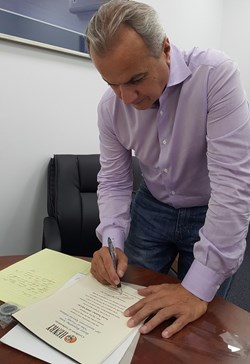 Serial No. 1 of 20 features a highly detailed, hand-engraved custom brass receiver boasting the brand's motto, "Made in America or Not Made at All." The other 19 rifles in the series, while equally detailed, are machine-engraved and then hand-chased. All of the rifles feature presentation-grade, AAA American Walnut and collectible "One of Twenty" serial numbers. Each rifle will be auctioned on GunBroker.com starting with the first serial number.
Organizations that the auctions will benefit include the Boone & Crockett Club, the Congressional Sportsmen's Foundation, Dallas Safari Club, Ducks Unlimited, Hunting Heritage Trust, Kids & Clays, the National Rifle Association Foundation, National Shooting Sports Foundation, National Wild Turkey Federation, Rocky Mountain Elk Foundation, and others.

The original Henry rifle played a significant role in the frontier days of the American West and is one of the most legendary, respected and sought-after rifles in the history of firearms. But today Henry Repeating Arms is known for more than just lever-action rifles inspired by the original design of Benjamin Tyler Henry from 1860. Single-shot rifles, shotguns, the U.S. Survival AR-7, as well as specific models designed to help introduce today's youth to the shooting sports abound in the Henry Repeating Arms portfolio.  

Henry Repeating Arms' history is also highlighted by its philanthropic efforts and charitable contributions to a number of organizations that support the shooting sports, hunting, wildlife conservation and those which serve to protect and defend the second amendment and American citizens' Right to Keep and Bear Arms. The manufacturer also supports every national youth shooting sports program offered today through cash and custom firearms donations, and critical event sponsorships. Organizations include those such as the Youth Shooting Sports Alliance, the National Rifle Association's Youth Programs and the International Hunter's Education Association.
To further its charitable efforts, Imperato formed a program called "Guns for Great Causes" which exists solely to assist those in need. To date the program has helped raise significant funds to aid children's hospitals, individual families as well as national and local veterans and first responders organizations. 

For more details on the auction for serial number '20HENRY01' and to view the schedule for the rest of the series visit gunbroker.com/item/711813524.
For more information about the company and its products visit henryusa.com.