by
posted on October 17, 2017
Support NRA American Rifleman
DONATE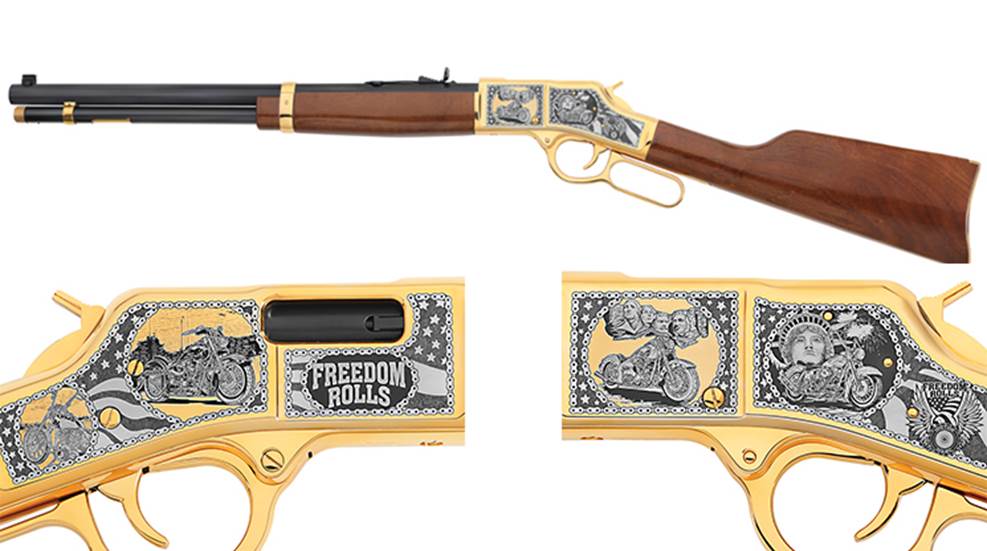 The Founding Fathers never knew the thrill of letting a V-Twin "off its leash" on a stretch of empty highway, but it definitely sounded like they had riders in mind when they wrote about "certain unalienable Rights … among these are Life, Liberty and the pursuit of Happiness." For many Americans, the fascination with motorcycles began as teenagers, equating riding a bike as the perfect way to satisfy desires for adventure and freedom.





With this American pastime in mind, America Remembers has announced the "Freedom Rolls Across America Tribute Rifle," a tribute to freedom featuring patriotic American scenes with custom choppers from paintings created by "Motor Marc" Lacourciere, an artist known for his fine art paintings that magnificently capture special American landmarks and custom bikes. Four of Lacourciere's patriotic paintings have been selected for this tribute rifle, which is issued on a working Henry Repeating Arms Big Boy Rifle in caliber .45 LC with a 20" octagonal barrel.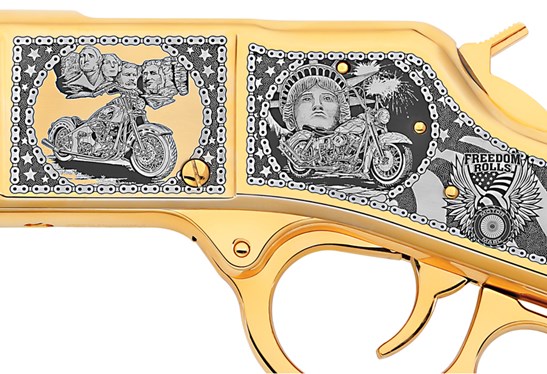 The left side features an image of "Mount Rushmore," with a powerhouse custom low-rider in front of the national monument. In "Freedom," fireworks light up the night sky as the face of Lady Liberty looms large over a custom chopper. She remains the most recognized landmark of America, and an enduring reminder that America is the Land of Liberty, a nation built on freedom and democracy. In the final image, "Freedom Rolls" stands bold with details from the American flag in the background, above the outstretched wings of an eagle and a chrome-spoked tire emblazoned "Motor Marc."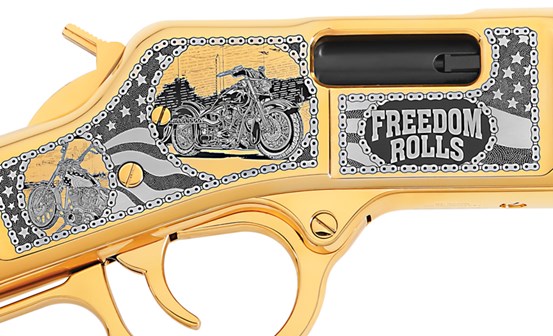 The right side features scenes from "Vietnam Wall" and "Vietnam Express," both set at the Vietnam Veterans Memorial in Washington D.C. "Vietnam Wall" is a Tribute to Vietnam veterans and showcases a Stars-and-Stripes-themed custom-decorated motorcycle parked proudly in front of the Vietnam Wall, which honors U.S. service members who lost their lives in the war and those who remain missing-in-action.
This tribute rifle is limited to a run of 500; delivery  of this working rifle will be arranged with a licensed FFL dealer of the buyer's choice. For more, please visit AmericaRemembers.com.