Support NRA American Rifleman
DONATE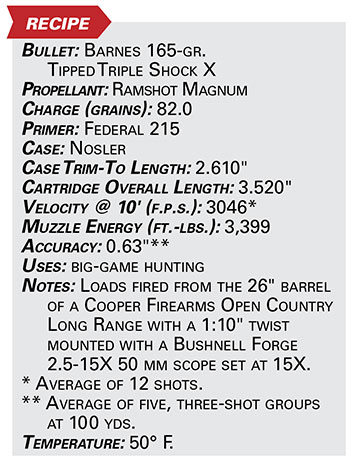 The folks at Cooper Firearms of Montana commonly shoot Barnes Triple Shock X (TSX) and Tipped Triple Shock X (TTSX) bullets to test the accuracy of their rifles. That's a good recommendation for a bullet, as Cooper guarantees its rifles to shoot 1/2-minute-of-angle groups at 100 yds.
I've been shooting a Cooper Open Country Long Range rifle chambered in .300 Win. Mag. loaded with Barnes 165-gr. TTSX bullets, and am pleased with the accuracy. The target included with the Open Country rifle noted that the Barnes bullet was handloaded with Ramshot Magnum. Magnum has provided good accuracy for me in several other .300 magnums. This trend continued with the Open Country, shooting five, three-shot groups that ranged from 0.31" to 0.95" and averaged 0.63", with a standard deviation of velocity of 16 f.p.s. throughout 12 shots. The Barnes Reloading Manual Number Four specifies two additional grains of Magnum than is listed in the recipe as the maximum propellant charge for the TTSX bullet, so velocity could be increased somewhat beyond the 3046 f.p.s. that the Open Country had produced. The load's great accuracy, though, presented a good place to stop load development.
Notice that the cartridge overall length of 3.520" is longer than the .300 Win. Mag.'s established maximum of 3.340". That extra length still positioned Barnes bullets well short of contacting the start of the rifling in the Open Country—a critical point to check for each specific rifle. To remove the chance such a jump might be detrimental to accuracy, cartridges were gauged on a Hornady Lock-N-Load Concentricity Tool to ensure the bullets were seated straight in the cases so that, upon firing, they squarely contacted the rifling and made a beeline to the target.