by
posted on July 15, 2012
Support NRA American Rifleman
DONATE
Gallery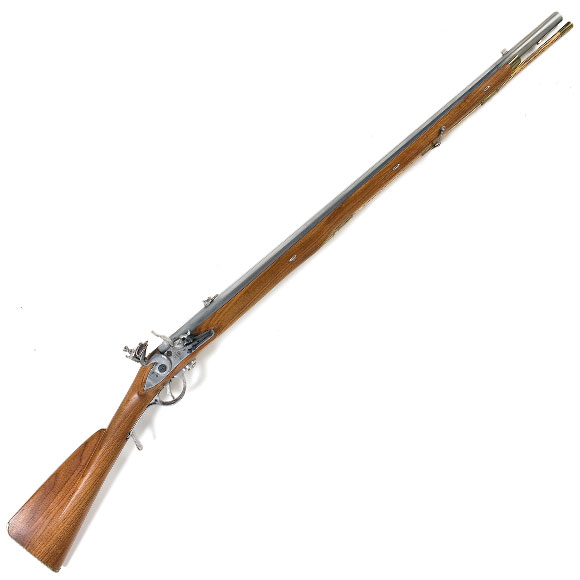 The Ferguson Rifle
The product of an inventive mind, the Ferguson Rifle was a century ahead of its time. Patrick Ferguson's breech-loading design offered dramatic advances: Ordinary riflemen could fire one shot every two minutes, while smoothbore-armed infantrymen might fire four inaccurate shots per minute, but Ferguson's breechloader could accurately fired six times a minute, four while moving and could be loaded while prone. The Ferguson was a fairly conventional weapon, incorporating a 34 ¼-inch barrel with 1:56-inch rifling, 50-inch overall length and weighing 6.9 pounds. One turn of the Ferguson's oversized trigger guard lowered the breech screw to expose a hole above the chamber, allowing a .65-cal. ball to be loaded against the back of the rifling. Next, the shooter poured powder—72 grs. dictated by the chamber size—rotated the trigger guard to close the chamber, knocked aside excess powder to the flash pan, and he was ready to shoot. The Ferguson incorporated a three-bladed rear sight, allowing the shooter to select elevation for three distances, a leap forward in an era when America's riflemen used Tennessee elevation. And the Ferguson came with a 25-inch bayonet. The Ferguson design contained several flaws. Firing 6 to 10 rounds gummed up its complex action with powder residue. The fatal flaw, however, was how the ball rested against the rifling. A modern test found that gunpowder dribbled past the ball, and in a scant four hours afield, half the powder charge had trickled out the muzzle.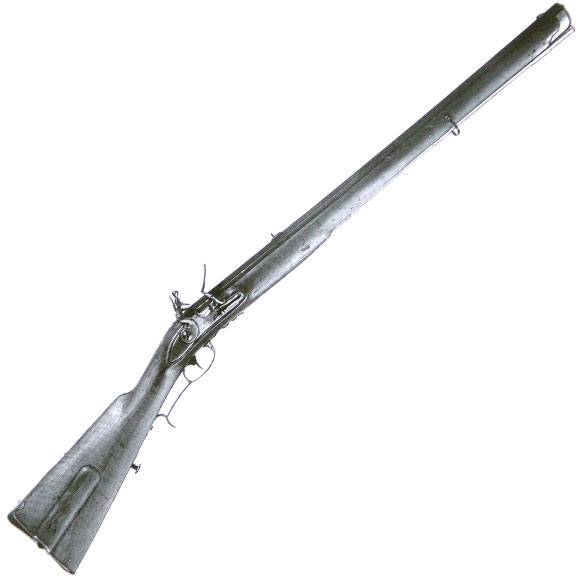 The Jaeger Rifle
Hessian Jaegers carried short-barreled German Buchse rifles, of .60 to .70 caliber, weighing about 9 1/2 pounds. To arm British riflemen, the Royal Board of Ordnance purchased 200 Jaeger-style rifles in what is now Germany, and manufactured another 700 in England. Although the Buchse rifle's compactness proved handy in thickly wooded terrain, it could not quite equal the range or accuracy of Kentucky longrifles. The short distance between the front and rear sights, only about 20 inches—half the sight plane on a Kentucky rifle—limited precise aiming. As well, Hessian riflemen had not adopted the American practice of greasing their patches, which limited the velocity and thus, the range of their projectiles. Further, their rifles' heavy caliber slugs meant a sharper trajectory arc, so that slight errors in range estimation might lead to complete misses.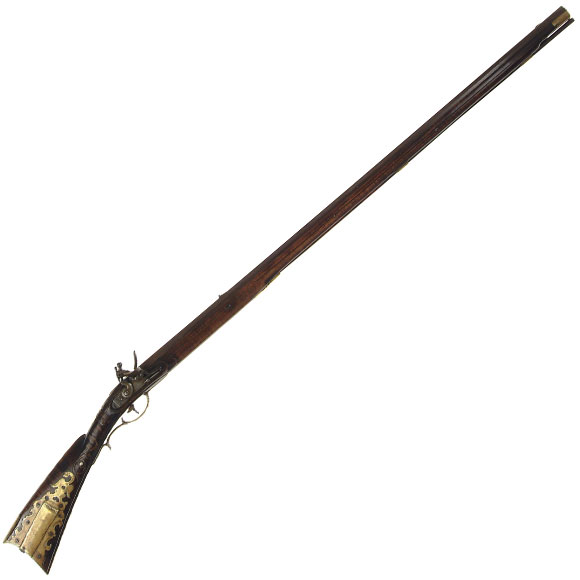 The Kentucky Longrifle
Although made primarily in Pennsylvania, these elegant rifles with their thin, curly maple stocks were the favorite arm of hunters and pioneers who carried the long-barreled guns into the wilds of "Ken-Tuk"—and hence the name. Renowned for handcrafted quality and accuracy, most Kentucky longrifles sported 48-inch rifled barrels with seven lands and grooves and extremely slow rates-of-twist, usually 1:48 inches, or one turn for a barrel's length. Typical muzzle velocity was 1,000 to 1,200 f.p.s. Longrifles fell into three general classes, based upon their bore diameter. The smallest, about 0.35 inches was called a squirrel gun. Around 0.40 inches was considered a turkey rifle. And 0.50 inches was suitable as a bear gun. All were deadly when the shot was properly placed, with a maximum range of perhaps 300 yards in the hands of an expert. Inherently, the Kentucky-style rifle's longer barrel offered more precise aiming than European rifles because the front and rear sights were farther apart. Though subtle, the effect was profound, short Hessian and British rifles were incapable of being aimed as precisely as American rifles.