by
posted on July 15, 2012
Support NRA American Rifleman
DONATE
Gallery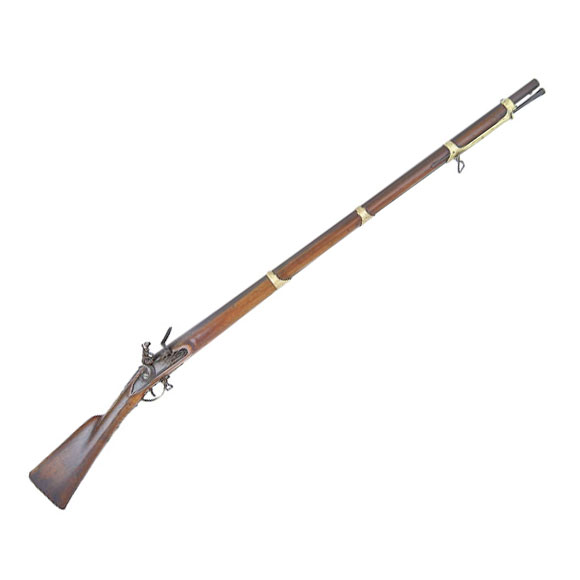 Dutch Musket/Carbine 1771-1800
Because of the number of this model found here, it is considered to have been more widely used as a carbine or light musket than as a fusil. Its most distinctive feature is the elongated brass upper barrel band (7 1/2 inches). Note also the Dutch influence on British styling apparent in the trigger guard's hazelnut front terminal, baluster breech and S-type sideplate. An Amsterdam control stamp appears on the rounded breech of the 40-inch barrel. The walnut stock, in turn, has modified its border carving. An oval escutcheon is marked, "No=3", and a hook-like clasp projects out of the fore-end to snap over the rear ring of a socket bayonet.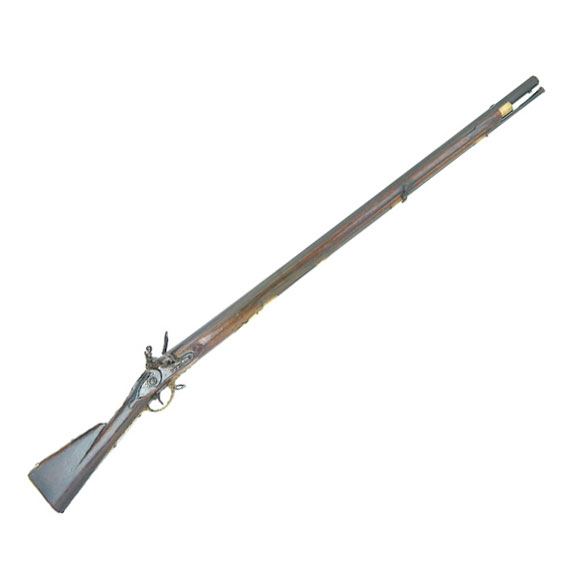 Dutch Infantry Musket 1777-1798
The design of this musket incorporates a number of Germanic features, yet several are known with their locks marked, "KULENBURG", for the Culemborg manufactory in Amsterdam. It has, for example, Germanic influence in the arrowhead trigger guard, undulating butt tang (two top screws), bulbous teardrop stock carving, four faceted rammer pipes, an oval escutcheon and large projecting rear screws on the buttplate. The stylized sideplate included a tail while the flat/beveled edge lock mounts the typical faceted flash pan (no bridle), as well as a rounded frizzen top and fishtail frizzen spring. A shorter pinned barrel and straighter profile suggest its possible original designation for light troops or as an officer's fusil.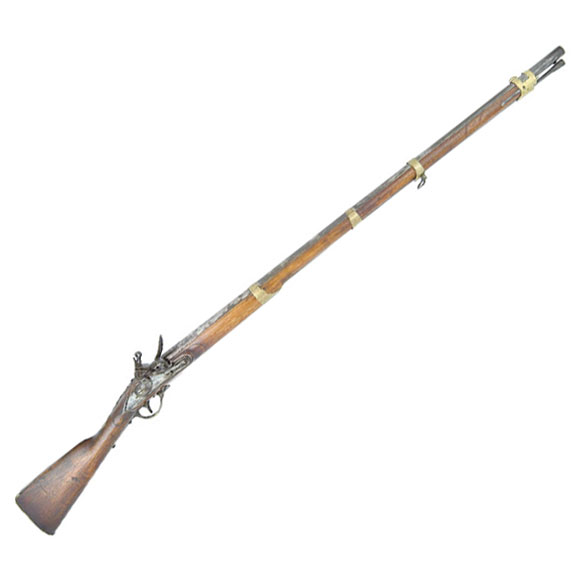 Dutch Infantry Musket 1771-1795
This banded pattern with simplified brass furniture and a resumption of the rounded lock was adopted by the Dutch at the beginning of the 1770s. It continued as their basic form through the years of the American Revolution until the Low Countries were overrun by the French in 1795. The lock is marked, "Kulenburg" (Amsterdam's Culemborg manufactory) and the breech is engraved, "GENERALITEIT" (identifying government ownership). The distinctive walnut stock is now straighter with a lower comb while the buttplate is secured by two rear screws having projecting round heads. Note also the four brass barrel bands, convex sideplate (no tail), raised teardrop stock carving, plus a forward spring catch to latch over its bayonet socket ring.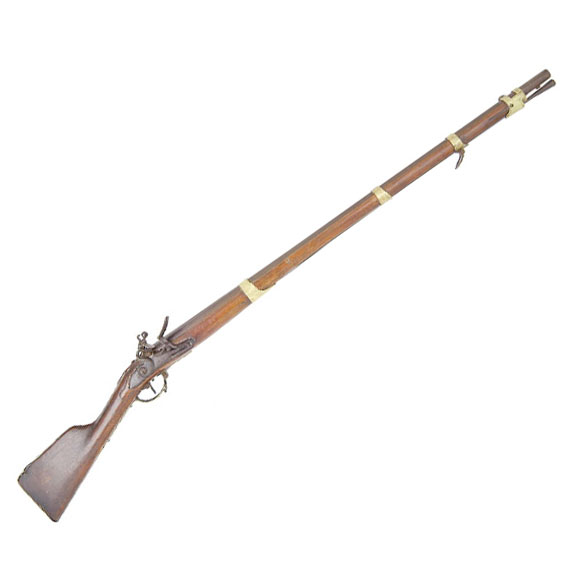 Dutch Infantry Musket 1750-1770
In the 18th century it was common in Europe for earlier surplus arms to be purchased and reconditioned for resale to trading companies, overseas colonies and wartime allies. That practice is apparent in examining this banded design. It began as a musket of the pinned-barrel pattern shown in No. 3. The salvage contractor shortened the barrel by 5 inches, removed the barrel pins in favor of four brass bands, narrowed the stock's butt (which altered the profile), and substituted a steel ramrod. The original lock, carving and most brass furniture were left untouched. This pattern saw use in the American colonies as early as the 1750s.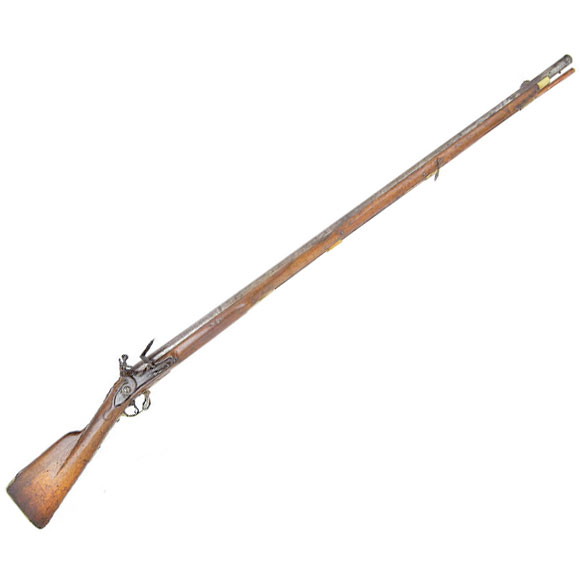 Dutch Infantry Musket 1720-1745
Such long, pinned-barrel "Dutch/Liege" muskets were available in surplus amounts during the 1740s, and thousands were purchased by Britain for issue to American provincials participating in the French & Indian War (1754-1763). Notice how closely this example resembles the initial Brown Bess Long Land pattern of 1730. The Dutch favored a flat/beveled edge lock from c. 1720 to 1770 and employed heavy brass furniture on a substantial walnut stock. Also included are an unbridled faceted pan, a vase-like trigger guard finial, a long tapering butt tang (top screw), a sharp-shouldered sideplate, four faceted ramrod pipes (wooden rammer), a brass nose band, and raised teardrop carving around the lock, barrel tang and sideplate.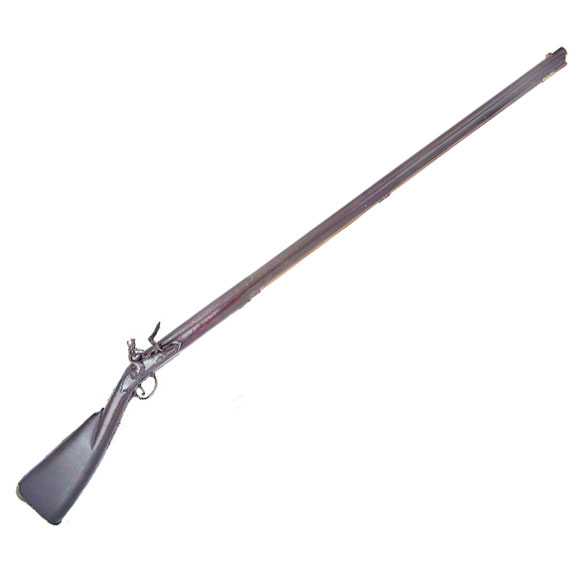 Dutch Fowler/Musket 1700-1720
This hunting gun discovered in New Hampshire is typical of the Dutch patterns found in the northeastern American colonies. It mounts the early two-screw round "banana" lock lacking an exterior bridle, as well as that period's long thin Dutch butt tang, scalloped escutcheon, open foliate sideplate (2 1/2 screws), bulbous trigger guard, and three ribbed pipes holding a wooden rammer—all of which influenced the developing American Hudson Valley Fowler. The substantial walnut stock extends to the muzzle. Of special interest is the "NH" marking on its octagonal breech that identified arms carried by New Hampshire line regiments during the Revolutionary War (indicating early use lacking a socket bayonet).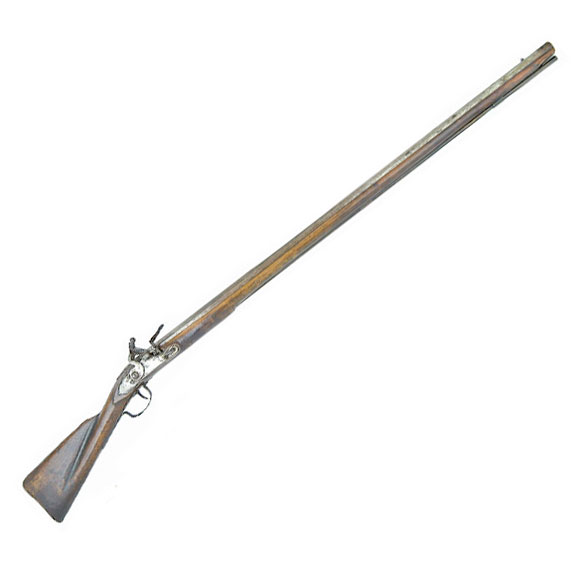 Dutch Infantry Musket 1680-1700
European aid to the American rebels included obsolete and marginal arms from previous wars stretching back into the late 1600s, as with this circa 1680-1700 Dutch musket. The Netherlands manufactured firearms mostly in Amsterdam, Rotterdam and Maastricht. They also regularly placed supplemental contracts at Liege, Solingen, Suhl, and Zella. This economical example has a two-screw lock with a squared tail, a rounded frizzen top, a rectangular pan (no bridles), and a short frizzen spring lacking an end finial. The Amsterdam stamp appears on the octagon breech while an escutcheon, sideplate, tail pipe and buttplate are omitted, suggesting wartime production. Stocked to the muzzle, it required a plug bayonet.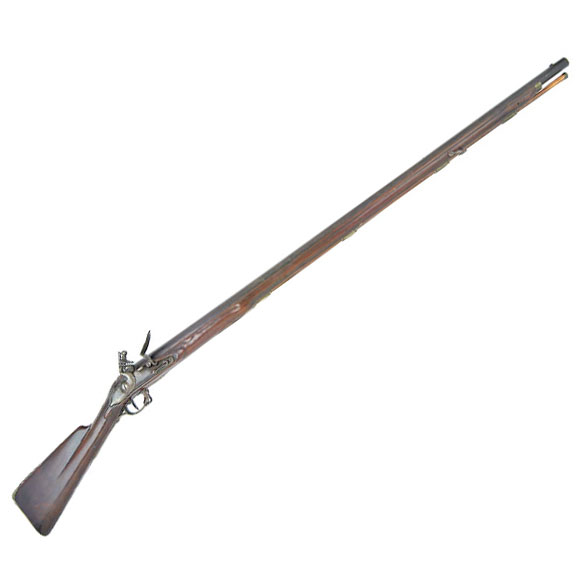 American Assembled Musket 1750-1783
The availability of Dutch arms in the colonies can also be traced by their reused parts on arms assembled by the Americans. This musket combines earlier Dutch components—a rounded "banana" lock, trigger guard, and barrel—with a buttplate, escutcheon, and rammer pipes stripped from a British Long Land Brown Bess. The Americans, in turn, not only supplied the walnut stock but cast their own pewter sideplate. The musket also suggests a Dutch colonial Hudson River pedigree by its raised stock carvings bordering the lock, sideplate, barrel and ramrod channel, which match many Hudson Valley Fowlers.