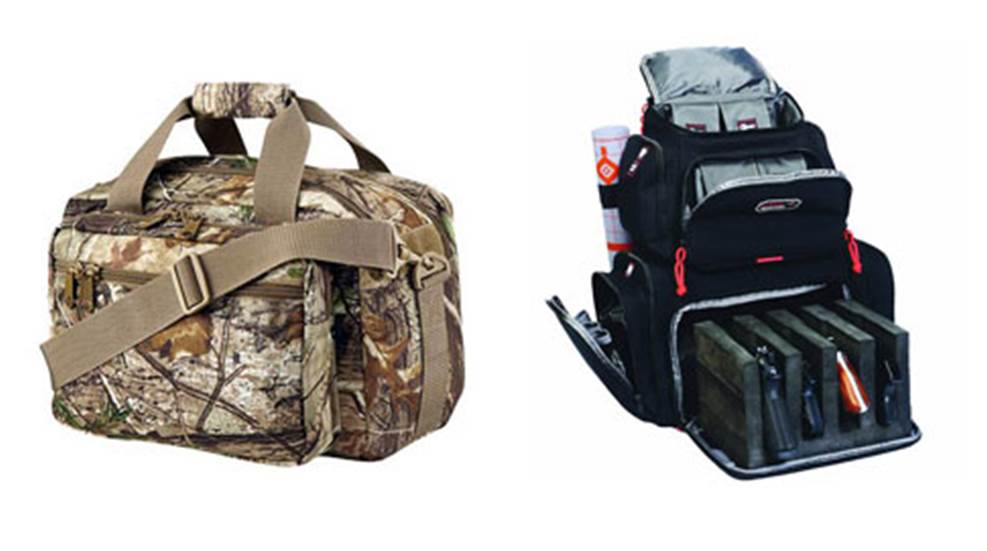 Gallery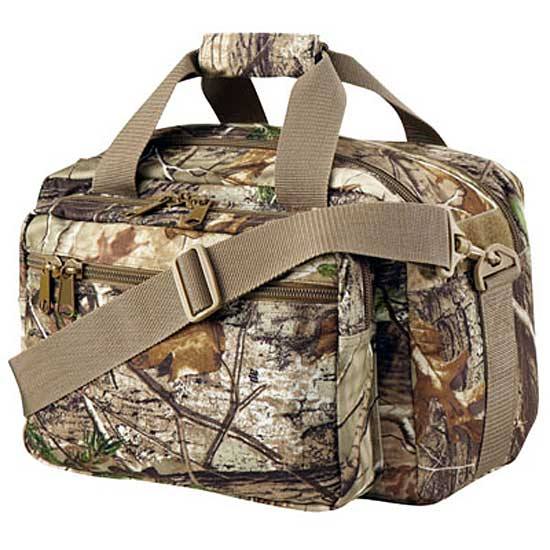 Buck Commander Pistol Range Bag
The Buck Commander Pistol Range Bag is designed to make carrying two large-frame semi-auto pistols or revolvers and their support gear a snap. Constructed of heavy-duty, weather-resistant 600D polyester in Realtree AP camouflage, the bag has heavy binding seams with two rows of locked stitching to ensure years of reliable use. This range bag features two dual-zippered slash pockets, a flannel pocket, a lockable zipper and security loop for adding a padlock. Use the tactical webbing adjustable shoulder strap or wraparound web handles for comfortable carry, and take advantage of the MOLLE-compatible sewn-in webbing to attach additional accessories and pouches.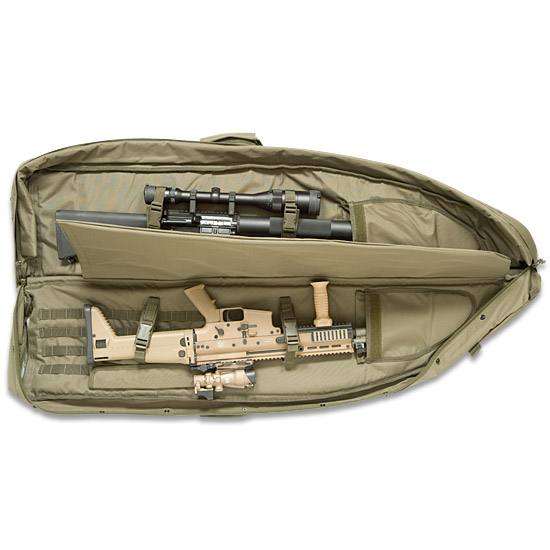 ModGear Ultimate 2-Rifle Drag Bag
This sniper rifle drag bag from ModGear holds your choice of up to two long guns and two handguns at the same time. The long gun pockets are designed to accommodate a variety of firearms, so you can carry both a shotgun and rifle, or a scoped rifle and a carbine. The bag uses thick, closed-cell foam and a reinforced front to cradle scoped rifles when crawling through the woods on a stalk, walking in the field or carrying the bag from the house to the car. In addition to carrying two long guns and two pistols, the exterior features two long padded pockets that are suitable for storing bipods, shooting sticks, a spotting scope or other gear. The exterior of the drag bag has a small pocket and a large bottom pocket to hold plenty of ammo and additional accessories.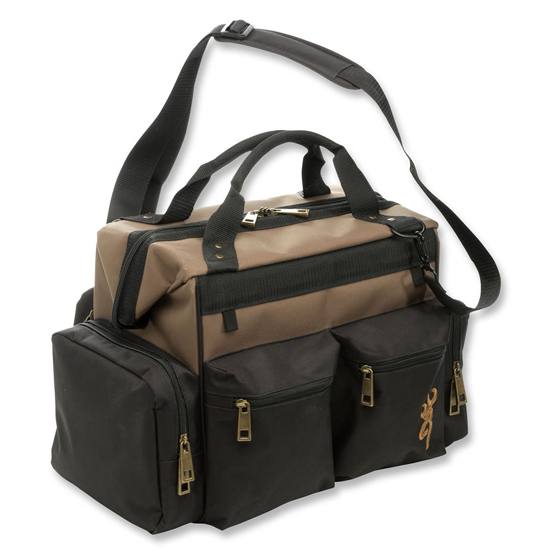 Browning Hidalgo Range Bag
Reliable, high-quality support gear is essential for an enjoyable day at the range. The Browning Hidalgo range bag is a great way to carry shooting necessities to and from the firing line or out into the woods. The Hidalgo is constructed of 600 and 1200 denier polyester canvas for strength and durability. The bag itself offers plenty of storage including five large double-zippered pockets, and an oversized main pocket that is able to hold 10 boxes of shot shells. Padded handles and a removable padded shoulder strap are included.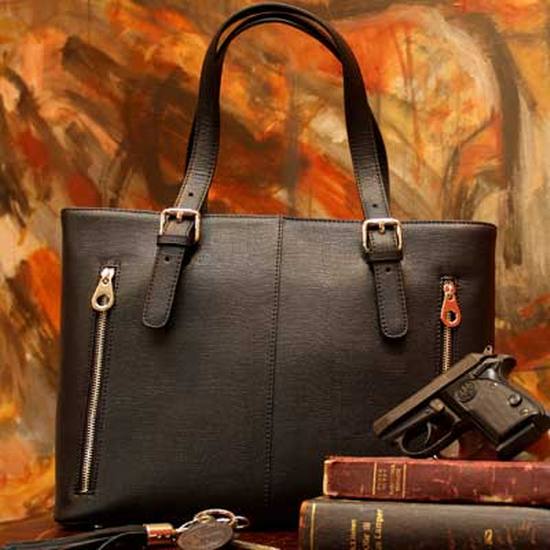 Concealed Carrie Carry Compartment Tote
More women are choosing to go armed these days, and as a result, a greater variety of concealed-carry purses and bags are becoming available. The all-leather Carry Compartment Tote handbag by Concealed Carrie combines the features a handgun permit holder will need in a bag fashioned in a popular style. The large concealed-carry compartment is integrated into the handbag and allows easy access for right- or left-handed shooters. The large zippered main compartment offers numerous pockets and has access to the firearm sleeve. The Tote arrives with a removable, adjustable holster.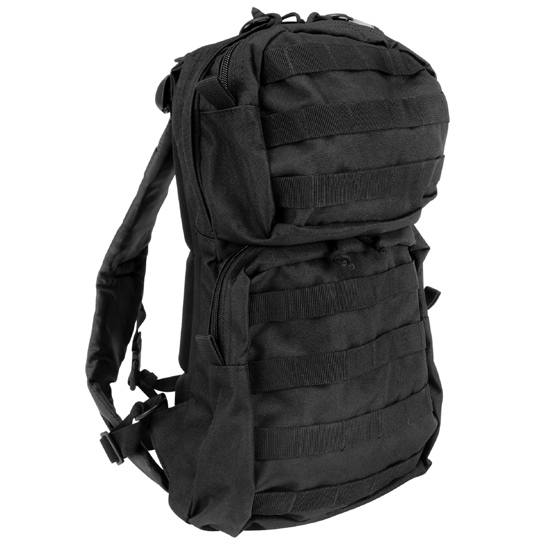 ERGO Grips XNO Search And Rescue Go Bag Black 6010-BK
Preparing a bug out bag or 72-hour kit filled with essential emergency supplies can be quite a challenge. An easy way to get started is the ERGO Grips XNO Search And Rescue Go Bag. This pack contains everything service personnel need to quickly respond to a variety of emergency response situations, including a compass, hydration bladder, scissors, trowel and headlamp to name just a few. If after reviewing the extensive contents of this pack the user wants to add more to it, there's additional room in the bag. The XNO arrives with ready-to-use shoulder straps, or MOLLE webbing allows it to be attached to a larger pack.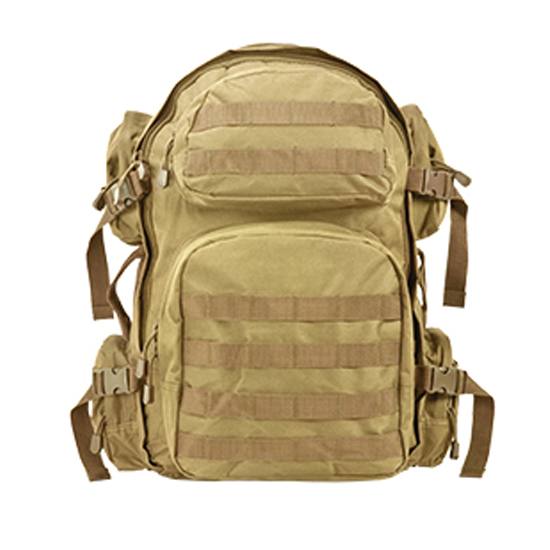 NcStar Tactical Backpack Tan CBT2911
It's not always necessary to invest $300 dollars in a tactical backpack that will spend most of its working life resting in a closet awaiting an emergency situation. Sometimes all you need is an affordable, lightweight pack that will be ready to go when you need it. The NcStar Tactical Backpack is a bag rigged out with a variety of desirable features, such as a large zippered clam shell main compartment, an internal zippered pocket, a separate divided compartment for a hydration bladder and six external zippered pockets. The pack is supported by padded shoulder straps, waist and sternum straps, and two adjustable compression straps on each side. The front pockets and bottom of the back pack feature PAL-compatible webbing to make the Tactical Back Pack a modular system.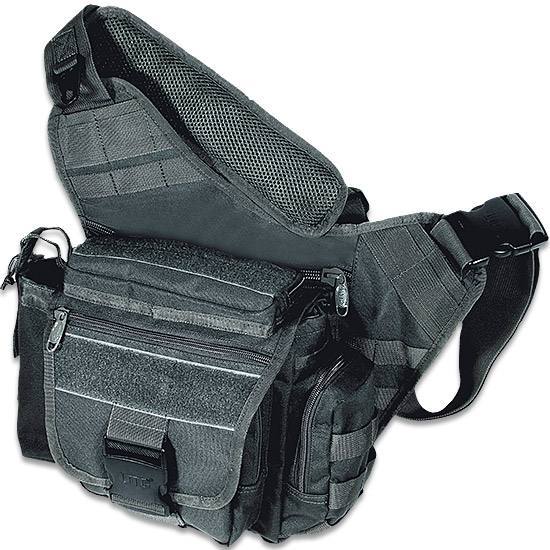 Leapers UTG Tactical Messenger Bag
With a padded shoulder strap and thick back padding to ensure maximum comfort, Leapers' multi-functional UTG Tactical Messenger Bag is extremely durable and provides storage compartments for a wide range of gear. The main compartment of the tactical bag closes via a drawstring with cord-lock to provide a large and secure storage space. It has plenty of room for items like water bottles, Molle clips, two-way radios, flashlights, notepads and other tactical equipment.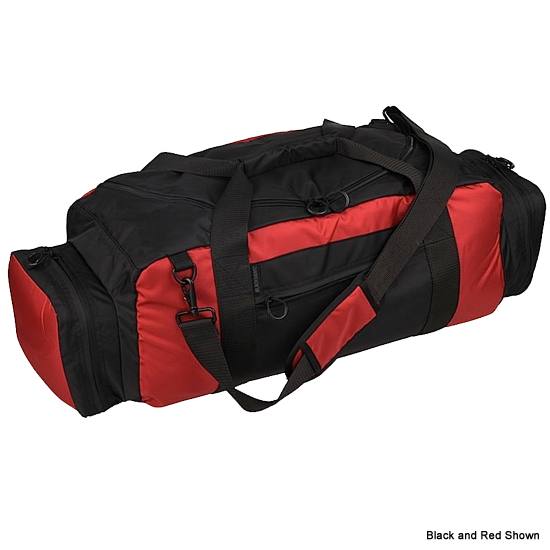 BLACKHAWK! Diversion Workout Bag
For those who are looking for a more traditional duffle-style gun bag that also conceals the nature of its contents, BLACKHAWK! has created its  Diversion Workout Bag. With the appearance of an everyday gym bag, this ingenious design lets you carry multiple firearms with room to store additional items. Constructed of 420 velocity nylon, the main compartment extends into end pockets to fit long guns. A removable multi-compartment divider can be used for carrying multiple firearms or separated upper/lower receivers up to 29-inches long.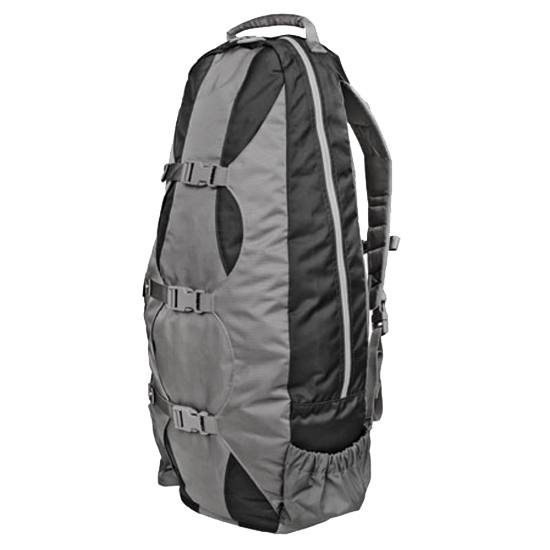 BLACKHAWK! Diversion Board Pack
The BLACKHAWK! Diversion Board Pack is constructed of 420 denier velocity nylon and styled after carry packs used for skateboarding and snowboarding. It is a simple, sporty, single-pocket pack that gives new meaning to the phrase "hidden in plain sight." The interior is lined with S.T.R.I.K.E. webbing for attaching holsters, pouches or accessories. Featuring a muzzle retainer, retention strap and padded divider, the Blackhawk Diversion Carry Board Pack is designed for discreet carry of long guns with folding stocks, short barrels or AR platforms divided into upper/lower halves (up to 29-inches long).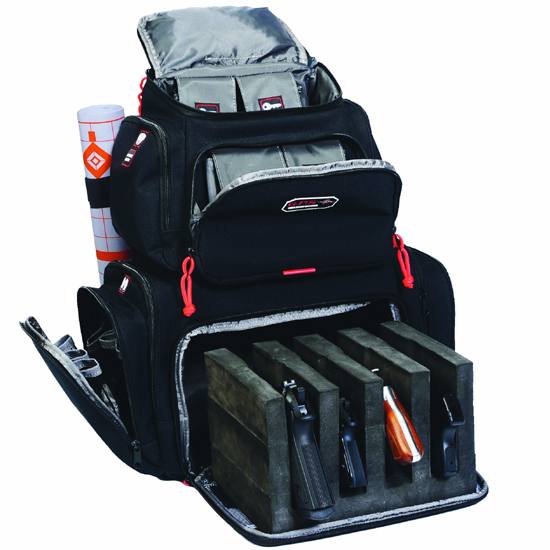 G Outdoors G.P.S. Handgunner Backpack
G Outdoors is a company that specializes in providing unique and useful bags for guns and gear. The company's new G.P.S backpack allows for hands-free transportation of handguns to and from the gun range. It also provides a freestanding work station that protects the finish of the guns while keeping accessories organized. This pack contains a removable cradle rack that holds four handguns and pockets for 12 extra magazines, ammo, shooting glasses, ear protection, targets, stapler, tape, binoculars, shooting mats and cleaning supplies.