by
posted on January 20, 2022
Support NRA American Rifleman
DONATE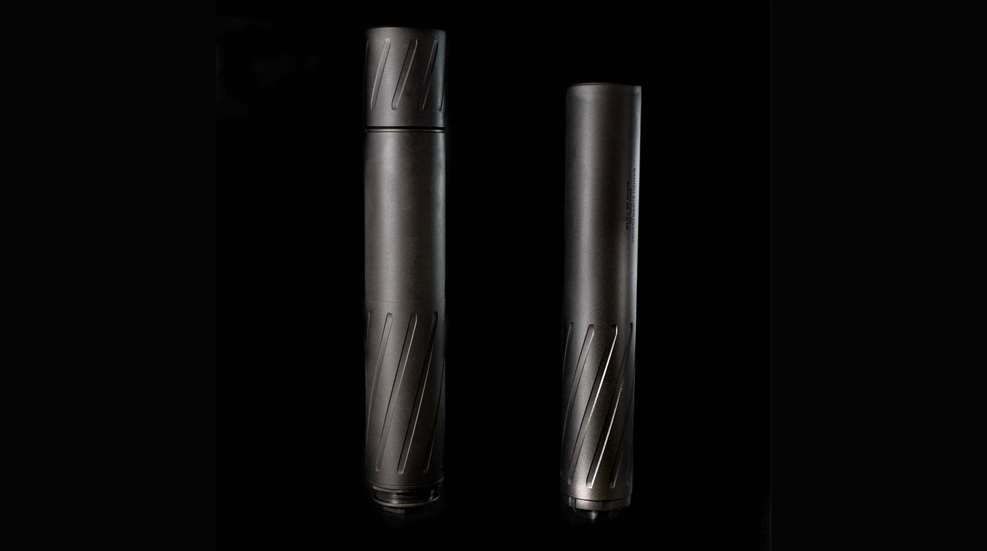 Silencer Central, a company known not just for its revolutionary suppressor-buying process but also its own suppressor lineup, expanded its commercial offerings in 2022 with two new models that were requested by many consumers. The Silencer Central Banish 46 and Banish 338 suppressors fill big gaps in the current market and give firearm enthusiasts a great sound-reduction option for two big-bore calibers.
"Banish suppressors offer exceptional noise and recoil reduction, user-serviceable designs and adaptable configurations," said Brandon Maddox, CEO of Silencer Central. "We are excited to announce the availability of two new additions to our line: the Banish 46 and the Banish 338. Silencer Central values the input of its customers, and these are the big-bore suppressors we're asked about most frequently, and both cut noise and take the bite off recoil—even with these punishing calibers."
The Silencer Central Banish 46 is constructed from titanium and Inconel in order to ensure durability while keeping weight down. It also offers a modular design, giving users a short, 7.9" configuration for compactness and easy field carry or a 10" configuration for maximum sound suppression. The Banish 46 is built to support a range of calibers, including .338 Lapua Mag., .45-70 Gov't., 10 mm Auto and .45 ACP.
Built specifically to be the quietest .338-cal. suppressor available on the market, the Silencer Central Banish 338 is built from a combination of titanium and Inconel to ensure durability and lightness. This direct-thread design weighs only 17.5 ozs. and measures just 9.1" long. There's a ported Inconel blast baffle with an enlarged chamber area that's paired with eight additional baffles with a greater thickness than most traditional suppressor baffles in order to enhance durability. An additional accuracy baffle is designed to minimize point-of-impact shifts in long-range shooting. Factory testing has shown the Banish 338 to offer 33 decibels of sound reduction.
For more information on these new suppressors, visit silencercentral.com.