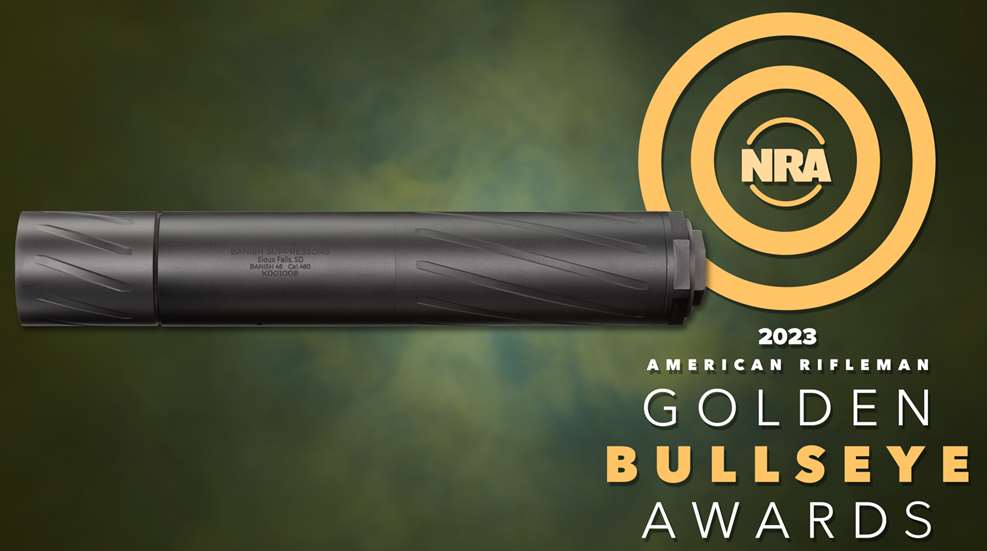 Thanks to their compatibility with a broad assortment of firearms and cartridges, magnum-rated .30-cal. rifle suppressors have long been the option of choice for shooters looking to acquire a single "do-all" silencer for use across a number of their guns. However, the magnum-rated .46-cal. rifle suppressor kicks that versatility up to an entirely different level, and testing by our "Dope Bag" evaluators determined that the Banish 46 from Silencer Central is a great example of how to do one well.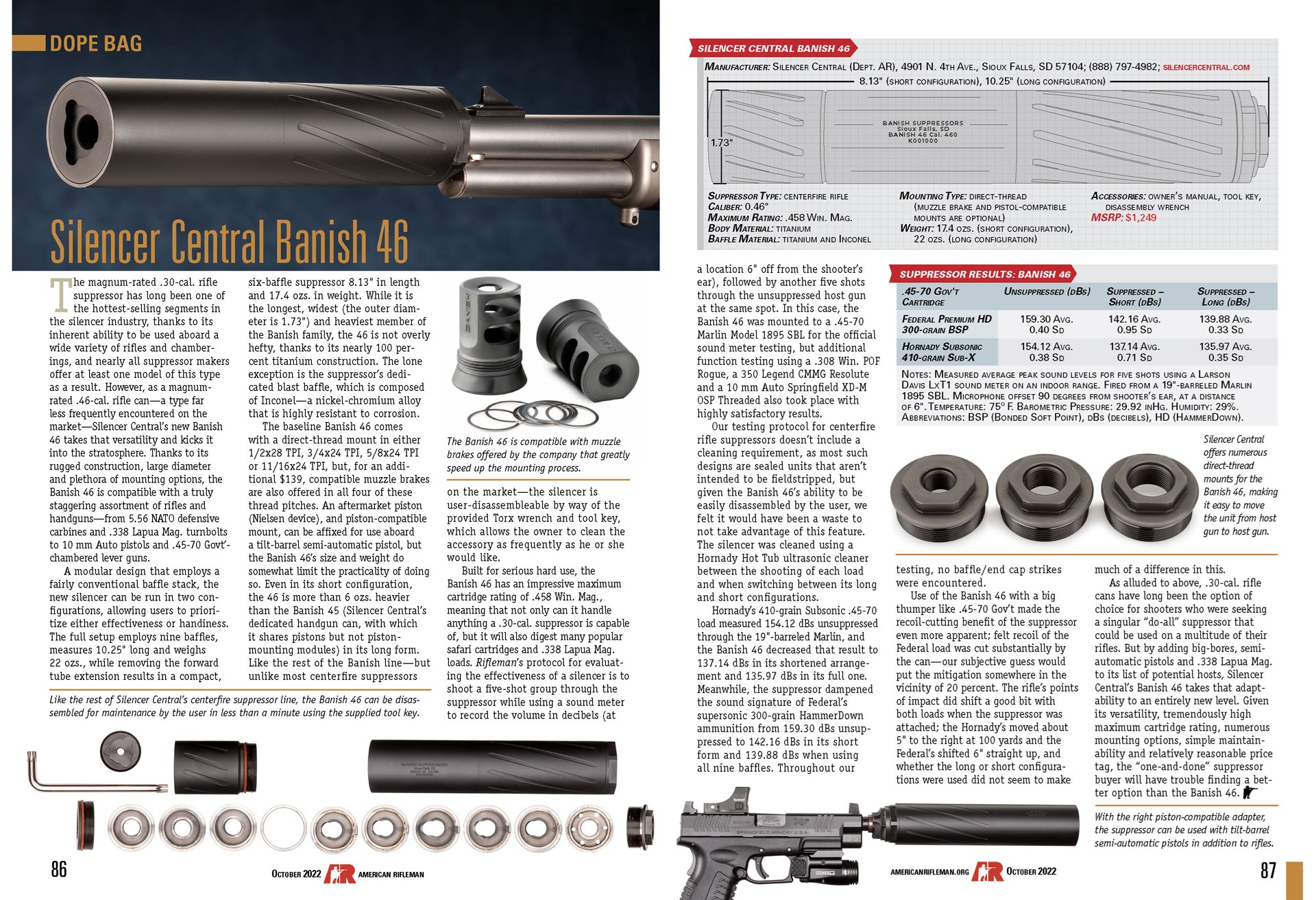 "Built for serious hard use, the Banish 46 has an impressive maximum cartridge rating of .458 Win. Mag., meaning that not only can it handle anything a .30-cal. suppressor is capable of, but it will also digest many popular safari cartridges and .338 Lapua Mag. loads," our evaluator wrote. Multiple mounting options offered by Silencer Central, including pistol-compatible piston mounts, in four of the most common thread pitches, allow the 46 to be used with a staggering assortment of both longarms and handguns.
Our technical staff concluded the Banish 46 review with: "As alluded to above, .30-cal. rifle cans have long been the option of choice for shooters who were seeking a singular "do-all" suppressor that could be used on a multitude of their rifles. But by adding big-bores, semi-automatic pistols and .338 Lapua Mag. to its list of potential hosts, Silencer Central's Banish 46 takes that adaptability to an entirely new level. Given its versatility, tremendously high maximum cartridge rating, numerous mounting options, simple maintainability and relatively reasonable price tag, the "one-and-done" suppressor buyer will have trouble finding a better option than the Banish 46."
For providing "one-and-done" suppressor buyers with a great new option that is reasonably priced, can be disassembled by the user for maintenance, is built from lightweight titanium—and that also fared very well in our sound-mitigation testing—the Silencer Central Banish 46 earned its place as Accessory Of The Year. For more information, visit silencercentral.com.
---
Created more than two decades ago as a way to publicly acknowledge those firearms and shooting accessories from the previous year's crop of new products that exhibited the highest quality, the most value or that offered welcome innovation, the Golden Bullseye Awards have become one of the gun industry's most coveted honors. That's why the editors of this magazine take the responsibility so seriously when we meet annually to deliberate and ultimately decide upon the recipients—and the process seemed to be even more significant than usual this time in light of American Rifleman celebrating its 100th anniversary this year.
"The NRA Golden Bullseye Awards epitomize what NRA members seek in their shooting and hunting equipment—outstanding performance, innovation and value," said Doug Hamlin, executive director of NRA Publications. "These are the best new products, truly worthy of NRA members' attention, and I extend my heartfelt congratulations to all this year's winners."