Support NRA American Rifleman
DONATE
In the past six months, three preeminent firearm manufacturers-Ruger, Beretta, and Remington-announced plans to build new gun factories, and it's no coincidence that all three chose not to expand at current locations.
In fact, the companies publicly stated that moves to the gun-friendly South at least partly hinged on rampant anti-gun legislation in northeastern states where they have been long-time, tax-paying fixtures in the business community. In a Washington Times op-ed piece, Dr. Ugo Gusalli Beretta slammed the hypocrisy: "Unfortunately, as we were planning that expansion, Maryland's governor and legislature voted in favor of new regulations that unfairly attack products we make and that our customers want. These regulations also demean our law-abiding customers, who must now be fingerprinted like criminals before they can be allowed to purchase one of our products."
As a result of that frustration, Connecticut-based Ruger will set up shop in Mayodan, N.C.; Beretta is investing in a new facility in Gallatin, Tenn.; and rather than increasing production at its long-time home in Ilion, N.Y., Remington will soon be building guns in Huntsville, Ala.
In doing so, the firearm giants are bolstering a decades-long migration pattern driven by factors such as labor costs, lower taxes and less restrictive regulation, in addition to ever-more-pressing political concerns. Remington moved its corporate headquarters to North Carolina in 1995, and the new Alabama plant will be the company's third in the region. Other iconic brands, like FNH/Winchester and Ithaca Gun (South Carolina) and Mossberg (Texas) also made strategic decisions to relocate.
On top of that, a wave of startup manufacturers is now thriving across the South, companies like Barrett (Tennesse), Kel-Tec (Florida), Wilson Combat (Arkansas) and Daniel Defense (Georgia and South Carolina). Adding to the influx are foreign companies, like Para USA, which completely moved operations from Canada to North Carolina five years ago, as well as Steyr (Alabama) and Taurus (Florida), whose warehouse and distribution centers have been expanded to now include assembly operations. By our count, at least 40 gun factories are now operating in the region.
Significant gun manufacturing continues to occur in the northeast, where major players like Smith & Wesson, Kimber, Colt's and SIG Sauer appear firmly entrenched. Ruger and Remington, for that matter, still have operations at their original locations. As American Rifleman Editor-in-Chief Mark Keefe pointed out in his "Keefe Report" last July ("Moving: It Isn't That Simple"), there are many obstacles that stand in the way of gun-company relocation, not the least of which is concern for loyal employees. Nonetheless, one must wonder what the future holds for America's traditional "Gun Valley" if states there continue on the course of self-destructive legislation that cripples corporate vigor and strips the rights of law-abiding citizens.
Editor's Note:  Thanks to readers for identifying even more gun companies that are now manufacturing or assembling guns in the South, and so we have updated this map accordingly.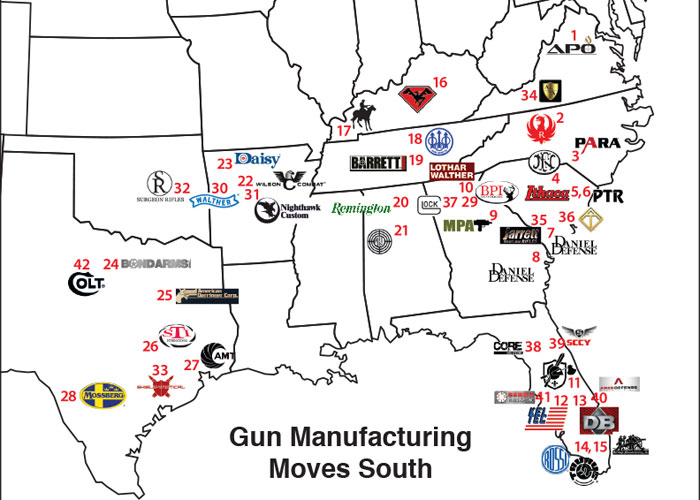 1) Ashbury Precision Ordnance, Ruckersville, VA
2) Sturm, Ruger, Mayodan, NC
3) Para USA, Pineville, NC
4) FNH USA/Winchester, Columbia, SC
5) Ithaca Gun, Aynor, SC
6) PTR, Aynor, SC
7) Daniel Defense, Ridgeland, SC
8) Daniel Defense, Black Creek, GA
9) MasterPiece Arms, Comer, GA
10) Lothar Walthar Precision, Cumming, GA
11) Knight's Armament, Titusville, FL
12) Kel-Tec, Cocoa, FL
13) Diamondback, Cocoa, FL
14) Taurus/Rossi, Miami, FL
15) Heritage Manf., Miami, FL
16) Doublestar, Winchester, KY
17) Remington/Marlin, Mayfield, KY
18) Beretta, Gallatin, TN
19) Barrett, Murfreesboro, TN
20) Remington, Huntsville, AL
21) Steyr Arms, Bessemer, AL
22) Wilson Combat, Berryville, AR
23) Daisy Manf., Rogers, AR
24) Bond Arms, Granbury, TX
25) American Derringer, Waco, TX
26) STI Int'l, Georgetown, TX
27) High Standard/AMT, Houston, TX
28) Mossberg, Eagle Pass, TX
29) BPI Outdoors, Duluth, GA
30) Walther Arms, Fort Smith, AR
31) Nighthawk Custom, Berryville, AR
32) Surgeon Arms, Prague, OK
33) Shield/Texas Black Rifle, Shiner, TX
34) Alexander Arms, Radford, VA
35) Jarrett Rifles, Jackson, SC
36) American Tactical, Summerville, SC
37) Glock, Smyrna, GA
38) Core Rifle Systems, Ocala, FL
39) SCCY, Daytona Beach, FL
40) Ares Defense, Melbourne, FL
41) Serbu, Tampa, FL
42) Colt Competition, Breckenridge, TX