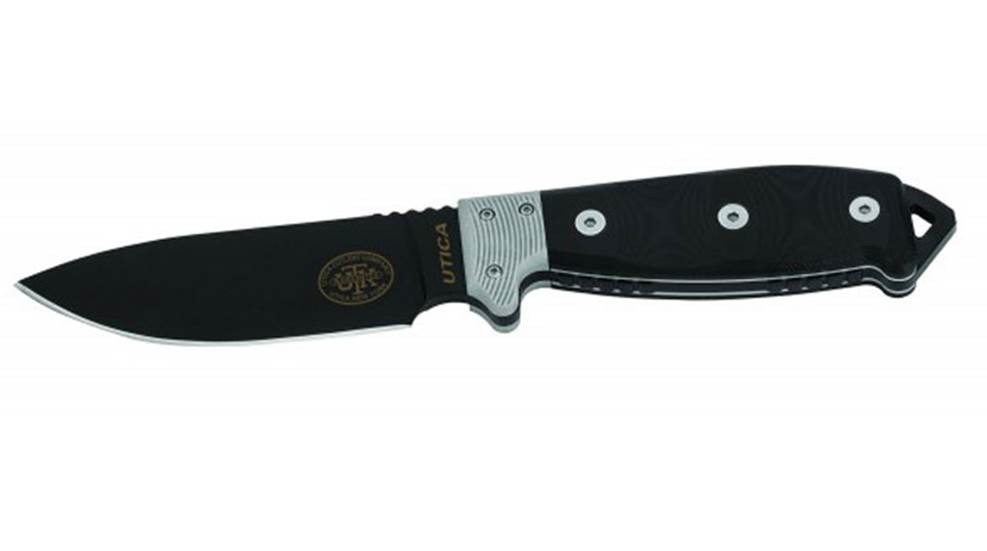 While researching various emergency preparedness and wilderness survival tools recently, I had the pleasure of being introduced to the Utica Cutlery Company for the first time. This American company was founded by a group of prominent Utica, N.Y. business men to produce pocket knives in 1910. The company has offered a variety of edged implements over the years but only recently launched the UTK Survival series of large, fixed blade knives.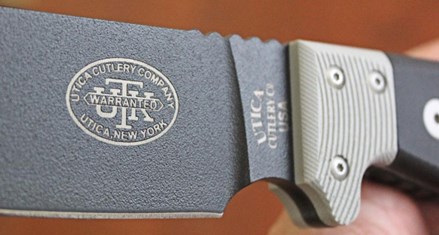 These knives are available with two blade finishes, including a durable powder coat black or mirror polish, four different blade lengths and three handle colors to keep things interesting. Shown here are the UTK-S5M (top) with a 4.5" mirror finished blade and the UTK-S4 (bottom) with a 4" matte black powder coated blade and a 0.5" shorter handle to make it more compact.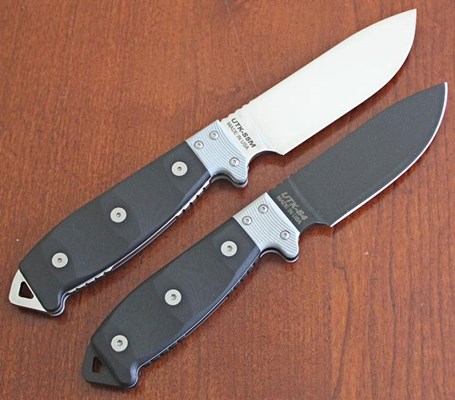 The full tang, drop-point blades are crafted from high carbon 1095 steel and heat treated to a hardness of 58-59 Rockwell. While carbon steel blades may be more susceptible to corrosion than stainless steel (if neglected), they are tough, resistant to chipping, easy to sharpen and can be honed to an exceptionally sharp edge when needed.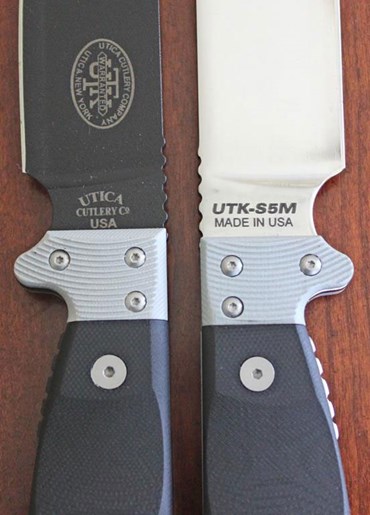 The size and thickness of the UTK knives lend themselves to the hard work and abuse utility and survival knives tend to be subjected to in the field. Non-abrasive raised jimping can be found along the spine of the blade and at the top and bottom of the handle. An oversized finger choil aids in fine blade control while a wedge shaped lanyard hole protrudes past the base of the handle. Utica does not settle for the typical molded polymer handles for these knives. Instead, the handle scales are made of black canvas Micarta with subtle finger grooves. The gray bolsters are also Micarta and lightly textured for added purchase.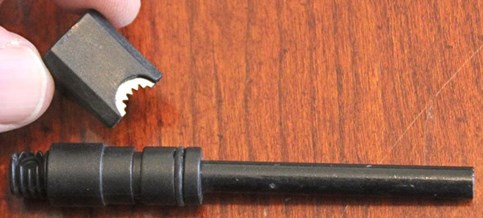 Unlike many survival knives in this size and price class, which ship with soft nylon sheaths, the UTK knives leave the factory with feature-loaded molded polymer sheaths. An emergency carbide sharpener is molded into the tip of the sheath to keep a working edge on the blade in tough situations where a whetstone may not be practical or available. The removable belt clip can be rotated for horizontal or vertical wear on a belt, pack or military-style Molle straps. A 2 ft. length of Paracord, with a polymer slider, can be used as a tie down or wrist lanyard. A 2" Ferro rod fire starter is tucked into a tubular compartment along the front of the sheath. This rod is secured with rubber o-rings and sports a removable striker.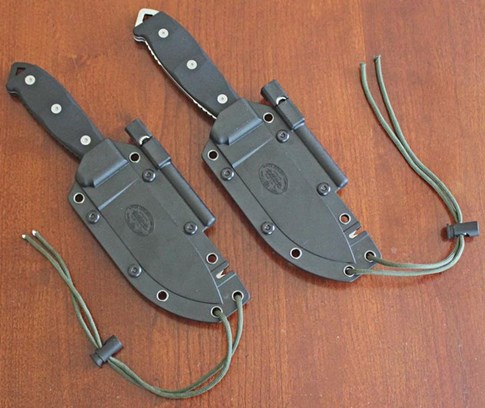 It's good to see that a century-old, family-owned company like Utica Cutlery is still making top-notch products for outdoor enthusiasts right here in the U.S.A. The UTK Survival series is available from dealers with real-world prices under $100, making them a value worth considering for your kit. For more, visit kutmaster.com.
MSRP:
UTK Survival 4", Matte Black Blade (11-UTKS4) $120.75
UTK Survival 4.5", Polished Blade (11-UTKS5M) $123.25