Support NRA American Rifleman
DONATE
Henry Repeating Arms has been working diligently to fill its customers' outdoor survival needs for two decades. The tough, reliable U.S. Survival Rifle is based on the AR-7 rimfire semi-automatic originally designed by Eugene Stoner of M16/AR-15 fame. A useful complement to the rifle is the company's U.S. Survival Kit consisting of a compact water-resistant tin packed with high-quality survival gear.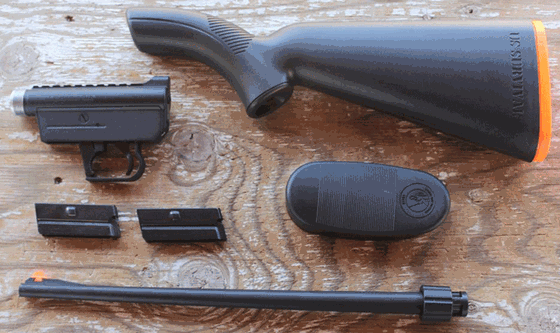 While working with the U.S. Survival Rifle and Kit a couple of years ago, I pointed out that customers would need to find a suitable piece of luggage for storage and carry. Not long after, in a review of the Savage Arms Model 42 over/under combo gun, I showed how the soft case provided with this firearm could be used to store and transport additional survival gear. New for 2018, the company has now launched what it calls the Henry U.S. Survival Pack which consists of a factory fresh black AR-7 rifle, a storage case and a set of useful survival gear.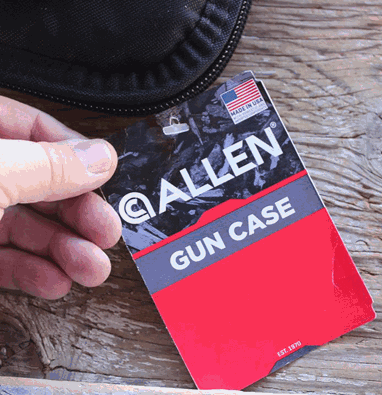 The soft-side zippered storage case, made by Allen Gun Cases, features a padded 8"x19" main pocket with two additional zippered pockets on the front. The main pocket provides plenty of room for a collapsed AR-7 rifle and the 100-ft bundle of MIL-C-5040H Type III paracord provided in the kit with enough space left over for other items such as a small hand ax. The other survival supplies provided in the pack will fit comfortably into the case's smaller left-side front pocket. The larger right-side pocket features elastic loops for tools or it can be used to store Henry's U.S. Survival Kit tin with enough space left over for a few boxes of .22 Long Rifle ammunition.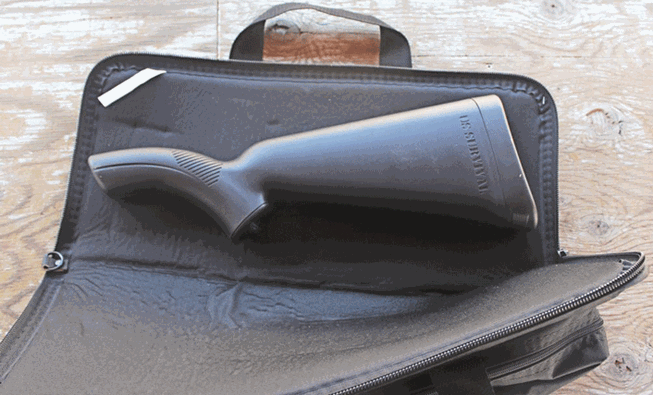 The 1 oz. Aquamira Frontier Straw personal water filter provides up to 30 gallons of safe drinking water in the field. The BLU Line parasite filter allows for a 450 ml/minute flow rate, is certified to EPA standards for the removal of Cryptosporidium and Giardia and is certified lead free to NSF/ANSI-372. Miraguard Antimicrobial Technology suppresses the growth of bacteria, algae, fungus, mold and mildew within the filter media which also reduces chlorine, chemicals, taste, and unpleasant odors.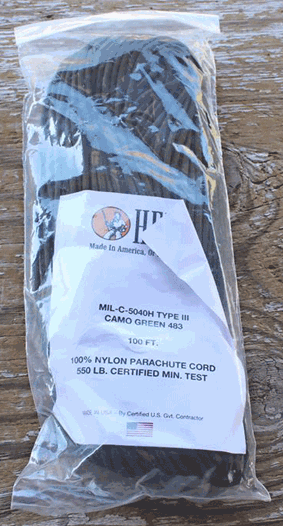 A 7-oz. Datrex Aviation Ration 1000-calorie emergency food packet is provided to keep you going until additional food can be acquired or prepared. The vacuum-sealed foil package contains four individually wrapped coconut flavored 250-calorie bars with a 5-year shelf life. The company uses all natural ingredients with no preservatives. These little calorie bars have a pleasant flavor and a light, crispy consistency. They remind me of the shortbread biscuits (cookies) my grandma kept on hand for visitors.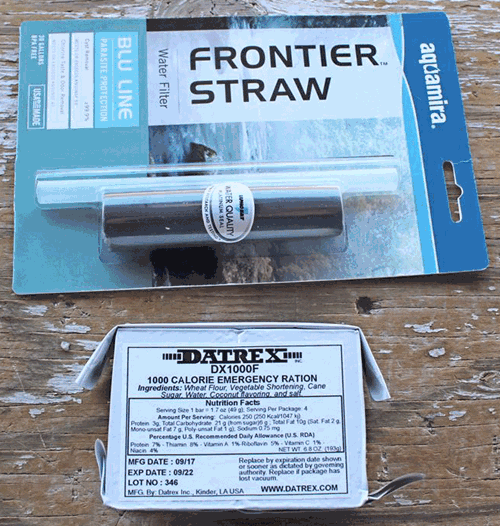 Henry includes a Buck Knives assisted-opening, lock-back Rival I folding pocket knife that features the Henry logo on the blade. The 2.75" 420HC stainless steel blade is hardened to a Rockwell hardness of Rc 58 with a full-bellied shape and a strong, thick clip point for heavier tasks. It can be used as a general work knife or for skinning. The injection molded nylon handle is lightweight, textured and fitted with a removable pocket clip for easy carry.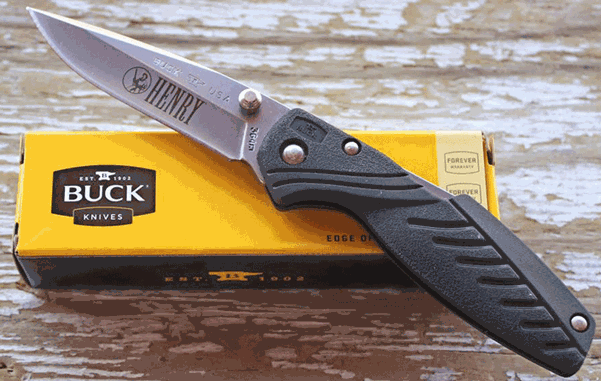 The shiny silver 84"x56" H&H Medical Corporation Mylar emergency hypothermia blanket can be used to conserve body heat, to build a shelter or to signal for help. The SWAT-T stretch, wrap and tuck tourniquet is easy to use and can also serve as a pressure bandage or elastic covering wrap.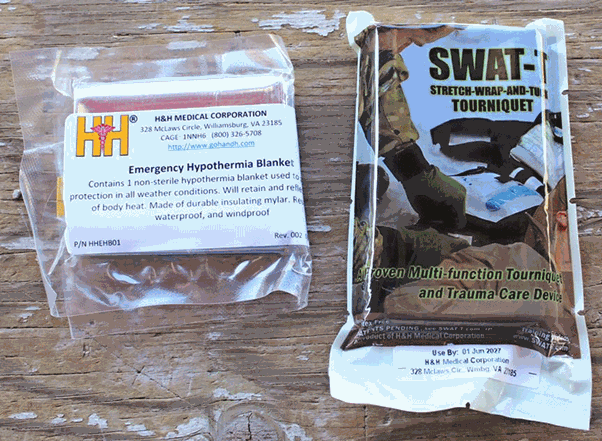 ESEE provides a mini-kit consisting of the company's Fire Steel tool, an Altoids-type storage tin and a survival instruction card. The Fire Steel is made from heat treated 1095 carbon steel so that it can be used to make sparks with true flint, as a Ferrocerium (Ferro) rod striker or as a bow drill socket. The hinged lid tin can be used to make and store char cloth, which will readily catch a spark from a flint or Ferro rod, or used to store small items such as sewing needles and fishing hooks.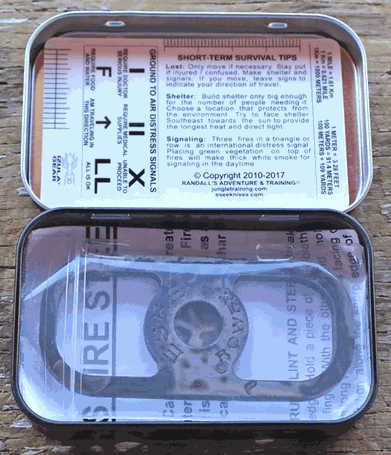 Like the AR-7 rifle it ships with, the Henry U.S. Survival pack consists solely of top quality, 100-percent American-made products instead of the cheap, no-name products so often found in pre-packaged emergency kits. Every item included in the pack expands the usefulness of Henry's tinned survival kit or they can be used as the foundation for a from-scratch kit tuned to fit your particular needs. It's an ideal combination of tools to keep on hand for your next outdoor adventure.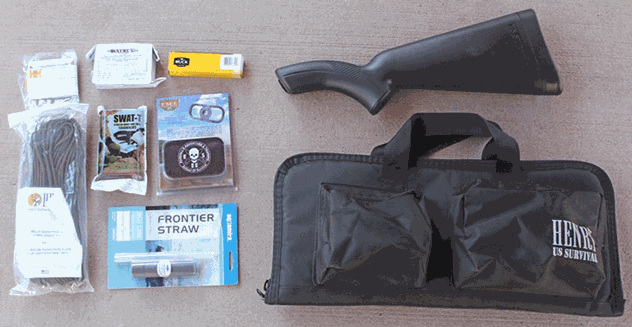 Specifications:
Manufacturer: Henry Repeating Arms
Model: U.S. Survival Pack (H002BSGB)
Rifle: U.S. Survival AR-7, Black (H002B)
Capacity: Two 8-Round Magazines
Bag: Allen Pocketed Soft Gun Case, Custom
Survival Gear:
Aquamira Frontier Straw personal water filter
Buck Knives Rival I folding pocket knife
Datrex Aviation Ration 1000-calorie emergency food packet
ESEE Fire Steel with storage tin and instruction card
H&H Medical Corporation Mylar emergency hypothermia blanket
MIL-C-5040H Type III green camo paracord, 100 ft.
SWAT-T tourniquet
Suggested Retail: $550
Henry U.S. Survival Kit (HSK001): $119.95