by
posted on August 16, 2019
Support NRA American Rifleman
DONATE
Folding pocket knives and small sheath knives are undeniably useful tools to have around town and in camp. But some jobs call for larger blades that are tough enough to handle chopping and brush-clearing chores as well. The Honshu Boshin series of fixed-blade knives from BUDK includes the Bowie and Parang survival knives for this kind of work, at prices that won't break the bank.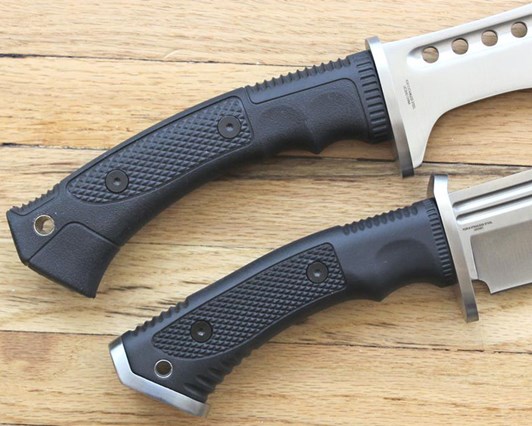 Both of these big-bladed tools feature full-tang blades which are 0.19" along the spine and constructed of 7Cr13 stainless steel. This is a tough, impact- and chip-resistant general-use steel with high corrosion resistance and a hardness range of 55-57HRC. It trades some edge retention for easier sharpening in the field. The steel arrives with a nicely polished finish and a ready to use, fully sharpened edge.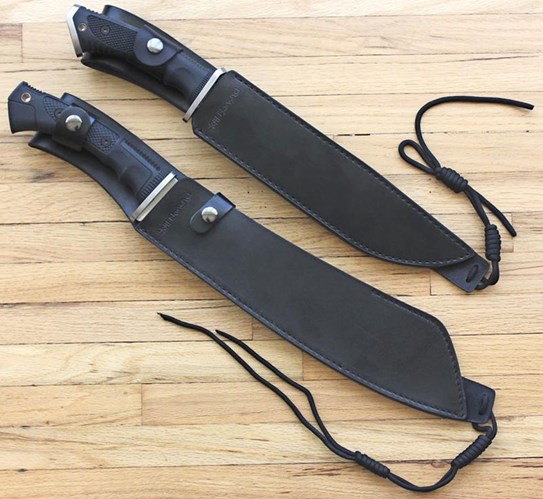 The handguards are cut from 0.20"-thick stainless steel, the textured grips are injection molded from durable black TPR and each grip is fitted with a brass-lined lanyard hole. The knives ship with black all-leather sheaths with steel snaps and rivets along with Paracord leg ties.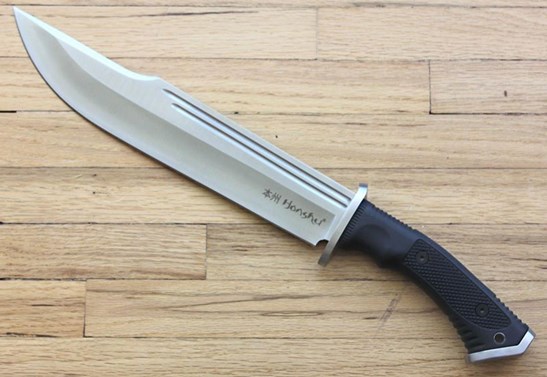 Too many budget-priced Bowie's are built to be huge instead of handy. Their heavy, slab-of-iron designs swing like a pig on a stick and drag at the hip by the end of the day. However, the clip point Boshin Conqueror Bowie exhibits light, well-balanced handling characteristics thanks to weight-reducing features including a 4.5" false edge and dual blood grooves. It handles more like a 6" knife than full-size Bowie.   
The 13" curved hybrid blade of the Boshin Parang draws its inspiration from the multi-purpose machetes of South East Asia. Designed to handle thicker, more woody vegetation than South American style machetes, this Parang has a thicker, weight-forward blade design optimized for stronger chopping strokes. The waterproof synthetic handle is contoured and textured for improved purchase, improved control and less fatigue. This knife can easily take over the duties of a light camp and a machete in order to reduce the number of tools you have to take on your outdoor adventures. 
To learn more about these and other Honshu products, visit budk.com.

Specifications:
Distributor: BUDK
Honshu Conqueror Bowie Knife with Sheath (17UC3321)
Blade:  Full-Tang 10 7/8" Clip Point, 7Cr13 Stainless Steel
Handle: Textured TPR Synthetic with Brass Lanyard Hole
Guard and Pommel: Stainless Steel
Knife Weight: 18-oz., With Sheath 24-oz.
BUDK Web Price: $64.99 
Honshu Boshin Parang with Sheath (46 UC3242)
Blade: 13" Convex Grind, 7Cr13 Stainless Steel
Handle: Textured TPR Synthetic with Brass Lanyard Hole
Guard: Stainless Steel
Knife Weight: 24-oz., With Sheath 31-oz.
BUDK Web Price: $59.99