Support NRA American Rifleman
DONATE
The modern outdoorsman has a good deal of useful gear to choose from these days. Belt lines can quickly become festooned with knives, multi tools, utility pouches, GPS units, walkie-talkies and smart phones. But with all these devices, there's not much room left for a handgun holster.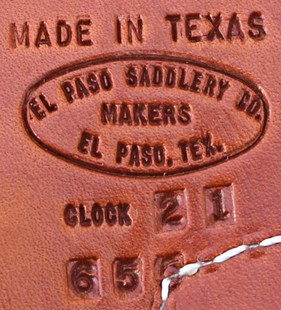 A practical and comfortable solution to the problem is the high-quality 1942 Tanker Holster from El Paso Saddlery. This bandoleer-type leather holster system was developed during World War II for air crews and tank operators who needed a way to carry pistols while moving in and out of vehicles and tight spaces. This easy-to-put-on and take-off holster supports the pistol midway between the hip and center of the chest, just above the belt line. Just slip the bandoleer over your head and snap the retention strap around your belt. It rides comfortably under a warm jacket and won't interfere with shouldering a rifle or wearing a backpack.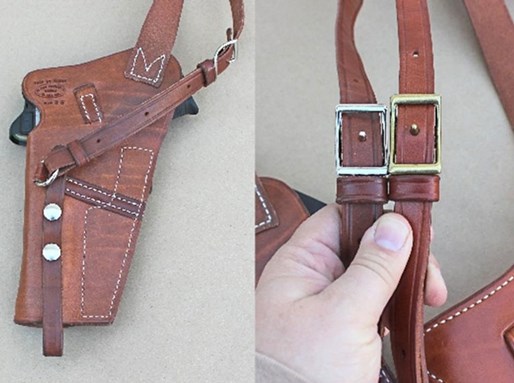 Unlike some products, where changes in price may mean a shift in quality, all of El Paso Saddlery's holsters are assembled using the same handpicked leather, attention to detail and professional craftsmanship no matter the degree of embellishment the customer may choose. Simple, but solid, utilitarian holsters are available for those who are looking to keep costs down. The holster can be lined for added durability. Decoration options include a U.S. military stamp, border stamping and stamped patterns such as basket weave and fish scale. If you want to go whole hog, add some of the company's exemplary leather carving, such as the extra fancy floral carving shown here.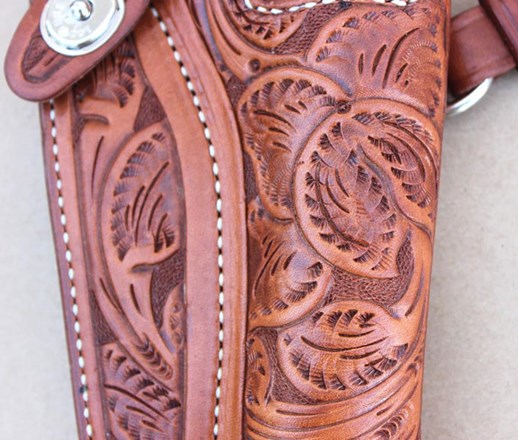 Tanker holsters can be customized to fit your pistol configuration. Shown here on the right is a holster with a standard iron sight cut out, which in this case is for a Glock G21. On the left, is a custom cut rig for a Glock G40 with the MOS optics mounting system fitted with a TruGlo optic. The craftsman used photos that I provided of the pistol and optic next to a ruler to lower this portion of the holster accordingly. The holster I received was a perfect fit.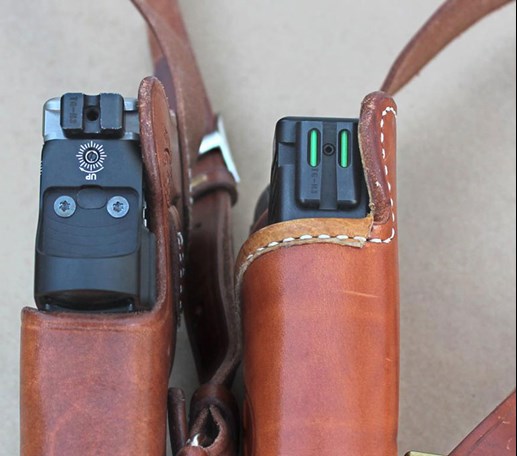 El Paso Saddlery has done a terrific job of updating the 1942 design to work with single-action revolvers, double-action revolvers and semi-automatics with barrels from 3" to 8 3/8″ in length. Prices for these handmade holsters start at $119. This product represents just one of a wide variety of holsters, belts, magazine pouches and other leather accessories El Paso Saddlery has to offer. For more, visit epsaddlery.com.