posted on January 10, 2012
Support NRA American Rifleman
DONATE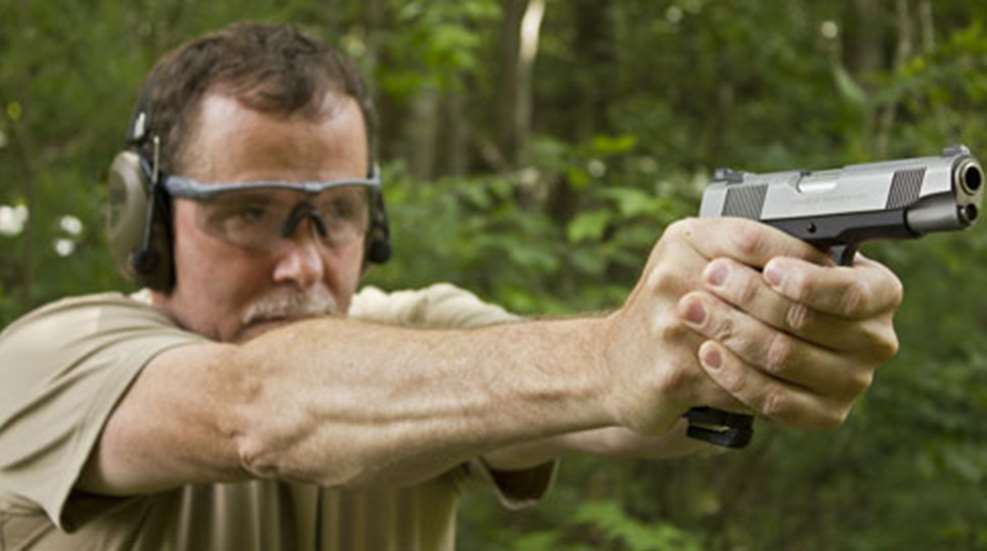 There are a number of reasons the .45 Auto cartridge has become one of the most trusted defensive handgun cartridges of all time. Arguably, the legacy began in 1903 when Army Capt. John T. Thompson and Maj. Louis Anatole LaGarde conducted tests to determine the most effective military handgun cartridge. By shooting live cattle and medical cadavers they developed a rating system for various cartridges and came to the conclusion that the bullet used should not have a caliber of less than .45.
This led to the adoption of the Colt 1911 handgun by our armed forces. This pistol, which was chambered for the .45 Auto cartridge, could push a 0.451-inch-diameter bullet weighing 230 grains out of a 5-inch barrel at a velocity of 810 fps. This same handgun, cartridge and load has served our military ever since.
In 1976, Col. Jeff Cooper founded the American Pistol Institute, which became Gunsite. Here, Cooper preached the Modern Technique of the Pistol and purveyed what might be considered his personal motto: D.V.C. D.V.C. is an acronym for three Latin words; Diligentia (accuracy), Vis (force) and Celeritas (speed). Cooper believed that a balance of speed, power and accuracy defined the Modern Technique of the Pistol, and that the .45 Auto cartridge was the best fit in this formula.
Ballistics support Cooper's theory. In a fighting pistol, sized similarly to a Colt 1911, the .45 Auto cartridge offers a great balance between power and controllability. Cooper's teachings at Gunsite and his commentary in various firearms publications helped give rise to the .45 Auto cartridge and the 1911 handgun. Both of these have now become trusted companions of a 100 years worth of military veterans, countless civilians and many law enforcement officers.
There have been other cartridges that attempted to dethrone the .45 Auto as the premier defensive handgun cartridge. The 77-year-old .357 Mag. was a long-time favorite of law enforcement. But, a full-size .357 Mag. is a big, heavy handgun that is hard to conceal and not very pleasant to shoot.
In the 80s, the 9 mm Luger cartridge—which is seven years older than the .45 Auto—and semi-auto handguns began to gain favor with law enforcement. About this time, the Beretta model 92 in 9 mm replaced the 1911 in .45 Auto as the standard issue military service pistol. Many liked the increased ammo capacity the 9 mm offered, but most agree that the 9 mm FMJ ammo used by the military was not as effective at stopping adversaries as .45 Auto hardball.
The closest contender to the .45 Auto's throne has probably been the .40 S&W cartridge. It sort of bridges the gap between the 9 mm and .45 Auto. Ironically, it is a derivative of the 10 mm Auto cartridge, which Col. Cooper also believed worthy. Law enforcement has gravitated to the .40 S&W due to the balance between power and ammunition capacity, but by and large, the .45 Auto remains American shooters' favorite.
Some argue this popularity is nothing more than nostalgic history. Others claim it's simply because "forty-five" sounds more convincing or deadly than "nine" or "forty." All of this may be true to some extent, but it's more likely that the .45 Auto remains popular because it works.
Those looking for a defensive handgun today can select between a seven-shot, super compact .45 Auto that's only 6.5 inches long and weighs about 20 ounces or full-size 1911s that will hold twice as many rounds and weigh twice as much. Ammunition options are just as varied. You can choose lightweight, high-velocity loads that will create wickedly wide wound cavities or slower, heavier bullets that will drive deep. Low recoil options are also out there and are very effective from a terminal performance standpoint.
In truth, when it comes to the selection of a defensive handgun, the cartridge is not nearly as important as your ability to handle your gun. Bad guys don't like to get shot with anything. However, the .45 Auto has the most diversified ammo offerings of any defensive handgun cartridge. Versatility is hard to ignore.
Over the last 100 years we have seen major advances in communication, air travel and medicine, but our handgun cartridge of choice is one we were using in World War I. That pretty much sums it up; if something does not work, it won't hang around for 100 years. The .45 Auto cartridge is kind of like a hammer; most often it's the best tool for the job.