by
Brian C. Sheetz, Editor In Chief
posted on October 22, 2019
Support NRA American Rifleman
DONATE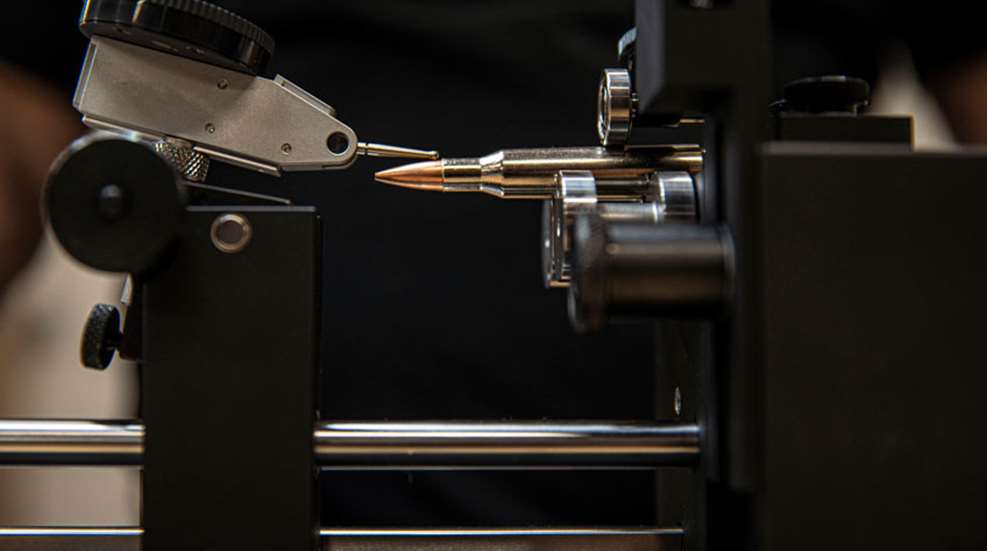 It's an idea that seemingly defies logic. Why would the world's largest manufacturer of ammunition—with 1,400 employees working around the clock within its 700,000-sq.-ft. headquarters facility to produce millions of rounds daily—decide to dedicate a portion of those massive resources and technical knowhow to handloading as few as 10 rounds at a time? The answer is simple: to serve its customers with truly personal attention.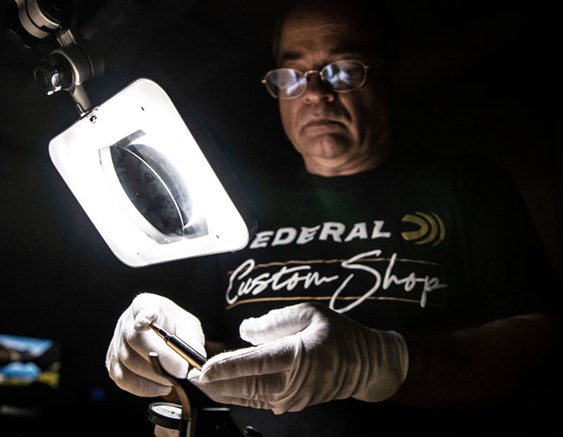 That's right, Federal will now load ammunition ideally suited to your center-fire rifle or shotgun—within guidelines set forth by the Sporting Arms & Ammunition Manufacturers Institute, of course—taking into account such specifics as barrel length and firearm modifications. Not surprisingly, wildcats are excluded, and projectile options with regard to brand, type and weight—while vast—are not unlimited. Propellants will be chosen with respect to performance, not brand, according to the company, which rolled out its new venture, the Federal Custom Shop, with a press event in September. It has already begun serving customers who place orders on its website: federalpremium.com/custom-shop. Launching the virtual experience takes a simple click on the Custom Shop button, and leads users through an easy-to-navigate, menu-driven space that allows them to order specified loads in just minutes. Backing that up is the Custom Shop's physical presence—a secure, laboratory-like area within the company's Anoka, Minn., headquarters that houses advanced, specialized tooling and employs several of its most experienced workers.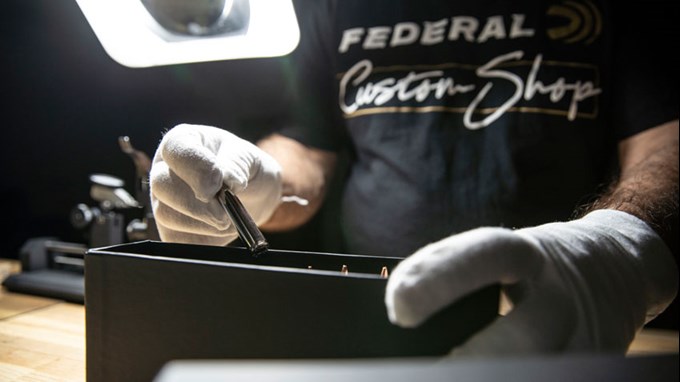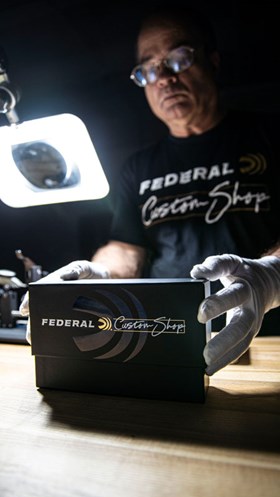 Justifiably proud of the new enterprise, company President Jason Vanderbrink was on hand to assure the press and potential customers, "You've got the best people in the world loading your ammo by hand." He added, "If it's not in Federal's vast catalog as factory-loaded ammo, we may have it listed on our website as a load we will custom handload for you. For example, Federal Premium 130-gr. Edge TLR in 6.5-.284 Norma and 28-ga. TSS turkey loads aren't products we list in our catalog, but you can certainly order them through our Custom Shop." Other chamberings, such as .257 Wby. Mag. and .284 Win., will be available for the first time from the company. Also, Custom Shop orders can be combined with those for production ammunition, which is readily available on the main portions of its site—both types will be shipped as soon as each part of the order is filled. Lead time on custom orders is approximately three to four weeks, and order data can be saved so that additional quantities can be reordered at a later date. Prices for custom shop center-fire rifle ammunition are $99.99 per box of 20, and shotshells range from $93.95 to $153.95 per box of 10. Packinging consists of distinctive, reusable, black cartons foam-lined to protect each round, each of which bears a handwritten label with pertinent technical information and the signature of the person who loaded it.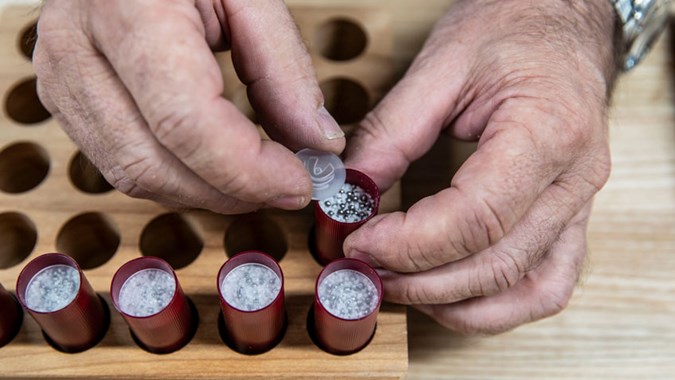 For most hunters and shooters, Federal's bread-and-butter product will always be its factory-loaded ammunition, but for the well-heeled and discriminating, its handloaded Custom Shop center-fire rifle cartridges and shotgun shells are poised to earn a place in their minds and firearms as its crème de la crème. For more information, please visit federalpremium.com

Additional Reading:
Federal Presses Its "New Look Of Authority"
Federal Introduces Syntech for Pistol Caliber Carbine Competition Shooters
Federal Introduces Buckmasters Bonded Center-Fire Loads
Federal Ammunition Supports Kids and Clays Foundation
Federal Hydra-Shok Bullets Available as Components