by
posted on August 22, 2019
Support NRA American Rifleman
DONATE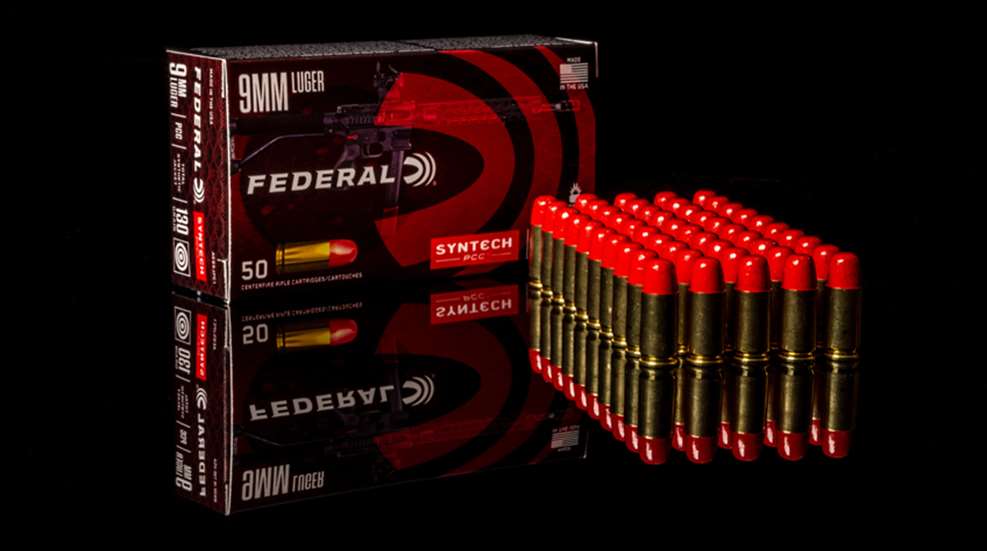 Federal has announced its new Syntech PCC 9 mm Luger load, designed to meet the demands of fast-paced Pistol Caliber Carbine competitions.

The load's velocity and accuracy have been optimized for long gun-barrel lengths, with a bullet profile designed for accuracy and reliable feeding in a variety of carbine platforms. Syntech PCC joins the Syntech Action Pistol offering as official ammunition of United States Practical Shooting Association.
Like other Syntech loads, Syntech PCC features the unique TSJ projectile, which uses a polymer jacket to eliminate metal fouling and drastically reduce damaging barrel heat and friction. The bullet style also minimizes splash-back on steel targets. Its exclusive Catalyst primer provides hot, reliable ignition without the use of lead.
"Syntech PCC is offered in 9 mm Luger 130-gr. is all about having a better shooting experience when shooting a pistol cartridge, historically speaking, through a rilfe platform," said Federal Centerfire Product Director Mike Holm. "With Syntech, you naturally have it—more features of what all shooters want, and less of what you don't."
Part No. / Description / MSRP
AE9SJPC1 / 9 mm Luger 130-gr. Syntech PCC, 50-count, 1130 fps / $19.95