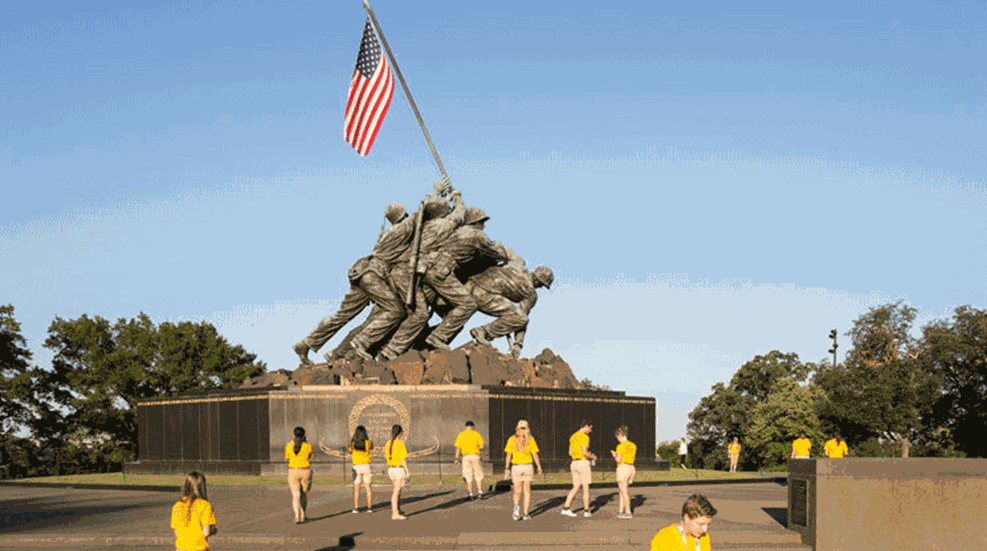 Update: NRA-ILA has responded to Yeti's backtracking:  
ALERT ! YETI Adds Insult to Injury
TUESDAY, APRIL 24, 2018
 If it wasn't bad enough that YETI dropped The NRA Foundation as a client, now they're calling us liars because we informed our members and friends of their actions.
The NRA Foundation has over 1,100 "Friends of NRA Committees" around the country. These committees host banquets and auctions that are attended by hundreds of thousands of guests each year.  These events raise funds to support charitable causes and programs.  The NRA Foundation supports the needs of  youth programs for education, safety and training, as well as law enforcement needs, shooting ranges and conservation programs. 

For many years we have purchased coolers from YETI for our auctions. We have auctioned off many thousands of YETI coolers each year. YETI recently dropped The NRA Foundation as a client.  Not only would they not take our orders for more coolers, they forced us to cancel orders already in the system that they said they would not fill.

Three days after we notified you of YETI's decision to drop The NRA Foundation, YETI issued their prepared statement in which they admit they dropped us but claim they simply eliminated the discount program and dropped other (unnamed) organizations as well.  That's news to us. 

Perhaps the people writing YETI's damage control statements are not talking to the people who enforced YETI's decisions and refused our orders. We had even offered the YETI Roadie in one of our sponsorship levels for 2018 – which we've had to cancel. 
 
We told you the truth.  

YETI's attempts at damage control is to say our statement is not accurate.  Shame on you again YETI.  You know you made a mistake.  A big one. Now you must live with your mistake.



 Update: Tuesday, April 24, 2018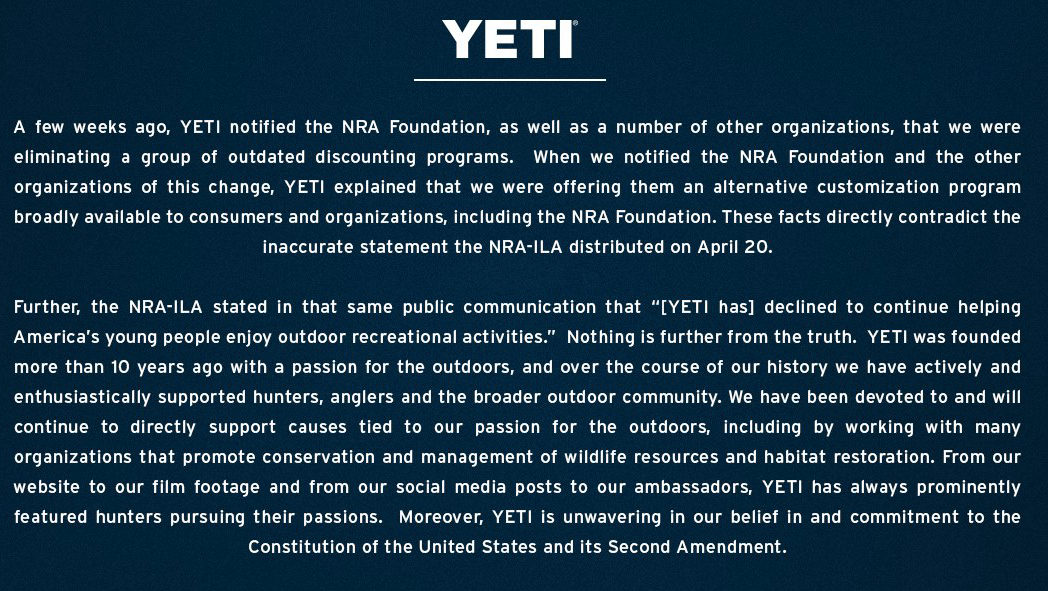 Monday, April 23, 2018:

Yeti Coolers has declined to continue as an NRA vendor, a move that effectively suspends The NRA Foundation's ability to work with the company or offer the firm's products at Friends of NRA Banquets across the nation. Money raised at the events provides critical funding for the non-profit foundation's efforts, including the highly touted NRA Eddie Eagle Program, which has already reached 29 million schoolchildren with its gun safety message.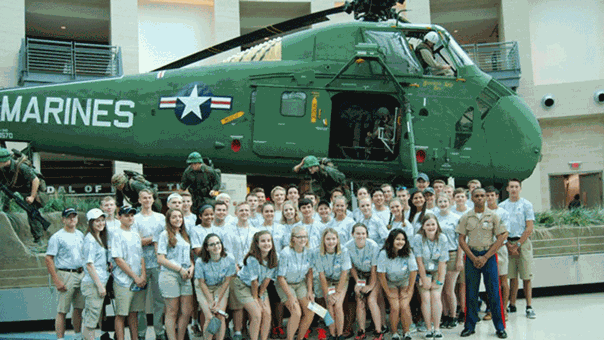 The NRA Foundation was established in 1990, and since then has awarded more than $369 million in grants to a variety of programs, including law enforcement, youth education, hunter education and more. It also underwrites the Youth Education Summit every year for some of our next generation of leaders, who get to experience firsthand democracy in action during a visit to Washington, DC. In addition, deserving students who attend qualify to compete for up to $55,000 in scholarships.
Past NRA President and current United Sportsmen of Florida Executive Director Marion Hammer issued the alert on Friday explaining, "Suddenly, without prior notice, YETI has declined to do business with The NRA Foundation saying they no longer wish to be an NRA vendor, and refused to say why. They will only say they will no longer sell products to The NRA Foundation."
Yeti Coolers was formed in 2006 and quickly built an enviable reputation for high-priced exotic coolers designed for everything from fishing excursions, to camping, tailgating and more. Its website features stories about various outdoor pursuits with the company's wares in use, including elk, sheep and caribou firearm hunts. In 2017 the company opened its Yeti Flagship store in Austin, Texas.
"…Yeti should be ashamed," Hammer wrote. "They have declined to continue helping America's young people enjoy outdoor recreational activities." Convenient links to express your businesslike and polite opinions to Yeti are found here.