Support NRA American Rifleman
DONATE
Finding the right gift for a firearm enthusiast who seems to already own everything —without taking out a second loan—is tough, but your search could end at Fail-Safe Solutions. The company has been quietly making an innovative chamber flag for several years, and after taking a trio for a test drive, I can honestly say this veteran-owned small business in Texas is making a quality product.
I know what you're thinking; chamber flags are like fruitcake this time of year—they'll garner a "thank you" and smile, then quietly migrate to the trash with the other cardboard-tasting discards.
The company's Safe-Chamber Indicator is different, though. Sure that bright yellow color proudly proclaims there's no live cartridge in the chamber, but it was designed to minimize impact on home-defense firearm deployment speed.
They're available in three sizes, .223 Rem./5.56 NATO, 9 mm and 12-gauge. In those chamberings/bores, the flag ejects like an empty shell when you rack the slide, work the charging handle, hit the bolt release or work the pump. It's not as fast as having a live round in the chamber and simply releasing the safety, but if unauthorized access is a concern, it's a lot quicker than inserting a mag or manually loading a shotgun.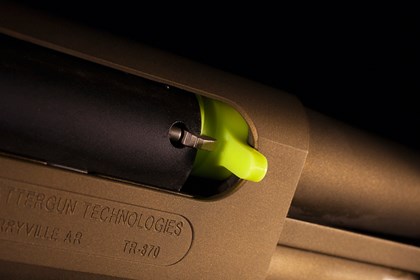 The 12-gauge version worked flawlessly in different pump and semi-automatic shotguns. The results were equally impressive in all my AR-15s. In 9 mm, things were slightly different. My old Springfield XD extractor failed to grip the flag's rim fully and—despite the company's website warning that it will not work in SCCY handguns—my CPX2 worked it perfectly.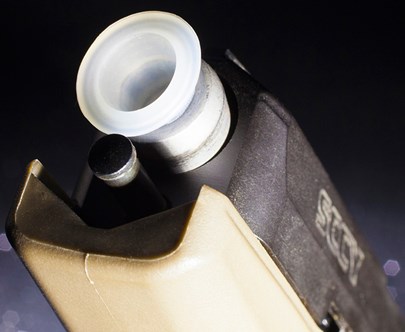 Inside each Safe-Chamber Indicator is silica gel that wicks rust-causing moisture away from the barrel/rifling. A shoot-through rubber plug can go on the muzzle end to semi-seal things, a nice touch that makes the flags equally valuable in the safe. The grains turn pink when it's time to recharge by baking at 250 degrees, or three, one-minute trips (with a pause between) into the microwave. In testing, they renewed perfectly, and once inserted into a sealed container relative humidity dropped by 15 percent in two hours.
Expose the flags to bright light for a prolonged period and they glow slightly for hours in a darkened room. That could be a functional advantage if that "bump in the night" turns out to be the unthinkable and you need to locate your bedside gun.
Cost for one of each size—12-gauge, 9 mm and .223 Rem./5.56 NATO—is only $15, less for single units. At that price it's hard to beat, and whether its main mission is protecting stored guns or standing guard, it's the kind of gift any firearm enthusiast can appreciate.