by
posted on July 12, 2016
Support NRA American Rifleman
DONATE
Shooters' preferences and spending habits aren't what they were 20 years ago, and a new logo rolled out by BPI Outdoors reflects some of that subtle shift. "For many years almost all of our products were hunting related, but now that has changed substantially with the addition of our tactical and competition oriented Bergara rifle models and our Dead Air brand of suppressors," said Dudley McGarity, then CEO of the company. "We are no longer just a hunting products company—we are a shooting sports company."
BPI's previous logo incorporated a silhouette of an antlered buck, indicative of the company's product concentration. The new logo replaces the deer head with a stylized image of a scope reticle and the tagline "Brands for Serious Shooters" completes the message that defines the expanded focus of the firm.
The firm has gently changed without abandoning all the things that have made it one of my favorites. Jeff Johnston took a look at some of the quality, craftsmanship and military experience now going into the company's rifles recently here at AmericanRifleman.org. Don't worry, those tight grouping Accuras are still available. In fact, I carried one of the muzzleloaders with confidence a few weeks ago on a bear hunt in Canada.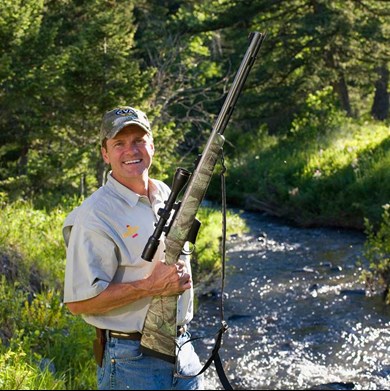 A few weeks ago, Dudely McGarity—one of the nicest people I've ever met—stepped down from the role of company CEO to that of General Manager, where he will focus mainly on strategic initiatives related to product development, marketing and sales for BPI's various consumer brands. He's replaced by Nate Treadaway, who has spent most of his career with the company. It's a rarity in today's corporate environment when someone within is promoted to the top, but then again, it's just business as usual for BPI…yet another reason it will stay at the top of my list.  

Image: Dudley McGarity with the company's Electra muzzleloader during a prairie dog hunt in Montana. Photo by author.