by
posted on December 9, 2016
Support NRA American Rifleman
DONATE
I'm always game for anything I can bolt onto my truck that'll increase horsepower and improve gas mileage, so when I ran across a Texas firm producing caps to go on your tire valve stems made of handgun brass I had to take them for a drive. GYSOT Products isn't claiming the four-packs will do either, but I figured there's no way if I scored the .45 ACP version it wouldn't give me more low-end torque for climbing steep off-road trails. I also theorized the .40 S&W should add at least another mile per hour in top speed.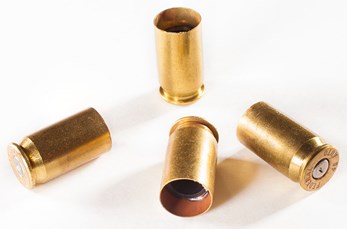 The market's flooded with this kind of product for the holiday's, with too much of the profits going offshore. GYSOT is an acronym for Get You Some Of That. The small company is based in the Lone Star State, products are made here in America and the owner is an avid shooter.
Bulletstems—the firm's name for brass-covered valve stems—are available in raw brass, polished brass and polished silver. MSRP is $15.95 for the first two and the latter comes in at $20.95. You can also order special colors for that rocket ride, and even cufflinks. If I thought the .40 S&W versions would get me out of meetings faster, I'd buy a pair.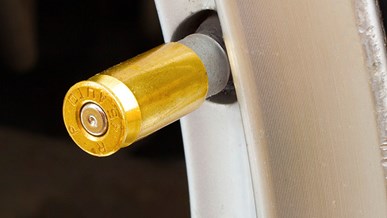 These valve stem caps are the kind of bling that says, "I'm a proud firearm enthusiast," so it's worth considering if you're looking for a stocking stuffer.  Installation was a breeze and they apparently fit every tire out there. They worked on my truck with 300,000 miles, a new Tundra, Ford F-150, Dodge Caravan and everything else I could find before a neighbor threatened to call the police if I didn't get out of his driveway.
Unfortunately, performance was disappointing. Gas mileage didn't improve, nor did torque and horsepower. It still took 10 minutes to get my drive-through order at McDonald's and no hot biker babes appeared.
They look great, though.