Support NRA American Rifleman
DONATE
The doom-and-gloom forecasts—based on the 19 straight, record-setting months of NICS background checks ending in December—claim the firearm boom has ended, but moves made by the industry and comments from experts signal something different. And during the lull, we could see deals like never before.
May of 2015 started the streak of record-setting months for FBI NICS checks. Each one doesn't necessary reflect a gun sale, but it's a good barometer, and never had so many been processed in that 31-day period. The next 18 months followed suit, with December 2015 setting an all-time high watermark of 3,314,595.
Manufacturers struggled to meet demand, and when supply lines were finally refilled and stock was on the shelves, December failed to rewrite the record books. January and February followed suit, although their figures are still the third highest for their respective reporting periods (outpaced only by election-driven periods).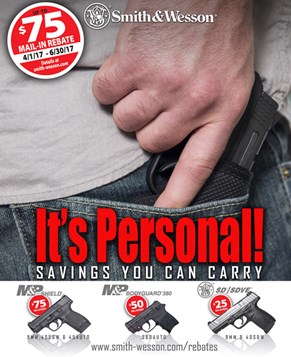 Visit your favorite sporting goods store and you'll see products on the shelves. Prices are low and deals aplenty. If you don't see something you like, keep an eye out for rebates. The manufacturers are working hard to help retailers. Smith & Wesson, for example, this week announced rebates of up to $75 on select personal-defense handguns.
As for the doom and gloom forecasts, there are a lot of moves in the industry that signal a healthy long-term prognosis and continuing vigor. Of course, that also indicates the bargain basement pricing will soon end, though.
Battenfeld Technologies, a member of the American Outdoor Brands—formerly a Smith & Wesson Holding—group of companies, for example, is forging ahead with plans to open a 500,000 square foot distribution center near Columbia, Mo. Cost of the project is estimated at $55 million and 325 jobs will be created. The company currently employs roughly 100 people there.
Vista Outdoor will complete a $33.9 million expansion at its Federal Premium ammunition plant in Anoka, Minn., this summer. At about the same time, Heckler & Koch will open and move all operations into a new $28.5 million, 50,000 square foot facility in Columbus, Ga. The move is expected to create 84 new jobs over the next two years.
HIVIZ Shooting Systems broke ground on a 20,000 square foot second manufacturing facility in April and the company will nearly double its staff—going from 51 to 101—in the next few years. In 2015 the company brought in all external, third-party manufacturing into its new facility in Laramie, Wyo., and the new space will allow the company to expand its metal-injection-molding and CNC-manufacturing capability.
On March 24, Colt's Manufacturing announced it was making investments to expand operations and purchase its West Hartford headquarters and factory. Total cost of the project is estimated at $23 million, and the company not only intends on retaining its current work force of 600, it anticipates adding another 100 in the next five years.
If the volume of announcements—all made after release of December's NICS figures—aren't enough to convince you, consider comments from Nicholas Kirk, managing director of The Hickory Group—a firm that provides strategic financial advice to private firms, investors and others— made to The Outdoor Wire in late March, "A review of NICS results for February 2017 demonstrates that such NICS checks exceeded January 2017 NICS checks by 9 percent," he said. "Further, February 2017 was the largest month of NICS checks by volume since the 'fear' years of February 2013 and February 2016. Moreover, January 2017 NICS month-over-month growth was only off the median January month-over-month growth for the same time period of 2012 to 2016 by 3 percent. Finally, the 'Black Friday' NICS checks for 2016 were 185,713, which broke the FBI's forecast of approximately 180,000 and the previous 'Black Friday' record set in 2015."
Daniel Defense is also expanding, and will open a new 300,000 square foot facility in Black Creek, Ga., by September. As for how long the "buyer's market" will continue, company founder Marty Daniel told Forbes magazine in March, "We know that 10 or 20 years down the road we're going to remain in business. But we'll see a bit of a down cycle compared to the last few years. It will take about a year for the market to correct."