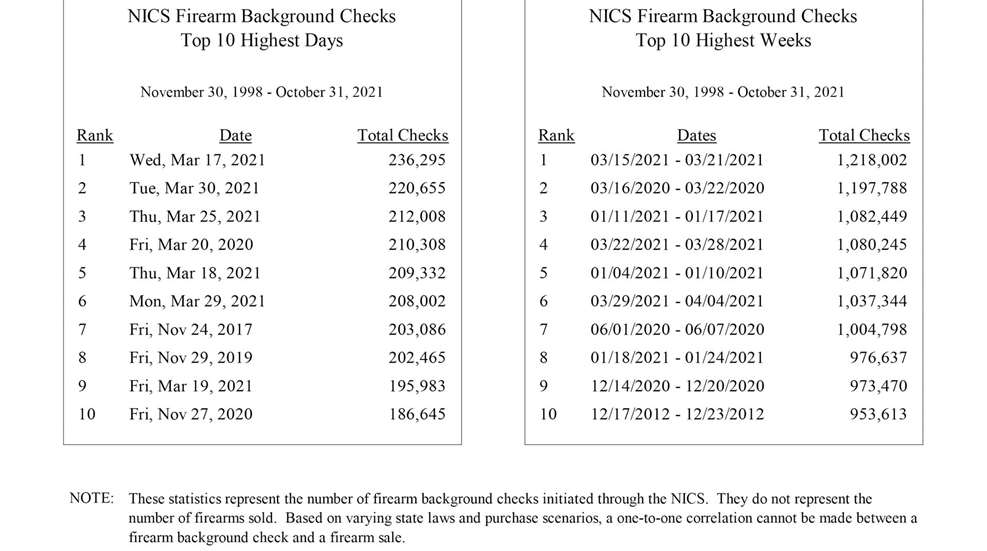 The FBI's National Instant Criminal Background Check System (NICS) processed 687,788 background checks during the week leading up to and including Black Friday. The day after Thanksgiving accounted for 187,585 of the transactions, putting it in tenth place on the list of highest volume 24-hour periods since the system began operation in November of 1998.
"This figure of over 687,000 background checks is truly remarkable," said Joe Bartozzi, NSSF President and CEO. "This year has already been shaping up to be the second strongest year for firearm sales on record, second only to 2020's record-breaking number of 21 million background checks for a firearm sale. We anticipate, based on annual data, that firearm sales will rise during the final month of the year coinciding with hunting seasons and holiday sales. This figure, though, underscores the appetite for lawful firearm ownership in America and the resilience of the firearm and ammunition industry to meet that demand."
Despite the fact November's volume isn't yet available and December's sales have only begun, the total number of NICS checks performed by the FBI through October already places 2021 soundly in second place for annual volume. The number of background checks performed by the FBI through the end of October stands at 33,060,676. The total is likely to fall short of last year's record-shattering volume of 39,695,315, although this year's Black Friday sales were slightly above 2020 (186,645).
NICS checks are also conducted for a variety of administrative uses—including concealed carry permit applications and renewals. It is, however, an accepted barometer of industry health despite the fact it's not a precise gauge of total firearm sales. Clouding the picture further are those areas where holders of valid carry permits are not required to undergo the redundant background check and those where private transactions don't require processing by the FBI system.