by
posted on May 31, 2022
Support NRA American Rifleman
DONATE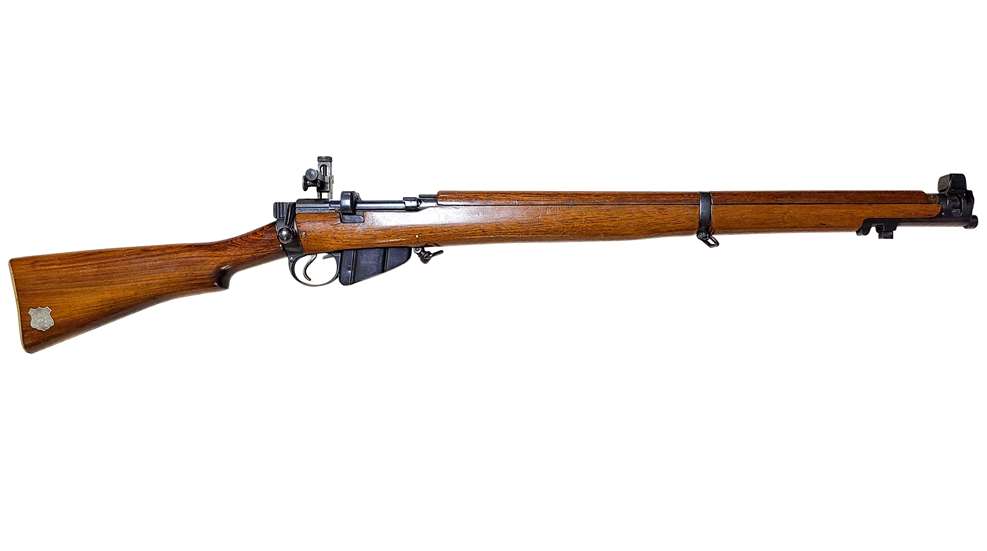 My passion is collecting old British Lee-Enfield rifles. Reading books on Lee-Enfield rifles, investigating their proofmarks and regimental markings, and exploring their developmental history is all part of the fun.
Several years ago, at a gun show, I purchased a somewhat rare Australian Lithgow No. 1, Mk III* club rifle. During the interwar period, owners of No. 1, Mk III* rifles would have gunsmiths install heavy barrels, remove the standard rear sights and install Central or Motty peep sights. The front sights were modified to be adjustable and were held in place with a set screw. Triggers were also re-worked. These gunsmiths would finally install a new top handguard, covering where the leaf sight once was, and re-finish the metal.
The club rifle I purchased has all of these fine qualities. It was re-stocked to accommodate a new rear sight, has a very smooth trigger pull and is beautifully blued. It is fitted with a rear peep sight from Central Mfg. What makes this rifle special to me is the small metal tag tacked to the right side of the buttstock that reads: "John Brennan Concord R.C." (R.C. meaning rifle club).
Curious to see if I could find the original owner, I sent an email to the New South Wales Rifle Ass'n. About a month later, I received a letter from a Mr. Abbott, who belonged to Concord Rifle Club and knew Brennan. He said they had competed back in the 1960s, and that Brennan had since passed. Abbott was pleased to know I had one of his acquaintance's rifles. He remembered when Brennan had my particular rifle worked on. He also said Brennan was a fine shot and a club treasure.
Needless to say, my club rifle shoots very well and will stay in my collection.
—John Presensky