by
Bruce N. Canfield, Field Editor
posted on December 2, 2022
Support NRA American Rifleman
DONATE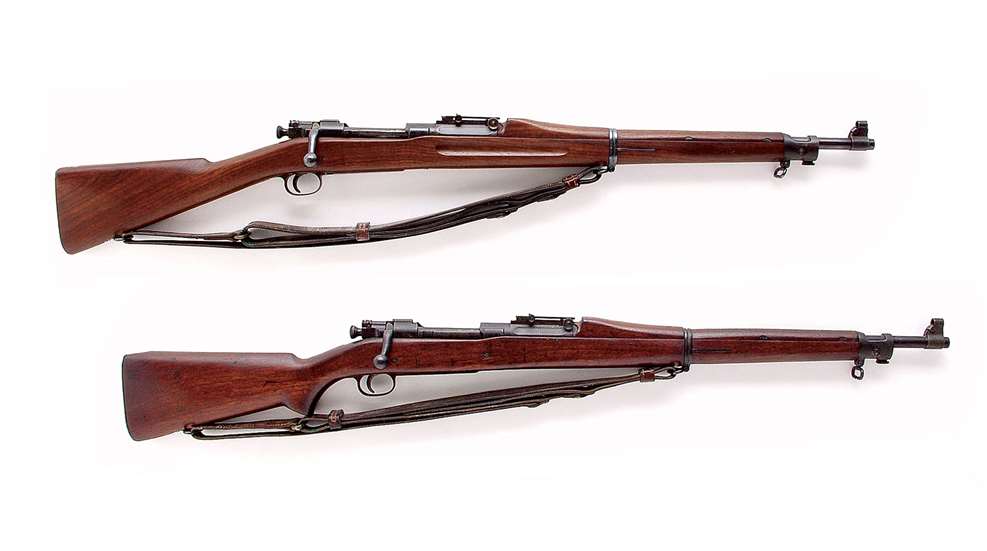 Q. I've seen references to an M1903A1 rifle. I've looked around at a bunch of gun shows, and I have not found a rifle marked "M1903A1." How does that variant differ from a standard M1903 rifle?
---
A. In 1929, a full-pistol grip (Type C) stock was standardized to replace the previous straight grip (Type S) stock for the M1903 rifle. Upon adoption of this new pattern stock, the rifle's designation was changed to "M1903A1." The primary reason for the adoption of the Type C stock was for use with the National Match '03 rifles, as the new stock was more conducive to better marksmanship.
The new Type C stock was used on National Match and service rifles made from 1929 until M1903 rifle production ceased at Springfield Armory in the late 1930s. The only substantive difference from the earlier M1903 rifles was the full pistol grip (Type C) stock; the receivers were still marked "Model 1903." Officially, the U.S. military considered any M1903 rifle fitted with a Type C stock as a M1903A1. This includes rifles that were originally made with Type S stocks but subsequently retrofitted with Type C stocks.
The M1903A1 rifles made at Springfield Armory from the end of 1929 until the late 1930s that are still in their original factory configuration are quite uncommon and are highly valued by collectors. On the other hand, those '03s subsequently fitted with replacement Type C stocks are quite common today, and their value is typically little different from any other type of overhauled '03, assuming a comparable degree of originality and condition.

—Bruce N. Canfield
---
This "Questions & Answers" was featured in the January 2007 issue of American Rifleman. At time of publication, "Questions & Answers" was compiled by Staff, Ballistics Editor William C. Davis, Jr., and Contributing Editors: David Andrews, Hugh C. Birnbaum, Bruce N. Canfield, O. Reid Coffield, Charles Q. Cutshaw, Charles M. Fagg, Angus Laidlaw, Evan P. Marshall, Charles E. Petty, Robert B. Pomeranz, O.D., Jon R. Sundra, Jim Supica, A.W.F. Taylerson, John M. Taylor and John W. Treakle.
To subscribe to the magazine, visit the NRA membership page and select American Rifleman as your member magazine.