by
posted on May 16, 2017
Support NRA American Rifleman
DONATE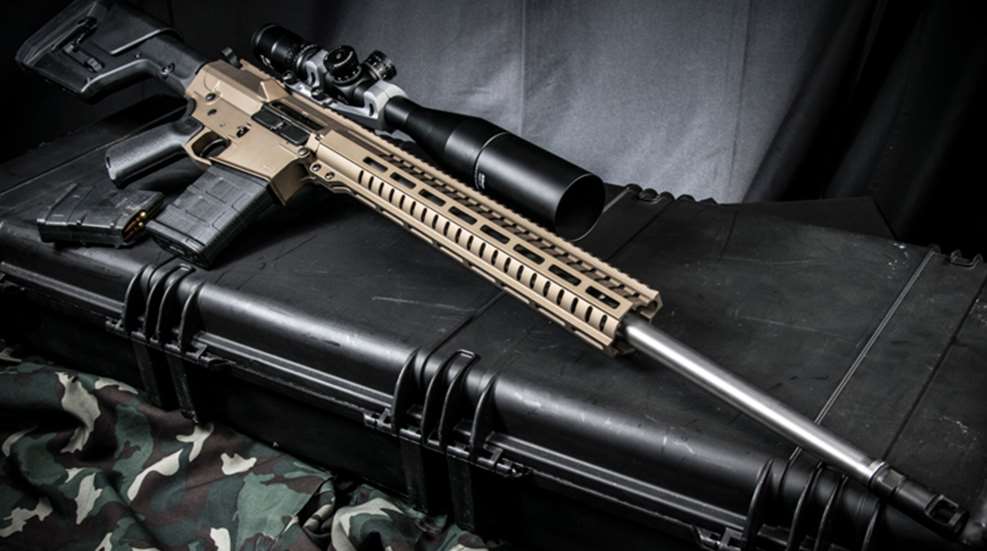 Launched in 2007 by Hornady, the 6.5 Creedmoor cartridge is taking off as it reaches its 10-year anniversary. Still a relatively young cartridge, it seems to have broken through the new cartridge glass ceiling with those segments of the shooting community striving to hit targets at long distances. Although it was originally designed primarily for target shooting and competition, the flat-shooting 6.5 Creedmoor has proven to be a successful hunting round for medium and large game.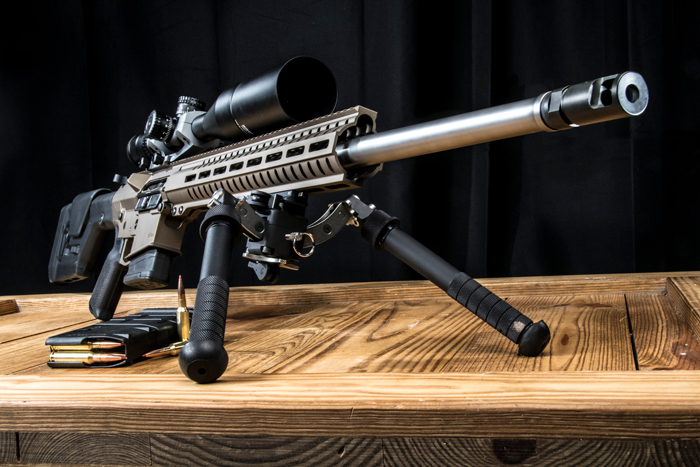 CMMG Inc. has stepped up to meet the demand for high-quality semi-automatics chambered in this cartridge with a new series of long-barreled Mk3 models inspired by the AR-10 platform. This review takes a closer look at the top-of-the-line model which ships with all the whistles and bells installed—the Mk3 DTR2.

The new DTR2 is a gas-impingement-operated semi-automatic which employs a rifle-length gas system secured by a low-profile gas block. The 24" 416 stainless steel barrel features 6-groove rifling cut at a 1:8" twist rate. The muzzle is threaded at 5/8x24 TPI and fitted with a CMMG SV muzzle brake at the factory.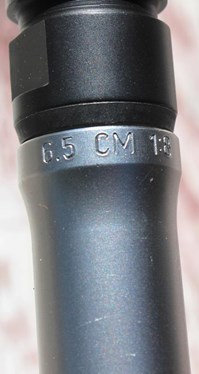 CMMG's vented free-float RML15 aluminum handguard is 15" long and features a full length integral optics rail along the top with M-LOK accessory slots at the 3, 6 and 9 o'clock positions.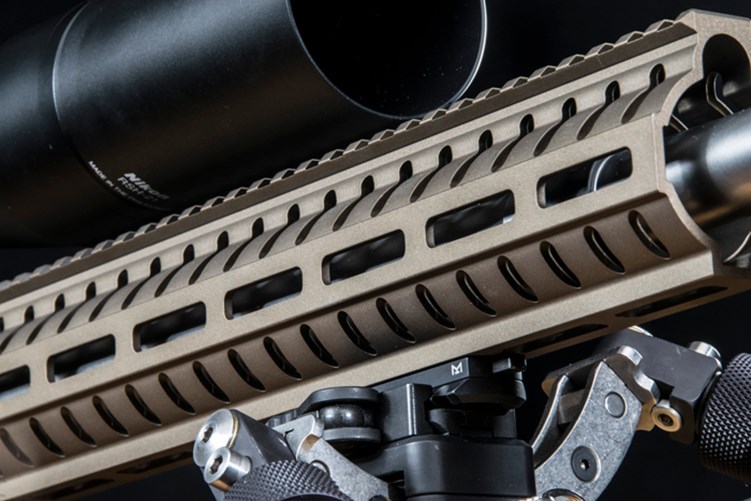 The Mk3 flat-top upper receiver and integral trigger guard lower receiver are both milled from Billet 7075-T6 Aluminum alloy. CMMG recently introduced five new Cerakote color options which can be ordered in place of the standard black finish typically applied to the handguard and receiver set for an added fee of $150. This particular rifle's receivers and handguard were finished in Stealth Gray, which is just a few shades lighter than the black components. This color helps the rifle to stand out from the crowd without compromising the low-key matted finish required for certain tactical and hunting applications.
The upper receiver is fitted with a spring-loaded mil-spec dust cover, but there is no forward assist (which is typical of the Mk3 design). Additional upper and lower accoutrements, including the charging handle, bolt-catch, magazine release and receiver pins, are also mil-spec. They are located and operated in typical AR fashion.
Opening the rifle reveals two more high quality components. The 8620 Steel Mk3 bolt carrier is chrome-lined, phosphate finished and fitted with a 9310 Steel bolt, S7 tool steel extractor and a chromed firing pin. The typical mil-spec trigger has been replaced with the Geissele Automatics Super Semi-Automatic (SSA) two-stage trigger group with a curved bow trigger (a $240 value). Available with a listed trigger pull of 3.5 or 4.5 lbs., the SSA group installed in this particular rifle exhibited a 4 lb. 4 oz. trigger pull with a crisp break, short stroke and a quick reset. It felt great to work with.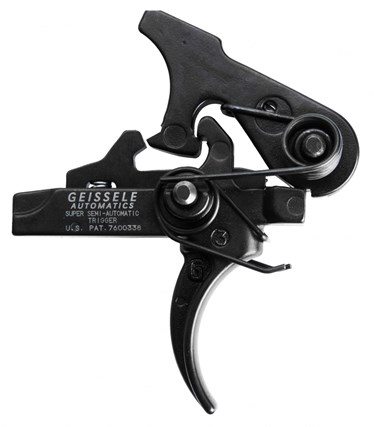 The polymer pistol grip, fixed precision adjustable shoulder stock and magazines are provided by Magpul. The MOE Grip (MAG415) offers a one-piece reinforced construction for added durability, a beavertail back strap, positive anti-slip texturing and a storage compartment.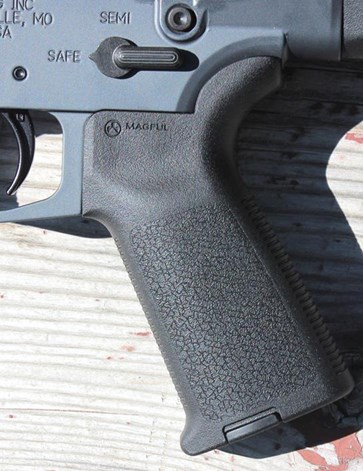 The PRS GEN3 is a precision-adjustable shoulder stock that allows for tool-less adjustments of the cheek piece height and length-of-pull (LOP) using integrated aluminum adjustment knobs. The inch-thick textured recoil pad is cant and height adjustable. The stock's connection points include two QD ports near the receiver, a reversible vertical 1.25" aluminum sling loop near the recoil pad and two M-LOK slots along the bottom edge of the stock. All of the PRS's aluminum components are treated with a Type III MIL-A-8625F hard-coat anodized finish.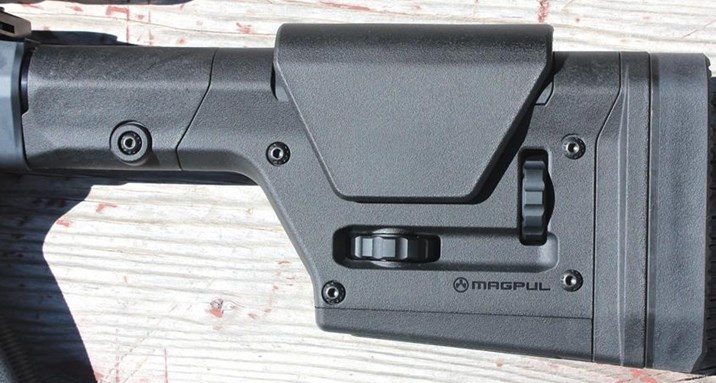 This rifle arrived with one 20-round Magpul PMAG 20 LR/SR GEN M3 magazine.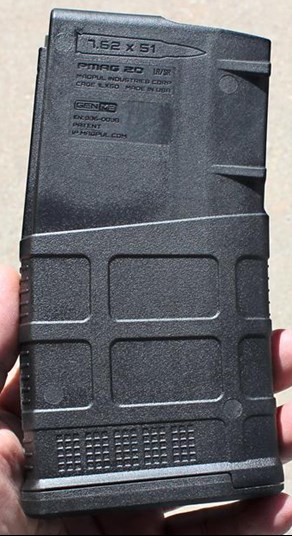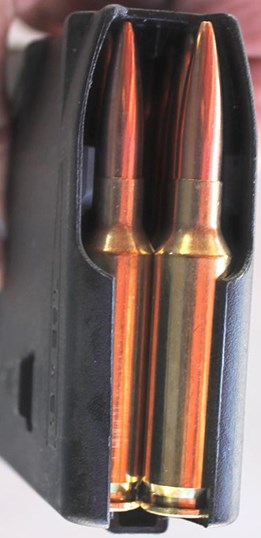 I've heard more than one authority in the field say that those who are serious about stretching their rifle's range can use low-grade optics and expect optimal results. Cheap glass just won't do the trick. That being said, several optics makers have recognized that as precision rifle prices continue to drop, the price of long-range optics need to come down as well.



This year Nikon tackled the need for high grade AR optics at reasonable prices with the new BLACK line of rifle scopes. The model paired with this rifle was the BLACK X1000 4-16x50SF matte black option with an illuminated glass etched X-MOA reticle. Other features include an aircraft-grade aluminum 30 mm tube, tall target style 1/4 MOA click adjustment turrets that provide 90 MOA internal adjustment travel and full multilayer coatings on all air-to-glass surfaces. The suggested retail price of $599.95 may seem a little steep until it's compared to other makes and models with similar features at three, four and even five times the price. To keep the BLACK optic firmly in place, it was mounted to the rifle using an excellent Warne 20-MOA Extended Skeletonized 30 mm MSR scope mount with quick release knobs.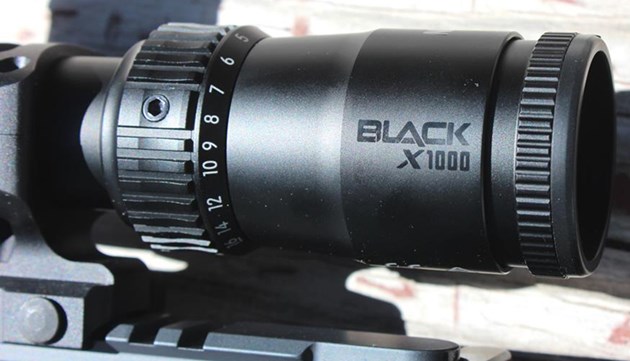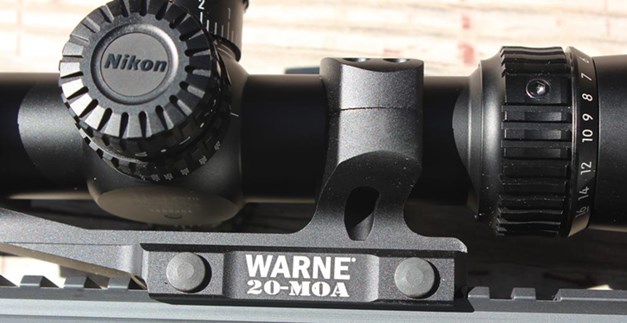 With its 24" heavy barrel, AR-10 profile, long fixed shoulder stock and an unloaded weight of 11 lbs. 4 oz., the DTR2 definitely qualifies as a full-size rifle. Despite its weight and length it demonstrated good balance during two-handed standing shots. I've had the opportunity to work with several CMMG products now and found the fit and finish of the DTR2 to be on par with its predecessors, which is to say, top-notch across the board. Throughout the course of conducting bench checks and live fire testing all of this rifle's controls proved to be smooth and reliable in their operation. There were no mechanical issues or ammunition related issues either. It ran without a hitch or hang-up from start to finish.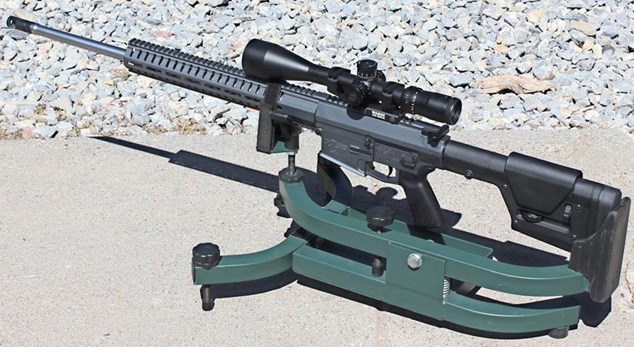 The 6.5 Creedmoor is known for a moderate level of felt recoil when compared to other cartridges in its class. But this rifle's weight, excellent muzzle brake and thick recoil pad made the rifle feel positively tame. Although small-framed or less-experienced shooters may not be able to keep the DTR2 aloft for long in order to take standing shots, they will find the recoil levels comfortable to work with from prone of bench rested positions.
With the rifle proving to be comfortable and easy to operate during the sighting in and warm-ups, it was time to get to the formal benchrested accuracy testing at 100 yards. With the 6.5 Creedmoor's reputation for top-notch accuracy and the folks at CMMG saying this rifle was specifically designed to print tight groups, I had pretty high expectations.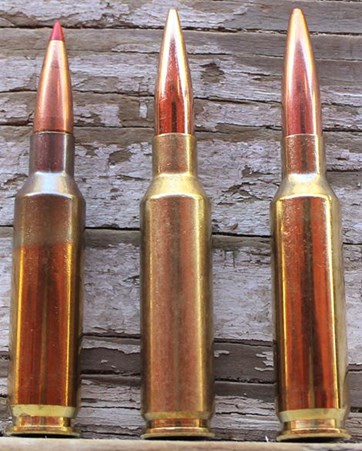 If I'm the guy working the trigger of an off-the-rack rifle loaded with factory manufactured ammunition, and the gun is producing groups in and around the 1" mark at 100 yards, then I'm content to say that all three components are operating within acceptable limits. This may not be the most precise rule of thumb to use (especially for those professional competitors and snipers in the audience) but it works for me and the broad spectrum of long guns I work with. What I do know for sure with this standard is that if the groups shrink measurably below the 1" mark it's the equipment doing the talking, not me. A Lab Radar chronograph was set up to check the average muzzle velocities for 10 consecutive rounds.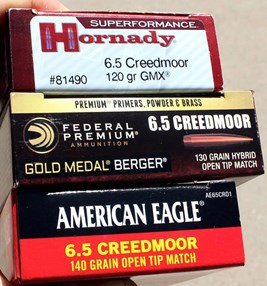 The first load tested for accuracy was the Hornady 120-gr. GMX polymer tipped hunting load which averaged 2916-fps. Bullet weights for the 6.5 Creedmoor range from around 100 gr. to 147 gr., which makes the GMX a middle-weight bullet in this case. It produced a best single 5-shot group of 0.96" with a five group average of 1.02". However, the groups tightened up as the bullets got heavier. Federal Premium Ammunition just released a brand new Gold Medal Berger 130-gr. open-tip match load which flew along at 2843 fps. This load yielded a best single group of 0.72" with an average group size of 0.97".  The round that provided the best level of accuracy was a Federal American Eagle load that launches a 140-gr. open-tip match bullet at 2628 fps. It printed a best single group of 0.56" with an average of 0.64".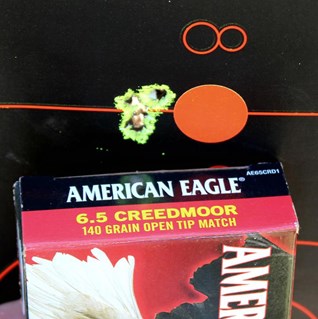 The new CMMG series of Mk3 6.5 Creedmoor rifles have been designed to give shooters a high-quality semi-auto for long range shooting with a set of desirable, familiar controls. When using the right ammunition the accuracy potential for 1/2" groups is definitely there. I was impressed with how well this rifle handled on and off the bench with its tame recoil and accurate shot placement. The basic model starts at $1,799.95 and the price goes up from there depending on the options selected.

Specifications:
Manufacturer: CMMG Inc.
Model: Mk3 DTR2 (65A9F70)
Action: Gas-Impingement Semi-automatic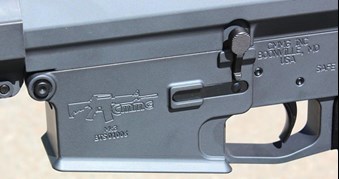 Caliber: 6.5 Creedmoor 
Upper Receiver: Milled Billet 7075-T6 Aluminum, Stealth Gray Cerakote Finish
Ejection Port Cover: Yes
Forward Assist: No
Charging Handle: Mil-Spec
Bolt Carrier Group (BCG): Mk3
Barrel: 24" Heavy Taper, 416 Stainless Steel
Rifling: 1:8" RH
Barrel Length: 16"
Grooves: 6
Muzzle Threading: 5/8x24 TPI
Muzzle Device: CMMG SV Brake
Gas Block: Low Profile
Gas Tube: Rifle-Length
Handguard: CMMG RML15 15" Free Float, Integral Picatinny Optics Rail, Stealth Gray Cerakote Finish
Handguard Slots: MLOCK
Lower Receiver: Milled Billet 7075-T6 Aluminum, Stealth Gray Cerakote Finish
Trigger Guard: Integral
Lower Parts: Mil-Spec
Trigger Group: Geissele Automatics Super Semi-Automatic (SSA) Two-Stage, Curved Bow 
Trigger Pull: 4 lbs. 4 oz. (As Tested)
Length of Pull: (LOP): 15" to 16.5"
Pistol Grip: Magpul MOE (MAG415)
Buffer Tube: Rifle-Length A2 Fixed
Shoulder Stock: Magpul PRS GEN3 Precision-Adjustable
Sights: None
Magazine: Magpul
Capacity: 20+1 Rounds
Overall Length: 46"
Weight: 11-lbs. 4-oz., Unloaded with No Magazine
Accessories: One Magazine, Owner's Manual
MSRP: $2,274.95 with Standard Black Finish, $150 More for Cerakote Finish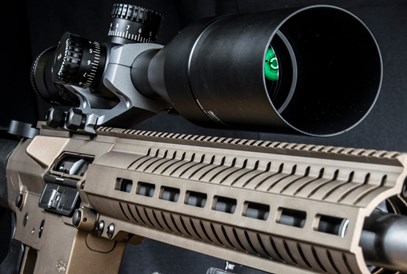 Optic: Nikon BLACK X1000 4-16x50SF Illuminated X-MOA $599.95
Scope Mount: Warne 20-MOA Extended Skeletonized 30 mm MSR Mount (LRSKEL30TW) $139.99