by
posted on May 13, 2022
Support NRA American Rifleman
DONATE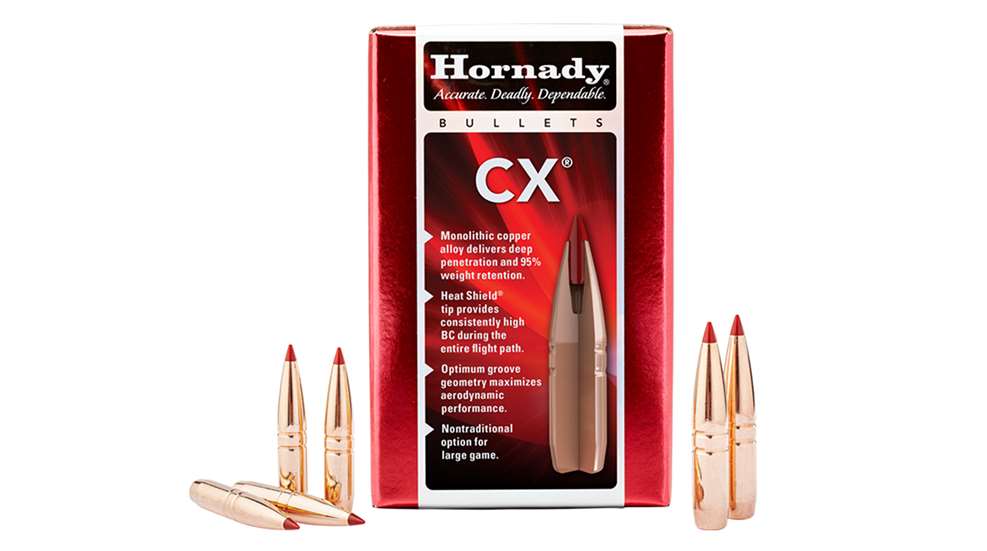 Hornady has introduced the new CX (Copper alloy eXpanding) line of rifle bullets as an update to its previous GMX offerings. Featuring a monolithic copper design, they do not separate or break apart upon impact. The durable alloy allows these bullets to deliver effective terminal performance and deep penetration while maintaining 95 percent or more of their original weight.
The Heat Shield tip is made of a polymer that resists aerodynamic heating, allowing the tip to maintain its shape for a consistent high ballistic coefficient that holds true for the bullet's entire flight. The groove geometry of the CX bullet is configured for maximum aerodynamic performance while reducing bearing surface and bore fouling.
The CX reloading-component lineup includes a total of 16 bullets in nine different calibers, ranging from 0.243" to 0.375", suitable for hunting medium-size to large game. This bullet will also be available atop some of Hornady's factory-loaded cartridges including Outfitter, Custom and Superformance options.
For more information, please visit hornady.com.