by
posted on July 16, 2020
Support NRA American Rifleman
DONATE
About 15 years ago, I found a brand new Glock Gen 3 G21 on sale for a great price at a local shop. It was my first duty-size pistol chambered in .45 ACP, and I was proud to own it. This semi-auto lived up to the company's reputation for simplicity, durability and reliability.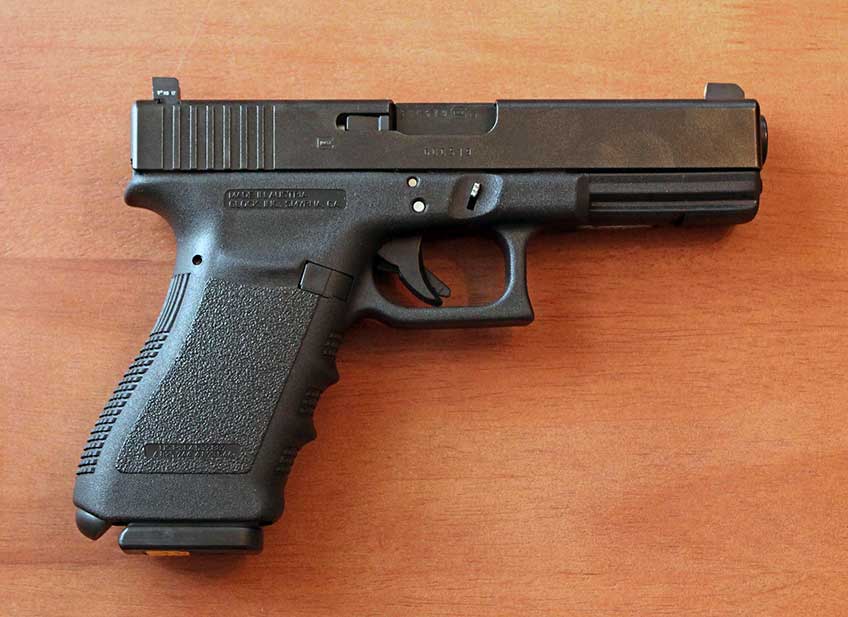 A few years later, I had the opportunity to team up with Lone Wolf Distributors to convert that particular G21 from a 4.62" barrel into a 6" barrel long-slide configuration. I had wanted a long slide semi-auto for some time and the results were just what I was looking for! Some folks may think the laser engraved flame job on the stainless steel barrel and slide is a little over the top, but I was having a bit of fun with my first custom handgun build.

This Lone Wolf conversion project gave me my first taste of the down-range enjoyment that long-slides provide. This led to further experimentation with stretched semi-autos. There was a Gen3 G34 Practical Tactical 9 mm that was tricked out for competition and, eventually, an at-home build of a Glockmeister-customized G40 chambered in 10 mm Auto.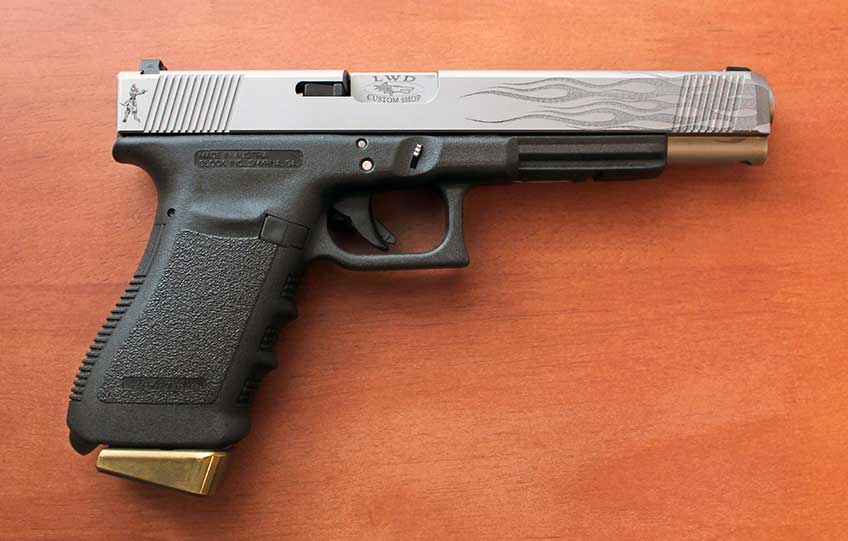 In spite of all this long-barrel goodness, there was a casualty along the way: the factory installed 4.62" barrel-and-slide assembly of the Gen3 G21. Yes, it could be swapped out with the custom 6" barrel and slide, if I wanted to. But I liked the longer slide so much that I saw no reason to trade it out again. As a result, the factory slide disappeared into a parts box ,where it's been gathering dust until now.

Not long ago, Lone Wolf introduced its own in-house series of Glock-compatible Timber Wolf polymer frames for 9 mm and .40 S&W pistols. At the end of 2018, the company expanded the line up to include two Timber Wolf Large (TWL) options for Gen3 and Gen4 slides chambered in .45 ACP or 10 mm. The the TWL-L version is what you would expect. The L stands for a Long Grip, meaning a standard, duty-size frame that accepts 13-round G21 magazines when the frame is configured for .45 ACP.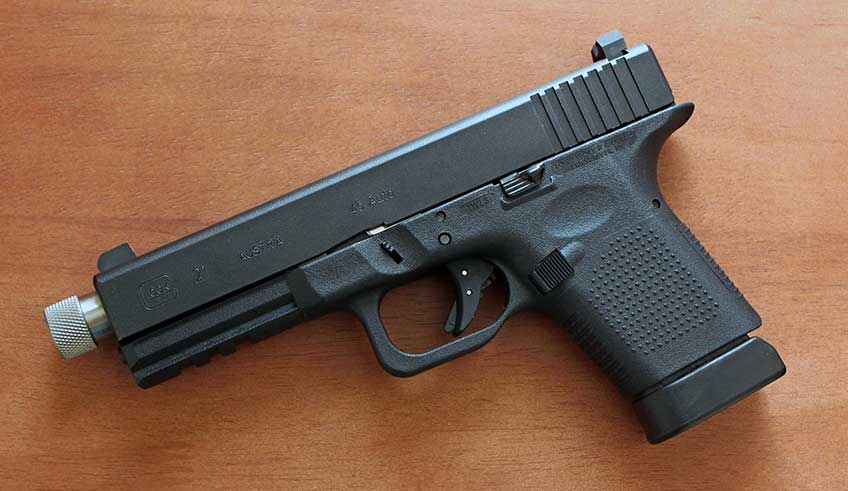 The other model, designated the TWL-S, is something of a hybrid. The S stands for a Short Grip which has been reduced to a Sub-Compact length. It's configured to be compatible with Glock G30 double-stack magazines. In other words, with a bit of at-home build ingenuity, this frame makes it possible to assemble a custom long-slide G30 using a G21 slide assembly.

But where does a long-slide G30 fit on the scale of practical applications? My first thought as I considered this slide-and-frame combination was that it would make an ideal trail-to-town carry pistol. Not everyone who enjoys the great outdoors either wants or needs a magnum revolver.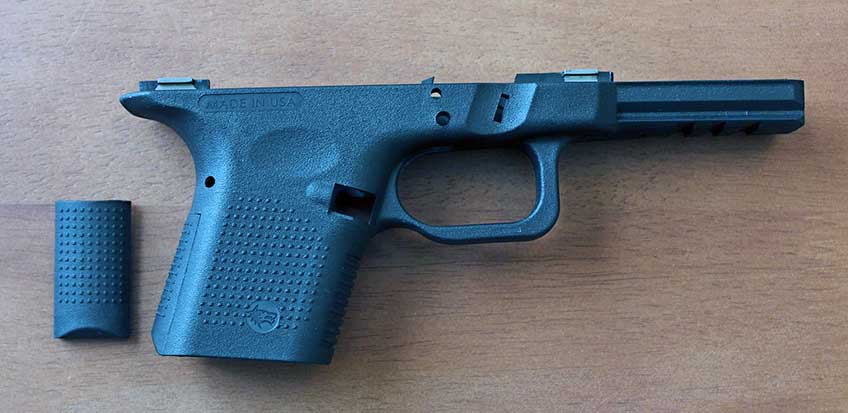 A properly loaded .45 ACP can provide suitable personal protection in those regions where grizzly bears are not a concern. Buffalo Bore Ammunition offers a series of 45 ACP +P Outdoorsman loads including non-expanding bullet options designed to pass through the large shoulder bones or the skull of black bears in case of an attack.

As I looked it over, I could see that the Lone Wolf TWL-S frame, along with the appropriate parts kit, would provide several opportunities rolled into one purchase. First, I would be able to put the neglected Gen 3 G21 slide assembly back to work. Reusing on-hand components as part of an at-home build would, in turn, significantly reduce the cost of the build.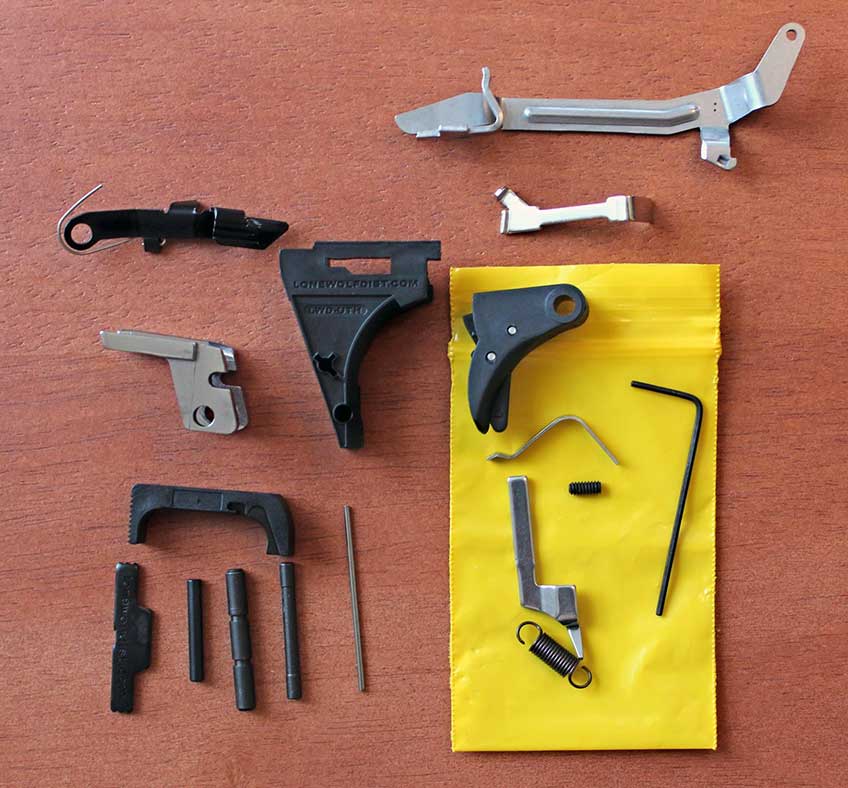 The finished pistol would be an ideal platform to test Buffalo Bore's heavy-duty .45 ACP loads as a trail-to-town combo. Last, but not least, it would be a custom big bore long-slide unlike anything that can be purchased off the rack.

Just like the 9 mm compatible Timber Wolf frame I had worked with previously, the TWL-S frame was shipped with a parts kit to a local FFL dealer. Because the frame is the serial numbered part of the gun, it's treated like a complete firearm in regards to federal forms and transfer fees. Assembling the frame was a straightforward process that's nearly identical to building out a stripped Glock frame.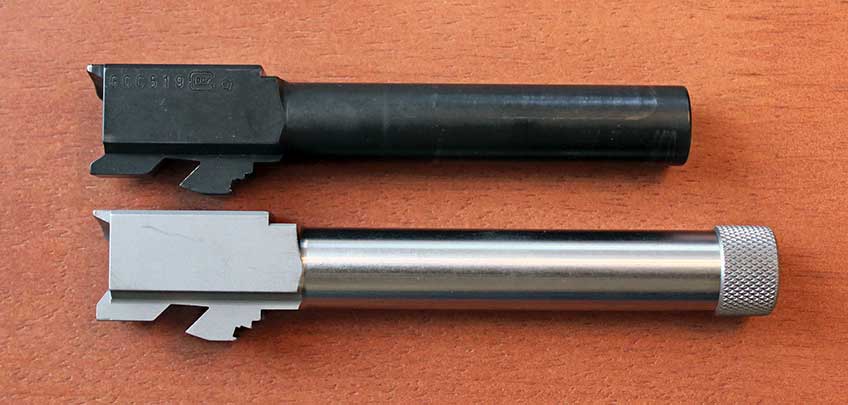 It came together easily without any complications. The Timber Wolf frame ships with a removable dust cover insert that makes it compatible with either Gen 3 or Gen 4 slide assemblies. But make sure to order the correct parts kit for the caliber and generation of pistol you're building. In this case, because the pistol is intended for use as a field and carry piece, I went with a stock trigger group and components.

Two changes were made to the Gen 3 Glock G21 slide assembly. The factory installed 4.61" barrel was swapped out for a 5" Lone Wolf stainless-steel threaded barrel, which was another component I already had on hand from a previous review. While the .578x28 threading will come in handy for muzzle accessories, my primary goal was to stretch the barrel to squeeze as much performance out of the ammunition as possible.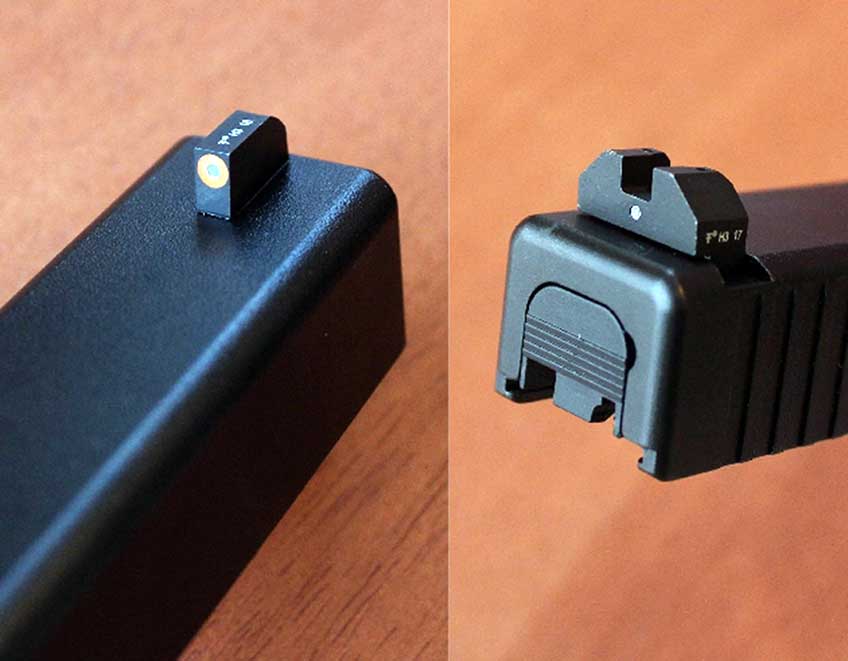 The other modification was an updated set of night sights. The Tritium lamps in the old sights had faded to black and, quite frankly, there are better sight designs available these days. I went with a top notch set of XS Sights F8 Night Sights. The taller square notch rear sight, and large bright orange dot on the front sight, allow for quick sight acquisition during follow-up shots and a clean sight picture for precise shot placement.

The double-stack magazines tested with the pistol included two Glock 10-round G30 factory magazines and various sizes of Elite Tactical Systems (ETS) Glock-compatible .45 ACP magazines. The G10 magazines have an extended base, which adds 0.60" to the length of the grip.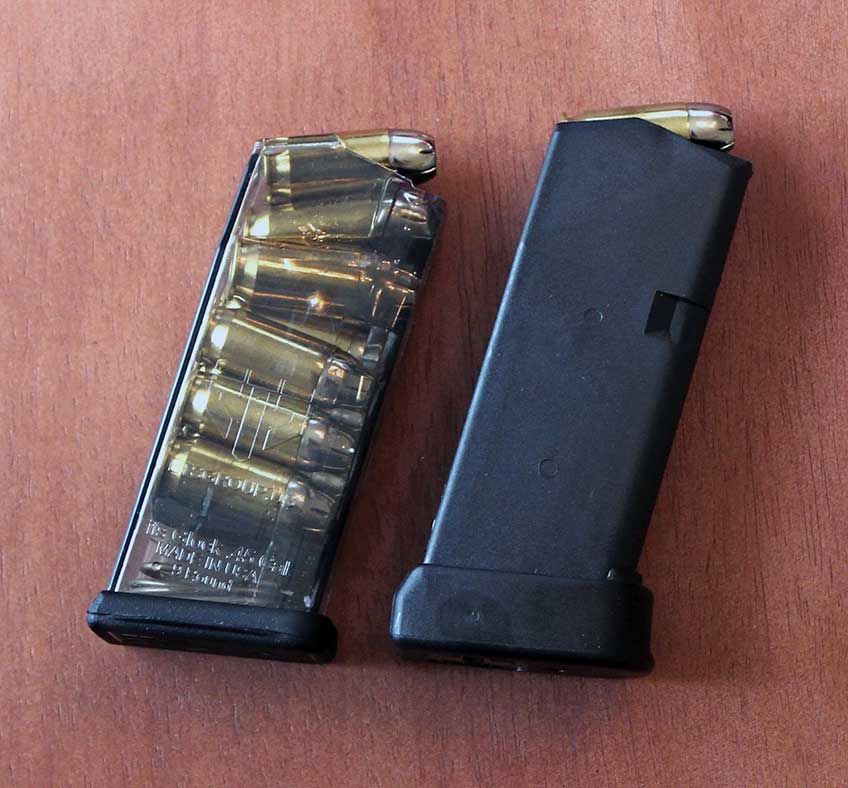 This is a good thing if you want support for the little finger of the shooting hand. The ETS magazines are available in nine, 13-, 18- and 30-round capacities. The nine-round model provides the shortest grip profile with a flush-fit magazine base plate. All of the magazines tested functioned flawlessly throughout the testing process.

Before heading out to the range with the TWL-S build, I received a bit of advice from Tim Sundles, the proprietor of Buffalo Bore Ammunition. Because the Outdoorsman loads are hot and the pistol yet to be tested, he suggested running somewhere between 50 to 100 rounds of standard-pressure .45-ACP through the gun just to make sure everything was working properly before switching over to the heavy duty +P loads. The pistol ran smoothly, without any malfunctions, throughout the practice-grade ammunition break in period and continued to run flawlessly once I switched over to the Buffalo Bore loads.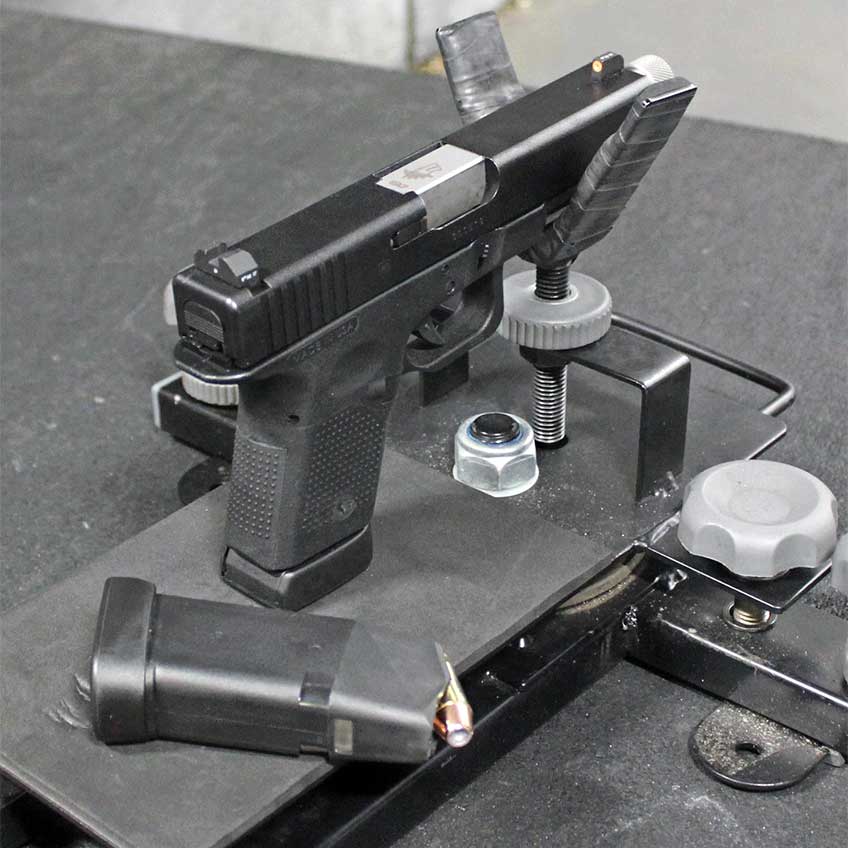 As one might expect, the TWL-S was more of a handful with the heavy loads. But the Timber Wolf grip fits my hands much better than the Gen 3 frames, which contributes to a more comfortable and controllable shooting experience. One of the things I appreciate about Buffalo Bore products is that the company uses production firearms to clock bullet velocity instead of laboratory test barrels.

This means the performance data listed on the box is comparable to what you'll see in the field. In this case, using the longer 5" barrel paid off with velocity and energy levels that were greater than the listed information. The accuracy was good too with 5-shot groups hovering right around the 3.5" mark. Here are the test results: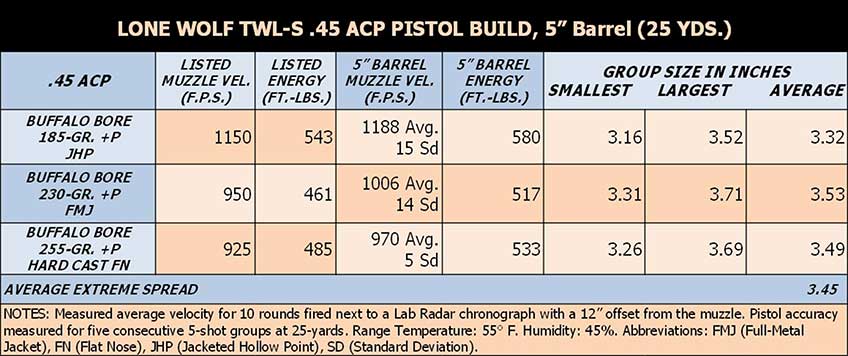 Just when you think everything that can be done has been done with Glock-pattern pistols, Lone Wolf Distributors comes along with options that can't be found anywhere else. I've worked with several LWD in-house offerings including barrels, parts kits, Timber Wolf frames and complete pistol builds.

The company continues to crank out quality components that are reliable, useful and just plain fun to work with. And for those of you who might be wondering, the answer is yes. Lone Wolf's 6" long-slide conversion does fit the TWL-S frame—just in case you're feeling froggy and want to take that leap with your build.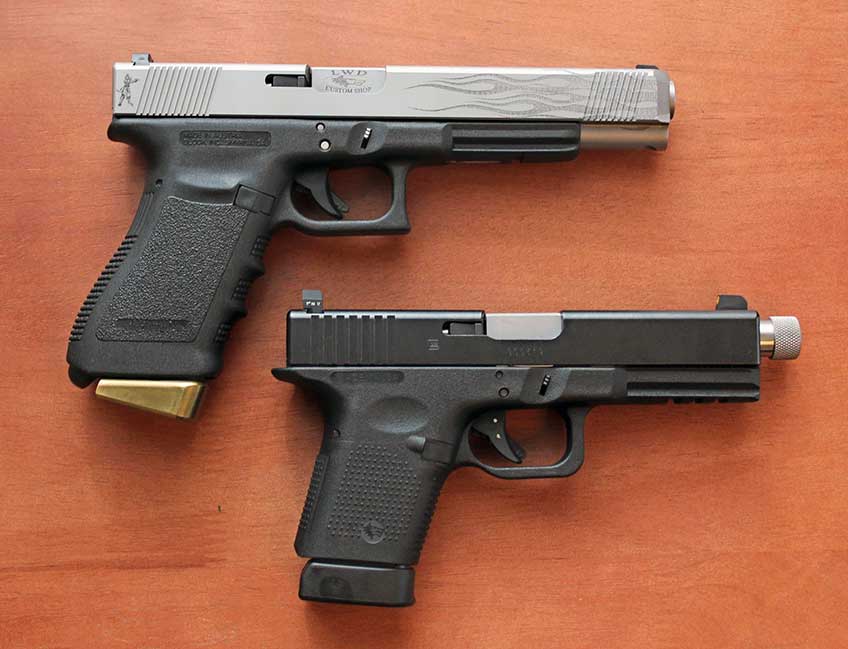 Specifications:
Action: Glock Safe-Action Semi-Auto
Caliber: .45 ACP
Barrel Length: 5"
Overall Length: 8.5"
Height: 4.55" with G10 Magazine
Slide Width: 1.125"
Weight: 28.9-oz.
Capacity: 10+1 Rounds with G10 Magazine
Bare Frame and Build Kit Provider: Lone Wolf Distributors (LWD)
Frame Model: Timberwolf TWL-S for .45 ACP with Lower Parts and Polymer Trigger $199
Slide Assembly: Glock Gen 3 G21 .45 ACP (Used)
Sight Upgrade: XS Sights F8 Night Sights (GL-F007P-5) $184.99
Barrel Upgrade: LWD 5" Threaded Stainless Steel for G21 $99.95
Glock Magazine: 10-Round G30 (Available from LWD) $26.95
Elite Tactical Systems (ETS) Glock .45 ACP Magazines $16.99 - $23.99