by
posted on July 2, 2018
Support NRA American Rifleman
DONATE
Summer time movie fans know that all good shows must come to an end. But not to worry, the sequel will be out before you know it. This is also the case for the Lone Wolf Distributors (LWD) Standard and Compact Timberwolf frames. The company is close to releasing the next generation of Timberwolf, which will include a new large frame for .45 ACP and 10 mm pistol builds.
In the mean time, plenty of the original Standard and Compact Timberwolf frames are still in stock and on sale with both bare and built frames to choose from. Shown here is the original Compact Timberwolf with an LWD Frame Kit which is compatible with Glock Gen3 components. It can be used to build a 9 mm, .40 S&W or .357 SIG pistol.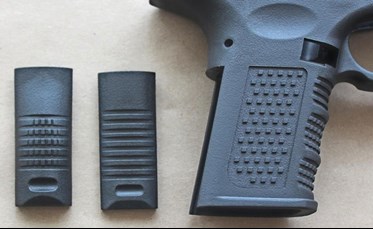 The polymer frame features a molded-in 1.50" accessory rail designed to accept Weaver or Picatinny accessories instead of Glock only components. The generous square profile trigger guard is rounded off along the front edge and undercut to provide more room for the middle finger of the shooting hand. The large, rounded left-side polymer magazine release is easier to reach and operate than the Gen3 type although it is not reversible like the Gen4 type.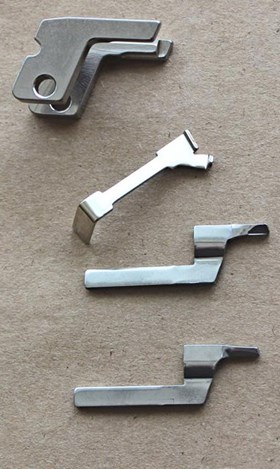 The front strap has textured finger grooves that are more subtle than those of a Glock. The sides of the grip feature a square block texturing with indentations for the thumb and trigger finger. Above the grip frame's back strap, a slim beavertail extends straight out from the frame 0.30" to protect the shooting hand from slide bite.
It's a simple process to swap out the two interchangeable grip inserts provided with the frame. The slim, straight insert gives the frame the smallest sculpted grip profile available with a shape comparable to a double-stack 1911 while the swelled insert mirrors a Springfield XD or a SIG Sauer grip profile. Lone Wolf offers an affordable optional aluminum magazine well extension that simply clamps into place.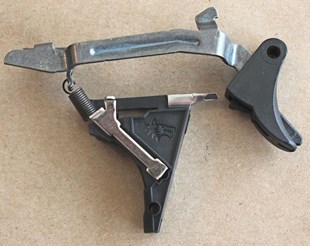 Built frames, with components installed at the factory, can be dressed up with a chromed slide lock, slide stop and frame pins. The Lone Wolf locking block is precision machined from 17-4 stainless steel billet and hardened to 44C Rockwell for increased durability. Select from stock triggers or upgrades including the Lone Wolf Ultimate Adjustable Trigger (UAT) assembly.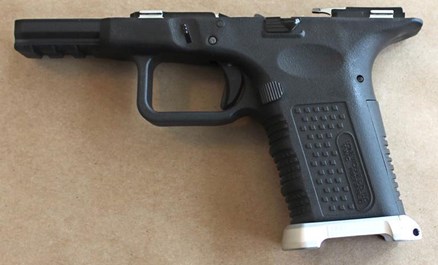 If you've been thinking about swapping out a blocky Gen3 frame for something better, or building a custom Glock pattern pistol from scratch, now is the time to act before these original Timberwolf frames sell out. For more, visit lonewolfdist.com.


Timberwolf Bare Frames: Starting at $114.95
Timberwolf Built Frames: Starting at $149.95
LWD Frame Kits for Timberwolf : Starting at $76.95
LWD Aluminum Magwell for Timberwolf Frames: Starting at $9.99