by
posted on December 22, 2015
Support NRA American Rifleman
DONATE
Lone Wolf Distributors (LWD) is an American company well known to Glock fans in the market for high quality upgrades and custom components for their favorite semi-auto pistols. Over the years, I've had the opportunity to work with a variety of Lone Wolf products, including caliber conversions and custom slides. These upgrades proved to be well made, reliable and cosmetically complementary when installed on my Glocks. But what some folks may not know is that Lone Wolf is ready and able to provide its customers with everything they need to build a custom pistol from scratch.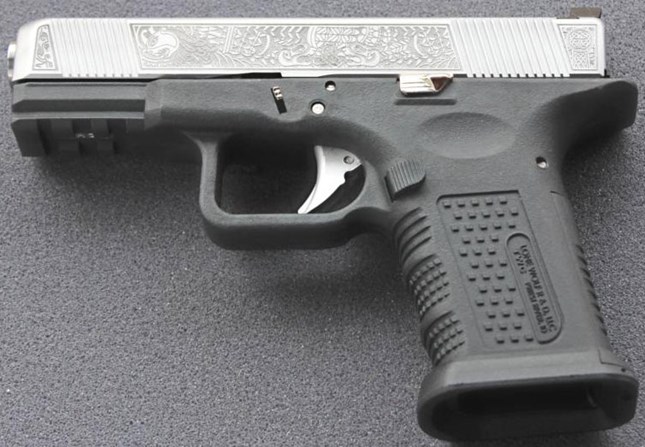 Building a pistol with Lone Wolf allows polymer-framed, striker-fired pistol users to address the two major complaints that persist with Glocks. Possibly the number one complaint the Austrian design receives from American operators (especially those who like 1911s) is that they just don't like the feel of the grip profile. Lone Wolf's proprietary Timberwolf frame provides a comfortable alternative. The other commonly aired grievance is that Glocks are, on the whole, ugly. Lone Wolf does a terrific job of beautifying an otherwise plain-Jane platform with custom slide options that can't be found anywhere else.  
Technically speaking, Lone Wolf does not sell complete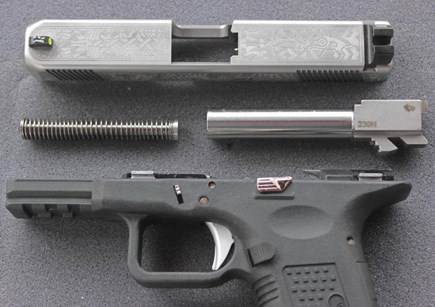 pistols, only pistol components. Customers can request a box of loose parts and assemble the pistol themselves or, for a nominal fee, the gunsmiths at Lone Wolf will put the slide assembly and a frame together for you. Once these two halves of the pistol are ready they'll ship out separately. The slide assembly can be sent directly to you. But the frame is considered a firearm under federal regulations. This means it will need to be sent to an FFL for the same paperwork, background check, and fees that would apply if you were receiving a complete firearm. 
With the exception of the sights and the magazines, the Timberwolf assembled for this review features 100 percent LWD branded parts (some are brand new this year) which are manufactured in-house or sourced out to nearby manufacturers. All of the components and services discussed here are also available as stand-alone upgrades.
The LWD Timberwolf Compact Frame
Like the Full-Size Timberwolf frame, the Compact version is essentially a clone of the Glock Gen3 Compact semi-auto pistol frame. Therefore, this frame can be used as the foundation for the Glock G19 (9 mm), G23 (.40 S&W), G32 (.357 SIG) and G38 (.45 GAP) type configurations. All of the controls, including the slide lock, slide stop, trigger and magazine release are located and operated in typical Glock fashion. The external and internal safety systems are the same as well. For this pistol, I opted to build a 9 mm that is ready to convert to other calibers (more on that later).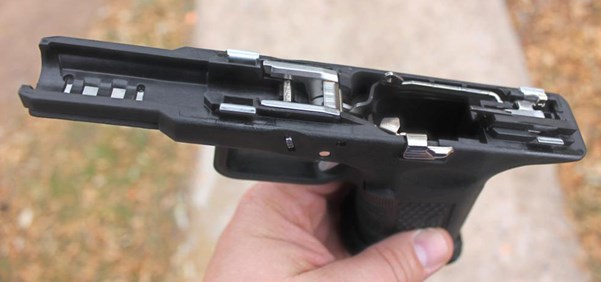 The polymer frame features a molded-in 1.50" accessory rail designed to accept Weaver or Picatinny accessories. Inside the rail you'll find the serial number engraved on a metallic plate. The generous square profile trigger guard is rounded off along the front edge and undercut to provide more room for the middle finger of the shooting hand. The large, rounded left-side polymer magazine release is easier to reach and operate than the Gen3 type but it is not reversible like the Gen4 type. The front strap has textured finger grooves that are more subtle than those of a Glock. The sides of the grip feature a square block texturing with indentations for the thumb and trigger finger. 


Above the grip frame's back strap, a slim beavertail extends straight out from the frame 0.30" to protect the shooting hand from slide bite. Two interchangeable grip inserts are provided and it's a simple process to swap them out. The slim, straight insert gives the frame the smallest sculpted grip profile available with a shape comparable to a double-stack 1911. The insert with a swell mimics the grip profile of a Springfield XD or a SIG Sauer pistol.  An optional black polymer magazine well was attached to the bottom of the grip.

The Timberwolf frame was fitted with a chromed slidelock, slidestop and frame pins. A look inside reveals molded-in fore and aft slide support rails. A noteworthy component is the new Lone Wolf locking block. This critical component is difficult to make, so many custom shops just buy the MIM locking blocks from Glock. Lone Wolf wanted to provide its customers with something better, so its locking block is precision machined from 17-4 stainless steel billet and hardened to 44C Rockwell for increased durability and improved shot-to-shot accuracy. I put this project on hold until the LWD locking block was available.
The trigger group consists of the Lone Wolf Ultimate Adjustable Trigger (UAT) with a 3.5-lb. connector. The UAT is fitted with a 6061 Billet Aluminum shoe with large radiused edges and an aluminum safety lever. The tighter tolerances, oversized safety spring and polished trigger bar all contribute to a much cleaner, crisper trigger. Other adjustable triggers can cost around $150, but this one is available for just $74.95. The trigger arrived set to a 4 lbs. 14 oz. of trigger pull. It felt great so I saw no need to adjust it.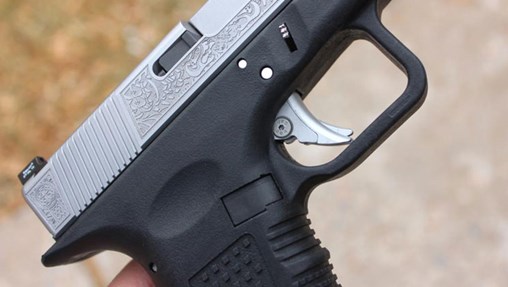 The Custom LWD Slide Assembly
It was just a few months ago when I got my first good look at Lone Wolf's new classic style slide engraving. Other options include cut outs and geometric patterns to reduce slide weight along with relatively simple designs like giving the slide a flame job around the muzzle. But now the company is using laser engraving technology to turn the flat, square sides of Glock-type slides into miniature murals. Several patterns are available including geometric and patriotic options. I was instantly hooked on the Celtic design when I saw it. Customers can opt for engraving to be applied to Glock factory slides, for a bronze-on-black appearance, or Lone Wolf's stainless steel slides. I liked the look of the engraved stainless the best.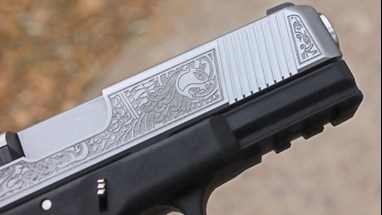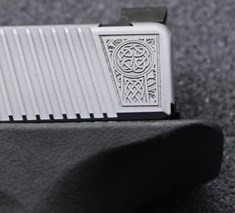 One of LWD's specialties is providing its customers with caliber convertible platforms. If this pistol had been assembled using a G19 type slide, then it would only be able to operate with 9 mm profile compact barrels. However, LWD offers a 9 mm conversion barrel and recoil assembly that fits in the G23/G32 type slides. By using this slide configuration the 9 mm pistol can be converted to .40 S&W or .357 SIG by trading out a few parts. 


The LWD M/23 9 mm 416 stainless steel 4.02" long barrel contains traditional 6 land-and-groove rifling that can safely fire lead and jacketed bullets. The Gen3 pattern recoil assembly consists of a single flat wire spring captured on a stainless steel guide rod. The slide was topped with a set of very good Trijicon HD Night sights with a black anodized aluminum slide cover plate capping off the assembly.
The slide assembly and the frame snapped together smoothly, as expected, to form a handsome two-tone defensive pistol that looked as good as it felt to hold. The finished pistol weighed in at 22.80 oz. without a magazine inserted and fit comfortably into holsters designed for Glock G19 and G23 models.
The new pistol passed all of the bench checks with aplomb, so after adding a bit of lubrication in the right places (both assemblies arrived nearly bone dry), the
Timberwolf was ready to howl.

At The Range
When ordering the Timberwolf I didn't ask for any magazines. I already had several compatible units on hand, including Gen3 G19 and G17 factory magazines, some Gen4 33-round sticks, and a handful of the new Magpul PMAG 15 GL 9 magazines. The pistol proved to be reliable with all of these magazines using a variety of 9 mm ammunition ranging from practice grade full-metal jacket rounds all the way up to premium +P hollow points. The Timberwolf exhibited the handling characteristics that make the compact striker-fired pistols such a popular all-around pistol for home protection, concealed carry and practice at the range.
All of the controls operated properly without any roughness, stickiness, or the need for excessive pressure. The trigger did not exhibit the typical mushiness of Glock factory triggers. Instead it was smooth with a short, definitive trigger reset. The magazines snapped firmly into place and dropped free when the magazine release was pressed. The slim straight grip frame felt very comfortable to work with. It provides a 2.70" trigger reach (the Gen3 Glock is 2.80) which makes proper trigger finger placement easier for smaller hand sizes. Off-the-bench shooting was enjoyable with a manageable level of felt recoil.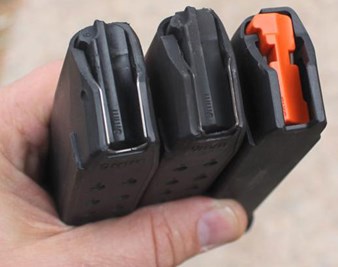 Formal accuracy testing consisted of bench-rested 5-shot groups fired at 25 yards. In most cases, I can keep group sizes with stock Glocks hovering around the 3 to 3.5" mark when I'm doing my part. When the groups are consistently less than 3" in size, then the pistol is out-shooting this particular trigger operator. The Timberwolf showed a fondness for the soft shooting Polycase Incepter 74-gr. ARX (read more about this round here) with a single best group of 2.59" and an average of 2.70". Hornady Custom 124-gr. XTP jacketed hollow points turned in an average of 2.82 inches followed by HPR HyperClean 115-gr. full-metal jacket rounds at 2.99".
Parting Thoughts
Building a Lone Wolf Distributor's custom Timberwolf compact 9 mm pistol was a very satisfying experience. The pistol demonstrated the easy operation, reliability, and accuracy that are essential in a home defense or concealed carry semi-auto. But this pistol also exemplifies the idea that a hardworking handgun does not have to be homely. The detailed laser engraving of the stainless steel slide and the sleek lines of the Timberwolf frame come together nicely to form a handsome two-tone pistol that's just as much at home in a display case as in a holster.
 
Specifications
Manufacturer: Lone Wolf Distributors
Model: Custom Compact Timberwolf
Action: Safe-Action Semi-Auto
Caliber: 9 mm, Caliber Convertible
Slide Finish: Engraved Stainless Steel
Frame Finish: Black Polymer
Sights: Trijicon HD Night Sights
Barrel Length: 4.02"
Overall Length: 7.20"
Height w/ Magwell: 4.83"
Width: 1.15"
Weight: 22.80-oz. (No Magazine)
Capacity: 15+1 Rounds Using G19 Type Magazines
Factory Assembled Frame: $411
LWD Bare Timberwolf Compact Frame
LWD Gen4 Timberwolf .40 Trigger Housing with Ejector
LWD Ultimate Adjustable Trigger
LWD Stainless Steel Locking Block M/19,23,32,38
LWD Chrome 3 Pin Kit
LWD 3.5-lb. Connector
LWD Black Polymer Magazine Well
Labor Charge: $25
Factory Assembled Slide: $718
LWD Stainless Steel Bare Slide G23 40 S&W
LWD Classic Style Slide Engraving (Starting at $150)
LWD Lightweight Firing Pin (9/40/357) Complete with Mid-Weight Spring
LWD Anodized Aluminum Slide Cover Plate
LWD Barrel M/23 Conversion to 9mm, Stock Length
LWD Stainless Steel Guide Rod and 9mm Flat Wire Spring
Trijicon HD Night Sights, Yellow Outline Front Sight
Labor: $25