Support NRA American Rifleman
DONATE
One of my favorite hobbies as a shooting-sports enthusiast has been perusing the used handguns displayed at local dealers and listed online in search of hidden treasures. By that I mean interesting, older, less common, or ugly handguns that are sound and shootable at reduced prices. Over the last several months, I've seen a particular model take the market by storm: the Beretta Model 81 Cheetah chambered in .32 ACP. It's quite an eye-catching offering for several reasons. But first and foremost, it's an authentic, Italian-made Beretta with the classic, open-top slide at tantalizing prices hovering around $190 to $250, depending on the dealer and the pistol's condition. Those are prices usually associated with lower-quality or less well-known models, not Italian Berettas!

One of the reasons these particular Cheetahs are so handsomely priced is their chambering. Fans of the big-bore .45 ACP cartridge and the 1911 semi-auto pistol that launches it sometimes overlook the fact that Mr. John Browning's first semi-auto pistol cartridge was the .32 ACP  (a.k.a 7.65×17mmSR Browning) which was released in 1899. It was an immediate success and quickly adopted for military, law-enforcement and civilian applications.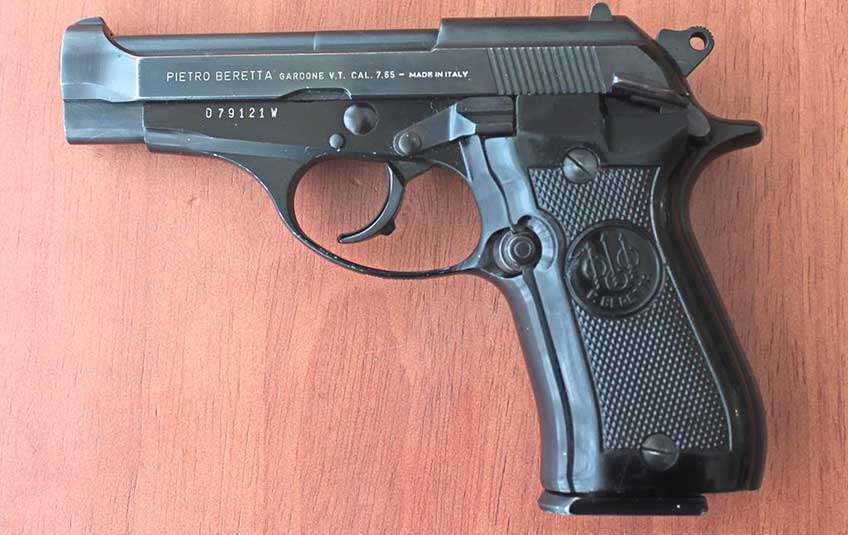 Now in production for more than 120 years, the .32 ACP is associated with the success of several pistol designs, including the Colt Model 1903 Pocket Hammerless, Walther PPK, and Seecamp LWS 32. When the Beretta 81 was launched in 1976, the first model was chambered in none other than .32 ACP. This cartridge was still in vogue as a concealed-carry option in 2011 when I pitted the Kel-Tec P32 and North American Arms Guardian in .32 ACP against each other in a head-to-head comparison.

Despite its interesting history, the popularity of the .32 ACP has waned here in the United States over the last decade or so. This is due primarily to the rise in affordably priced pocket-sized .380 ACP and 9 mm Luger pistols. However, the .32 ACP isn't ready to jump ship just yet. As of this writing, I found practice-grade and defensive loads available online from major American manufacturers (Federal Premium, Remington, Winchester) boutique loaders (Buffalo Bore, Underwood) and affordably priced imported options (Fiocchi, Geco, Magtech). Knowing that the ammunition supply for these exceptionally low-priced Beretta 81s isn't going to suddenly dry up overnight, I set out in search of one to work with.

I found a Standard-Grade version listed on the AIM Surplus website for $229. Before I placed the order, I had the opportunity to sit down with Bryan Flannagan, CEO of the company, at SHOT Show this year. I was impressed by his knowledge of and experience with the surplus firearm market. I felt much better about ordering a used gun without seeing it first once I had a better sense of who I'd be working with.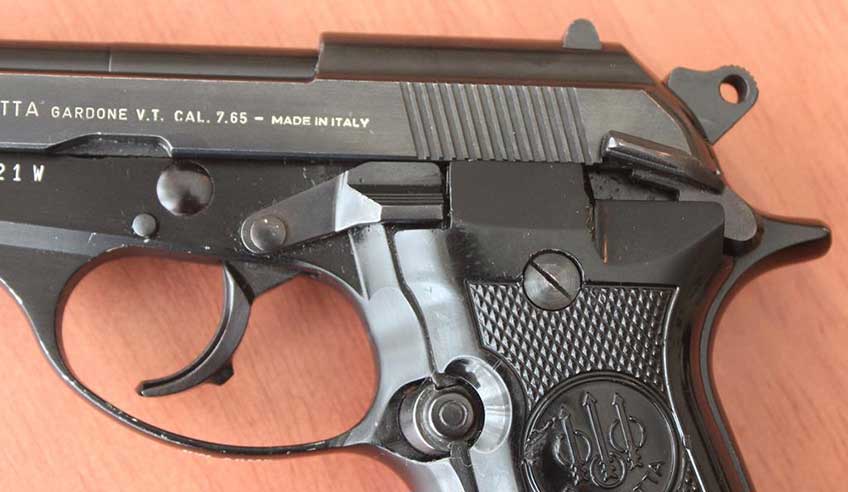 The Beretta 81 Cheetah is a blow-back operated, double-action/single-action (DA/SA) semi-auto with an exposed hammer and a 3.82" blued-steel barrel that remains fixed in place against the frame as the action cycles. The open-top slide is constructed of blued carbon steel with an integral front sight, drift adjustable rear sight and rear cocking serrations. The recoil assembly consists of a full-length steel guide rod with a single round-wire spring.

The frame is made of an aluminum alloy with a glossy black coating and removable checkered plastic grip panels. However, you won't find any polymer in the 12-round, double-stack magazines. The body is blued steel, the followers are sheet steel and the baseplates are cast from aluminum and painted to match the pistol's frame. The rounded trigger guard is generously shaped for a pistol this size. A takedown lever is located on the right side of the frame with a round-button magazine release and slide-stop lever located on the left.

The thumb safety is ambidextrous without a decocker function. This means the safety can be engaged with the hammer in either the forward (double-action) or cocked (single-action) positions. The double-action trigger provides a long smooth trigger pull of 8 lbs. 4 oz. The single-action trigger cuts the arch of travel in half with a light take up before breaking cleanly with 3 lbs. 12 oz. of trigger pull. I wish all guns in this price range had triggers this good!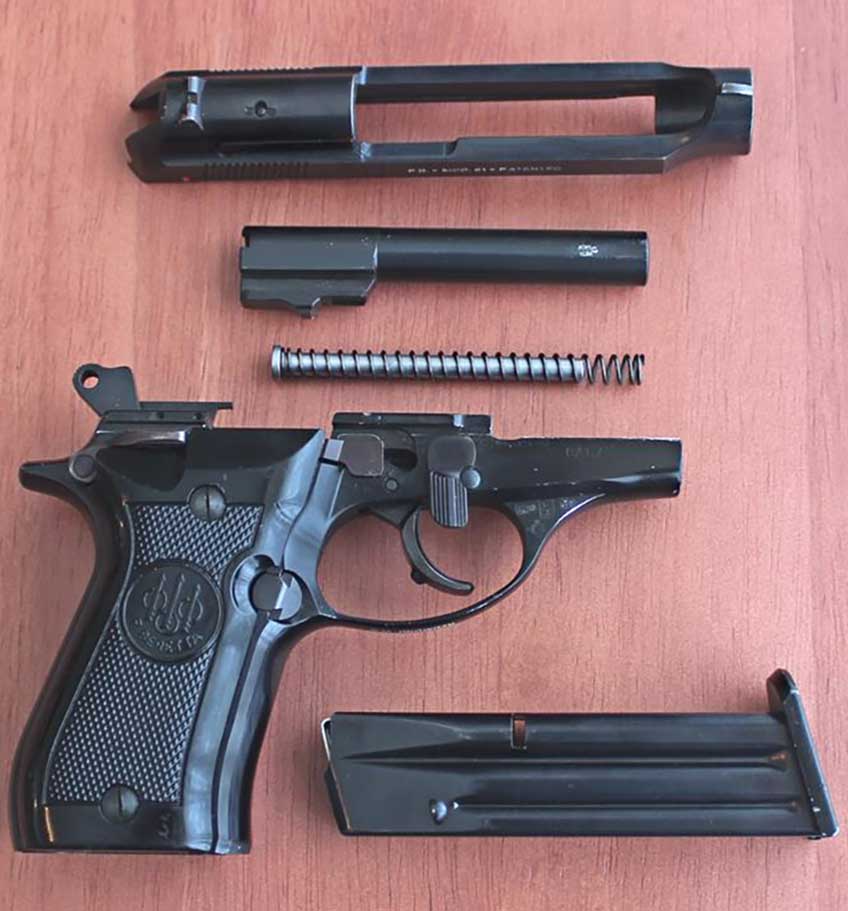 It's important to remember a couple of things when buying surplus guns online. A used gun doesn't have to be 'pretty' to be good. Some degree of cosmetic wear and tear, including worn grips, dings, scratches, importation markings and holster rub should be expected. How much depends on the grade of the gun you buy. Based on my understanding of the grading scales, the Beretta I received would qualify as 'Excellent', which is a step below 'Factory New'. It has just a hint of finish wear around the muzzle end of the slide and a few small dings around the trigger guard and the polymer grip. In other words, it's just about as factory fresh as a used gun can be.

The other thing to keep in mind is that used guns are an adventure! You get to dive into their mysterious past by breaking them down, cleaning them out and taking care of any minor fixes that crop up along the way (see a full walk-through of the used handgun vetting process here). Overall, the Beretta arrived in great shape. The magazines, external controls, grips, and grip screws were in tip top shape although two of the screws were a bit loose upon arrival. However, the slide felt exceptionally tight and sluggish to cycle manually. I assumed there must be some old turned-to-tar lubricant in the action. Upon inspection the action looked clean. I greased up the rails and worked the slide several dozen times manually. It improved, but not much.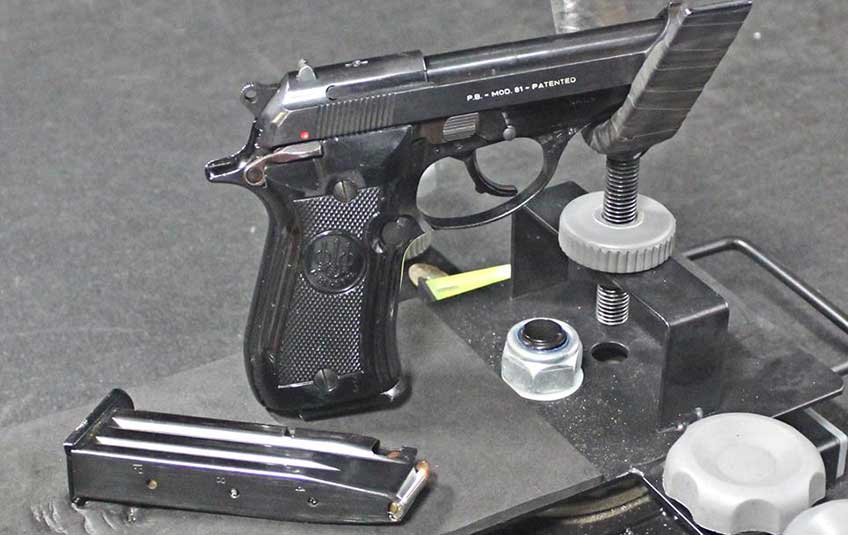 I checked in with the folks at AIM Surplus and some other trustworthy technical sources. I had either a tight slide-to-frame fit that would require a break in period or there was a thin film hardened lubricant in there somewhere that would break down with plenty of fresh gun oil and some shooting. Either way, it would take some range time to get it running smoothly. I arrived at the range ready to give the Beretta 81 a 200 round break in period, if necessary, using Geco  7.65 Browning (.32 ACP) 73 gr. full metal jacket loads provided by AIM Surplus.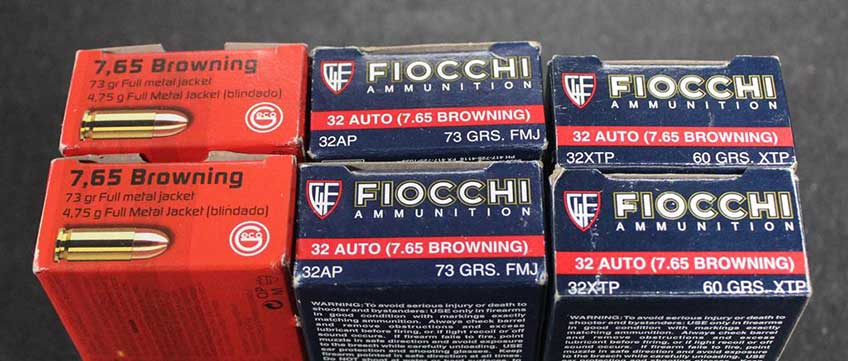 The pistol's slide had five or six hang ups in the first 10 rounds, it was cycling properly by 20 rounds and it could be manually cycled with ease after 50 rounds. At that point, it was clear that whatever the problem may have been, it was resolved. The pistol was utterly reliable with all of the ammunition tested after that point. 

This pistol qualifies as a compact model so formal bench-rested accuracy testing was conducted at 15 yds. In addition to the Geco practice grade load, this pistol was loaded with two Fiocchi USA loads including the company's 73 gr. full-metal-jacket load and the exceptionally soft shooting 60 gr. XTP jacketed hollow point. Here is the listed performance data for these three loads along with the range results: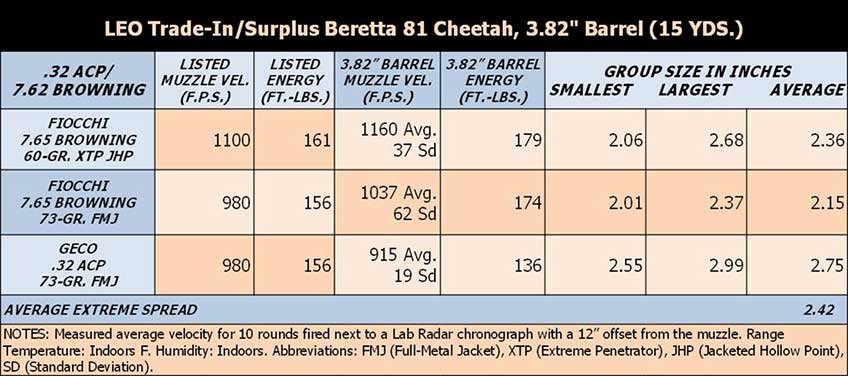 The AIM Surplus law enforcement trade-in Beretta 81 Cheetah has shot its way to the top of my list of favorite used gun finds. The trigger is excellent, the pistol is accurate, and the recoil is mild. It is an all around pleasure to take to the range. Whether or not a used 13 shot .32 ACP is suitable for self defense is a conversation for another day. Instead, I would wrap this up by saying that the Beretta 81 Cheetah is an affordable piece of gun manufacturing history that casual and serious collectors can enjoy for years to come. But don't wait for too long if this is a gun you're interested in. Like so many other terrific surplus finds, these Berettas won't be on the market at these prices for much longer. For more information, visit aimsurplus.com.

Specifications: 
Manufacturer: Beretta, Italy
Distributor: AIM Surplus, LLC.
Model: LEO Surplus 81 Cheetah, Standard Grade (#F1BER81)
Action: Blow-Back Operated Semi-Auto
Caliber: .32 ACP (7.65 Browning)
Slide: Blued Carbon Steel
Frame: Aluminum Alloy, Black Finish
Grips: Textured Black Polymer
Front Sight: Fixed Blade
Rear Sight: Square Notch Dovetail, Drift Adjustable
Sight Radius: 4.88"
Trigger: Grooved Steel Bow, Single-Action / Double-Action
Single-Action Trigger Pull: 3 lbs. 12 oz. (As Tested)
Double-Action Trigger Pull: 8 lbs. 4 oz. (As Tested)
Barrel Length: 3.82"
Overall Length: 6.77"
Height: 4.80"
Slide Width: 1.00"
Grip Width 1.40"
Weight:  23.1 oz. with Empty Magazine
Capacity: 12+1 Rounds
Rifling: 6-Groove
Accessories: None
AIM Surplus Price: $229.95