posted on November 9, 2011
Support NRA American Rifleman
DONATE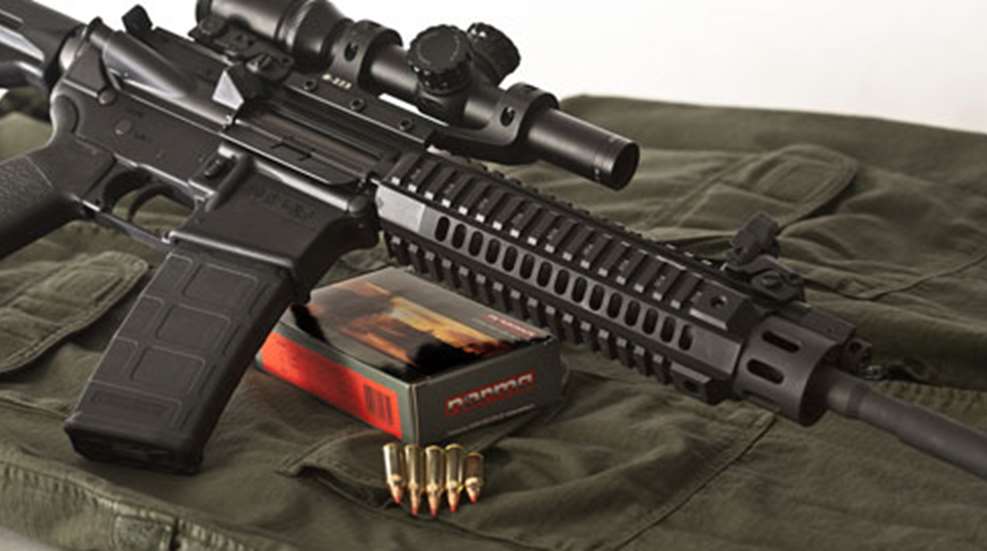 An AR is an AR. Sure, there are both gas piston and gas impingement rifles, and every manufacturer offers some different features, but there is not really that much difference from rifle to rifle. Or is there?
Piston guns are known for running cleaner than gas impingement rifles, but have experienced issues with both breakage and accuracy. This has reduced their popularity with shooters and hampered their consideration for military use. Adcor Defense is trying to change perceptions with the B.E.A.R. (Brown Enhanced Automatic Rifle).
Adcor is best known for making precision radar components for the F-16, and basically revolutionizing the bottling industry before it entered the firearm industry to build high-quality upper receivers for Colt. Then, the company decided to take a look at designing its own AR-type rifle. The B.E.A.R. is a gas-piston rifle available in both civilian and military versions with some features that just might have solved the many problems inherent of gas piston rifles.
In most ways, the B.E.A.R. looks, feels and shoots like an M4 variant of an AR rifle. It's chambered in 5.56 (.223 Rem.), accepts standard AR magazines, has a quad-rail for mounting accessories and an A2 flash hider. It also comes with a hammer-forged chrome-lined barrel with a 1:7-inch twist, Magpul MOE rifle stock and pistol grip and is available in a variety of barrel lengths. That is where similarities end. Its differences are many, starting with its patented free-floating gas-piston system.
In the B.E.A.R., the gas block is attached to the rail rather than the barrel, the usual point of attachment with most piston rifles. Having the gas block separate from the barrel allows the barrel to be free floating, which improves accuracy, as demonstrated on the range. The Adcor Defense B.E.A.R. achieved near m.o.a. accuracy using a variety a of full-metal-jacket loads. In fact, two loads averaged just over an inch with five consecutive, five-shot groups from a Caldwell Fire Control rest. The best group (.09 inches), and average (1.1 inches) were obtained using Norma Jaktmatch 55-grain FMJ rounds, with Remington 55-grain FMJs coming in at a close second with a 1.2-inch average and 1-inch best group. Winchester 55-grain FMJ loads weren't far behind averaging, 1.4 inches with a best five-shot group of 1.1 inches.
Another chronic issue with gas-piston rifles is carrier tilt. With the B.E.A.R., carrier tilt was addressed using an op rod attached to the carrier bolt via screws with the stress being absorbed in two recoil lugs in the carrier bolt. The op rod is also threaded through a small opening in the rail. This keeps the entire assembly straight, reducing, and perhaps eliminating, carrier tilt.
Another feature that makes the B.E.A.R. stand out is the forward charging handle, which attaches to the op rod and rides in a slot along the rail. It's non-reciprocating, can be attached for right- or left-hand shooters and has a spring that prevents the handle from snagging when not in use. It also allows the shooter to work the bolt without raising the head out of shooting position, and, unlike on a gas-impingement gun, the forward charging handle can be used to lock the slide using only one hand. In testing, the forward charging handle was more than just a neat idea, it was downright functional.
I have never had issues working the controls of an AR, but I do have to lower the muzzle to reach the charging handle, and I practically have to roll onto my back to clear a stoppage in the prone position. And this is where the forward charging handle really shined. The forward handle allowed the rifle to remain on target during stoppage drills, and I have never been able to manipulate an AR so easily from the ground. Of course, if there ever is an issue with the forward charging handle, the B.E.A.R. also has the standard handle familiar to AR-shooters so either may be used.
The final innovation was developed out of complaints from men and women serving in Iraq and Afghanistan. It seems that the extremely fine dust and sand in the Iraqi desert mixes with oil on the carrier bolt and clogs up the actions of standard M4s and M16s. To combat this, Adcor installed a spring-loaded polymer dust wiper on the carrier bolt. The wiper seals the ejection port when closed, preventing foriegn materialfrom entering the action, and it also "wipes" any debris outthat does enter the receiver when in use.
These unique features make the Adcor B.E.A.R. an innovative rifle that is not just an upgrade on a classic design. However, the only way to find out if Adcor Defense has really solved the issues of gas-piston rifles is by holding onto the rifle for an extended period and putting at least 3,000 to 4,000 rounds through it, which was impractical for me to do. I can say, though, that the B.E.A.R. ran flawlessly throughout my functioning and accuracy tests both with a Nikon M-223 riflescope and iron sights.
However, to prove its findings, Adcor Defense supplied testing results conducted by an independent ballistics laboratory to show the rifle can withstand the rigors of the real world, including military action. According to H.P. White Laboratory, the B.E.A.R. had zero stoppages during a 6,000-round function test conducted in five-round burst, semi-auto and full auto modes. The gun also averaged .88 inches in four, three–shot groups using Federal Match 69-grain ammunition. H.P. White also conducted two adverse environment tests. The first consisted of burying the rifle in playground sand while for the other they submerged it in 5 inches of water. After both tests, 30 rounds were fired in both semi-auto and full auto modes with zero malfunctions.
Over the past few years, gas-piston AR rifles have grown in popularity even while some shooters have remained leery of their potential problems. The Adcor Defense B.E.A.R. just might be the rifle that persuades gas-impingement fans to take another look at piston guns. Of course, if not, Adcor also builds gas-impingement rifles.
Manufacturer: Adcor Defense; Adcorindustries.com
Model: Brown Enhanced Automatic Rifle (B.E.A.R.)
Action: semi-auto
Caliber: 5.56x45 mm (.223 Rem)
Weight: 7.05 lbs.
Overall Length: 32.5" to 36.25"
Barrel Length: 16" (other lengths are available)
Rifling: 1:7"
Sights: Magpul MBUS
Suggested Retail Price: $2,214