Support NRA American Rifleman
DONATE
Trunk guns are rugged, reliable firearms that are stored safely away in cars or boats for casual shooting, hunting, and emergency survival situations. In the previous trunk guns list, I focused on firearms that cost around $500 or less. This time I eliminated the price ceiling to make room for a few more expensive guns. Remember to verify that the methods you're using to move firearms from point A to point B (in a locked case, out of reach, separate from the ammunition) are in harmony with local regulations.

1. AK-47 Rifles


Few modern firearms have proved to be as utterly dependable under all conditions as the AK-47 and its variants. When chambered for the 7.62x39 mm cartridge, this rifle can fill a variety of roles including self-defense and taking medium-size game like whitetail deer and wild hogs. The AK has garnered a loyal following here in the U.S., so much so that there's now a handful of companies building complete rifles here instead of working with imported kits and components. An affordable example of the all-American AK is the stamped-receiver Century Arms RAS47 with an MSRP of $699.99. Then again, if you're feeling adventurous, why not just build your own?

2. Chiappa LA322 Lever-Action .22 Takedown Rifle



The Chiappa LA322 offers a best-of-both-worlds shooting solution: a handy little .22 Long Rifle lever-action carbine that's also a takedown rifle. This gun is easily separated into two parts by manually loosening the left-side takedown screw. Customers can select from the handsomely finished Deluxe model with a black chrome receiver and walnut stock (shown), a Standard model with a matte blue receiver and hardwood stock and an all-weather Kodiak Cub version with a matte chrome finish and black rubberized stock. MSRP: Deluxe $619

3. Henry Mare's Leg .22 LR Pistol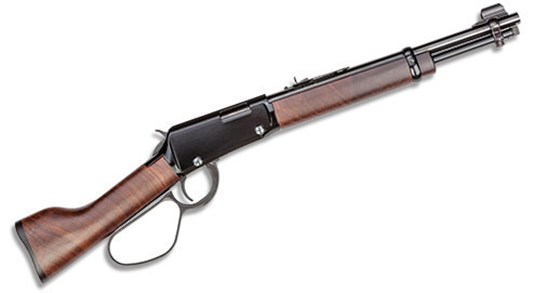 The idea of a cut-down lever-action pistol, or Mare's Leg, was popularized by the western TV series "Wanted: Dead or Alive" (1958–1961), starring Steve McQueen. Since then, various companies (including Henry Repeating Arms) have offered these pistols chambered for center-fire revolver cartridges including .357 Mag., .44-40 and .45 Colt. Although these pistols certainly deserve their spot on the market, they tend to be heavy, expensive and challenging to manage. 
The Henry .22-caliber Mare's Leg, based on the company's ever popular H001 rifle, is a real game changer in this catagory. It costs less, weighs less, fires a much more affordable ammunition and has a mild level of felt recoil. In other words, it's really fun to shoot. "Cheeking" the stubby stock (holding it along the jaw line) is an easy way to put the sight system and 12.875" barrel to good use for accurate shot placement. Customers can opt for the Model H001ML which fires .22 Short, .22 Long and .22 Long Rifle Cartridges or the H001MML chambered in the .22 Mag. MSRP: Starting at $440

4. Surplus Mosin-Nagant Rifles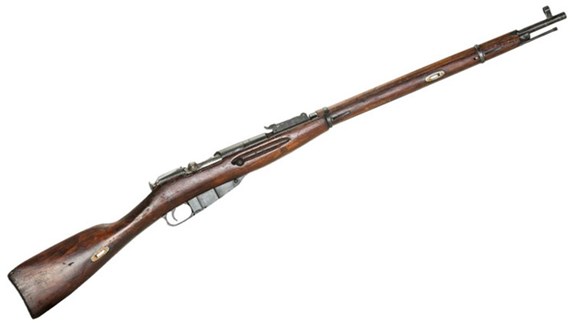 In the late 1990s and early 2000s, the U.S. market was flooded with surplus Russian Mosin-Nagant bolt-action rifles, including the M44 carbines and 91/30 rifles. Chambered for 7.62x54R, these old combat rifles are tough-as-nails. They're capable of performance levels comparable to the .308 Win., although the accuracy of some models is not so great (around 3" at 50 yards for my sporterized M44). When I picked up one of these rifles 15 years ago, it was on sale for $89 and the surplus 440-round "spam cans" of ammunition were selling for $69 (about $0.14 a shot) at the gun shows. 
Today, Mosin-Nagant rifles and ammunition prices have gone up but not so much as to make them unattractive for trunk-gun applications. The rifles are available at prices starting around $199, and they seem to be in much better condition than some of the trashed-stock rifles that showed up early on. Spam cans of ammunition can be found for around $179 ($0.40 per round).

5. Olympic Arms Whitney Wolverine .22 LR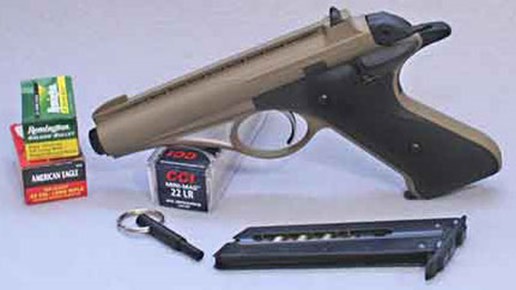 There are plenty of semi-automatic .22 pistols to choose from these days but the Olympic Arms interpretation of the single-action .22 Long Rifle Whitney Wolverine pistol really lends itself to survival, back packing, and all-around plinking duties thanks to its lightweight polymer construction. The single-piece polymer frame, including the vented rib and front sight, keeps the pistol's weight down to just over 19 oz. The Whitney Wolverine also has the added benefit of a sleek, "ray gun" design that looks cool and points naturally. MSRP: $294

6. Center-fire Rifle-Action Pistols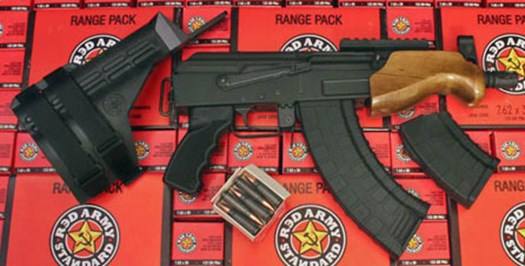 When we posted the first trunk gun list last year, we received comments from readers pointing out that we had left out an entire category of handguns that they already had stowed in their vehicles, namely, the center-fire semi-automatic rifle-action pistols. Built around the actions of popular guns like the AR-15 and AK-47, these pistols accept the same magazines, ammunition and accessories of their larger compatriots. They're also fun to shoot, once you get the hang of them. 
Because rifle-action pistols are built as handguns at the factory, they can be purchased over-the-counter like other pistols without the need for BAFTA paperwork or federal tax stamps. Century Arms offers several AK pistols, including the C39 Micro chambered in 7.62x39 mm. For AR fans, several companies provide factory assembled pistol models like the Diamondback DB15. However, if you want to save money, and you're willing to invest a little elbow grease, then take a look at one of the affordable do-it-yourself kits and build it at home.

7. Savage Model 42 Combo Gun



The double-barrel combo gun is an old idea that still has useful applications today. The Savage Model 42 Combo Gun is a lightweight over/under with a rifled rimfire barrel on top chambered in either .22 LR or the more potent .22 Mag. The lower barrel is a smooth-bore chambered to accept 2 1/2" or 3" .410 shotgun shells. A selector on the hammer allows the operator to switch between the upper and lower barrels. This ammunition combination is ideal for a variety of casual plinking and small-game hunting applications. The gun's dimensions make it accessible to shooters of all sizes and experience levels. The standard Model 42 was recently replaced with the new 42 Takedown, which splits in half for compact storage in a provided custom soft case. MSRP: $500

8. TNW Pistol-Caliber Aero Survival Rifle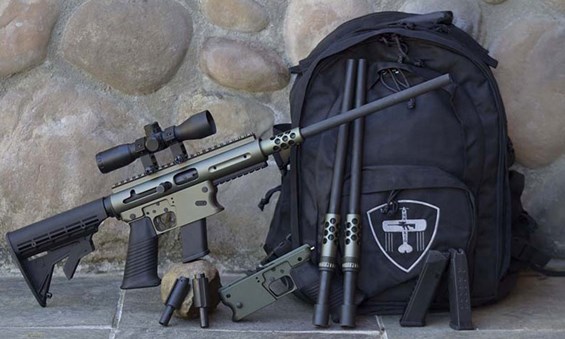 TNW's Aero Survival Rifle (ASR) was developed for bush pilots in case of emergency landings in wilderness areas. Designed to be lightweight and reliable in harsh conditions, the rifle's barrel can be removed without tools via a manually adjustable retention nut. When divided, the rifle can be tucked into one of the company's custom Bug Out Backpacks for easy transport and storage. Available chambered in 9 mm, .357 Sig, .40 S&W, 10 mm and .45 ACP, the ASR accepts affordable and easy to find Glock-pistol magazines. Caliber conversion kits are available so that any one rifle can shoot all five caliber options. MSRP: Starting at $799

9. Tokarev TT-33 & Variants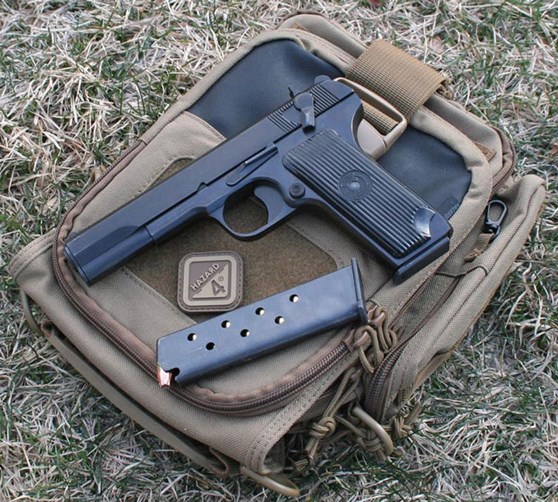 American gun owners who are unfamiliar with Soviet era Tokarev TT-33 surplus pistols, and the more modern variants, will probably write it off as a funny looking semi-automatic that doesn't deserve a second look. However, these rugged all-steel single-action pistols are available in reliable working order at rock-bottom prices. J & G Sales currently has top-notch Romanian Tokarev TTC pistols chambered in the hot 7.62x25 mm Tok. cartridge with prices starting at $219.95. If you're not in the market for a surplus Tokarev, or you prefer a more common cartridge, the factory-fresh Zastava M70A , a modern clone chambered in 9 mm is currently selling for around $280.