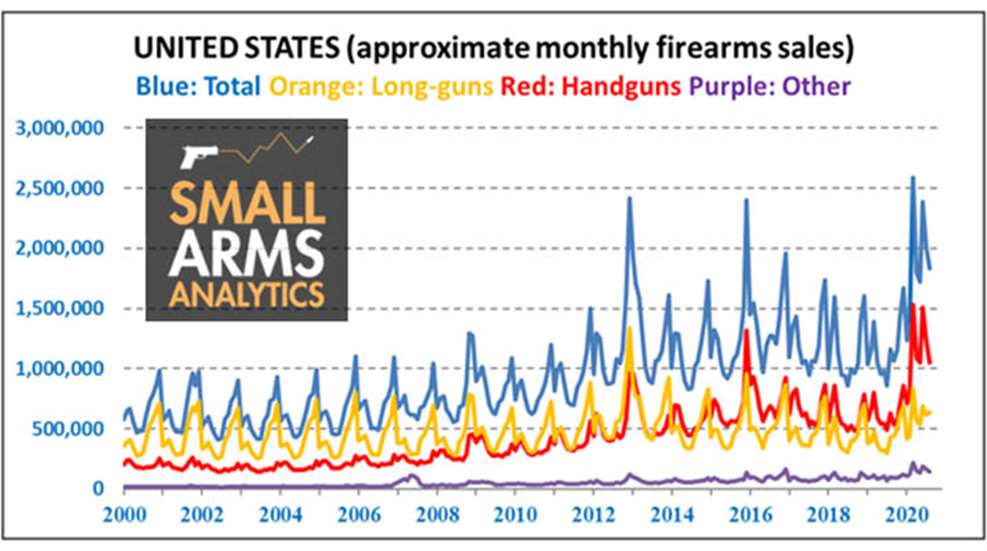 It's official. The number of gun purchases in 2020 reflected by an FBI National Instant Criminal Background System (NICS) check as of Sept. 1 exceeds those processed for the entire year of 2019.

Jurgen Brauer, Small Arms Analytics & Forecasting chief economist, said in a press release issued Sept. 1, "At nearly 15 million units sold, the sales pace thus far this year now exceeds the total 12-months sales of 2019 by just over one million firearms. With the hunting season about to begin in earnest and the presidential election season about to start in earnest as well, 2020 will without doubt exceed the previous high of 16.6 million units sold in 2016."

Retailers are reporting supply can't keep up with demand, though, a situation that may have contributed to another of Brauer's observations. "August's year-over-year increase of 57.8% is the lowest year-over-increase seen in the past six months," he said.

According to his analysis—which subtracts concealed carry permit processing and other administrative use of the NICS system—last month 1.8 million gun purchases were cleared by the FBI. His methodology includes modeling that estimates the number of firearms that fall into the monthly "multiple" category, although gauging total volume accurately remains impossible. Adding to the relative inaccuracy is the fact that some states don't require carry permit holders to undergo the redundant background check.

In comparison, 2 million firearm purchases were processed through the NICS system in July. That figure represents a 134-percent increase compared to the same period in 2019.

Demand nationwide has strained store inventory in most regions of the country. WSBT—an Indiana CBS-TV affiliate—reported last week that Doug's Gun Shop, in Elkhart, experienced an increase in sales when the pandemic hit, "But when the protesting and riots began in May, customers rushed back in, leaving the shelves almost bare."

Over in Fairfield, MT, Mike May, from the local True Value hardware store, told a Sun Times reporter on Aug. 31 he can still get the guns he orders—it just takes three to four weeks instead of the usual seven days. Buck's Sporting Goods in Choteau, MT, didn't have a single handgun to sell when the story appeared. Five long guns were, however, on hand.