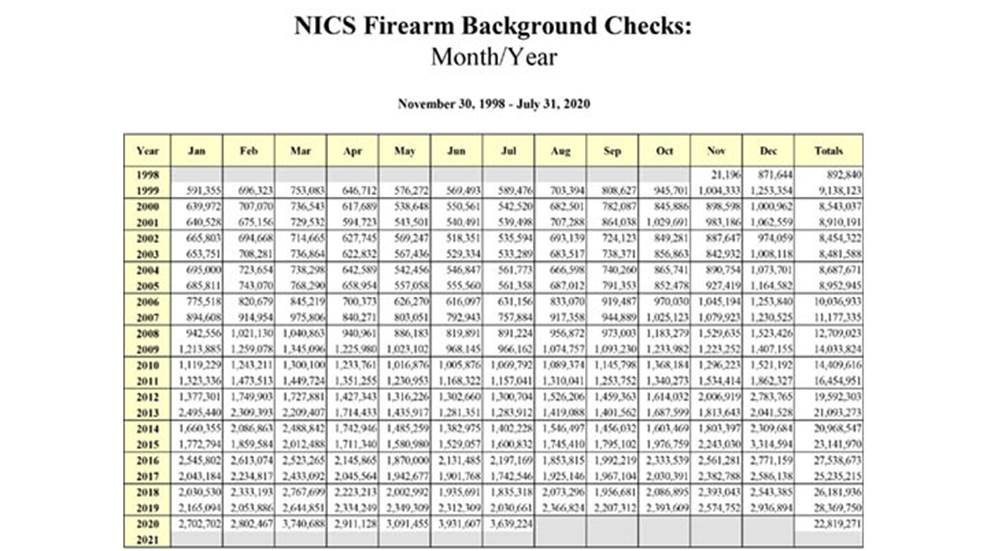 Small Arms Analytics & Forecasting (SAAF) Chief Economist Jurgen Brauer analyzed July's NICS figures and put this year's gun sales pace into startling perspective earlier this week. "Our estimates suggest that the market for the first seven months of 2020 now has nearly matched that of the entire year of 2019," he said in a press release issued on Monday.

Last month's sales came in at 2 million, according to the SAAF estimate. Numbers from the National Shooting Sports Foundation (NSSF) came in at a more conservative 1.85 million. Both organizations, however, concur the figures reflect a doubling of firearm-purchase-related use of the FBI's NICS background check system when compared to that of July 2019.

Handgun sales, according to SAAF, lead the charge with 1.2 million sold last month. Rifles and shotguns came in at 600,000 and firearms falling into the "other" category added 160,000 to the record-setting pace.

Firearm sales have increased every month in 2020, continuing a trend that began in mid-2019. Manufacturers and retailers are finding it a challenge to keep inventory stocked, along with accessories and ammunition during the unprecedented demand.

Even qualified workers have become a relative scarcity as customers line up at gun counters nationwide. Bass Pro Shops and Cabela's announced two weeks ago it was increasing starting salaries for some positions and hiring 5,000 personnel for a variety of job descriptions—including in the hunting department, where the chain offers firearms and related gear.

The NICS system figures reported by the FBI each month include carry permit processing and other administrative use, however, which render the numbers an estimate. Even then, half the states don't require citizens with a current CCW to undergo the redundant background check and multiple firearm sales—regardless of the number of guns being purchased—are recorded as a single transaction. Private transfers, conducted in regions where a NICS check is not required, are also not reflected.