Support NRA American Rifleman
DONATE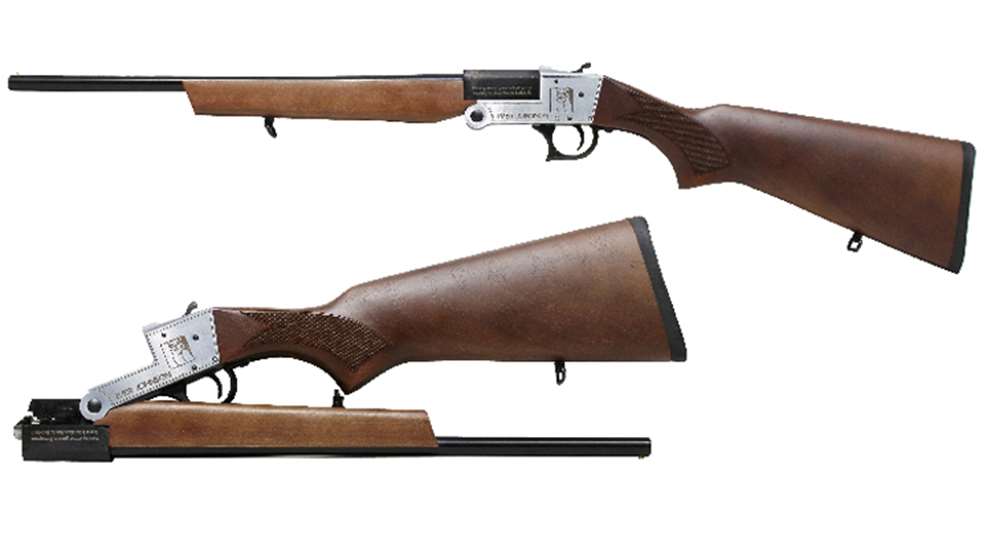 It's that time of year again, when those who are shopping for the gun geeks in their lives have no idea where to start. The following items are all products I've had a chance to test and found to be great to work with. There's something here to meet just about every budget:

Adaptive Tactical's 10/22 Charger Takedown Upgrades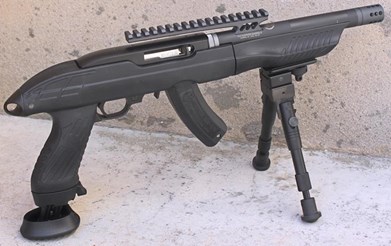 The new Adaptive Tactical Tac-Hammer TK22C 22 Charger Takedown polymer stock provides a number of upgrades to the popular Ruger 10/22 Charger Takedown pistol. A removable insert fits factory standard profile barrel or .920" bull barrels. A sling swivel stud supports the addition of a bipod while the hollow pistol grip can be fitted with an optional spring-loaded TacTRED monopod for increased stability. MSRP: Stock $99.99, Monopod $39.95
Very few barrel upgrades are available for the Charger Takedown so Adaptive Tactical has stepped up to the plate with the top-notch Tac-Hammer target barrel (RCB-22). A rigid-core, P4140 chrome-moly steel stepped barrel design is encased within a post-tension, 6061 aluminum shroud to provide the rigidity of a bull barrel with a significant reduction in weight. Other features include a ½ x 28 TPI threaded muzzle, a recoil-reducing compensator and a cantilever scope rail mounted directly to the barrel. MSRP: $299.99
BLACKHAWK! Tactical Softshell Jacket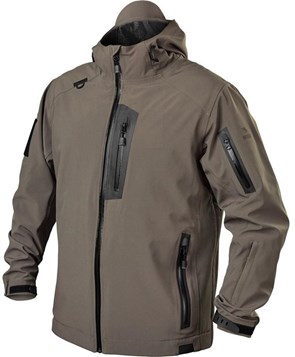 The NTOA tested and recommended BLACKHAWK! Tactical Softshell Jacket is an ideal choice for protection from the elements. It features a fully waterproof, breathable barrier with Teflon Shield+ which repels oil, water and stains. Two-way side seam zippers provide quick access when carrying a concealed firearm. It comes with an interior pocket package capable of carrying a variety of tools and everyday items. Other features include tough YKK Aquaguard zippers, a vented back yoke, triple-needle stitching and adjustable storm cuffs and hood. MSRP: $199.99 - $209.99
Breakthrough Military-Grade Solvent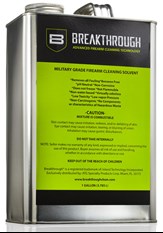 Breakthrough Clean Technologies offers its excellent Military-Grade Solvent in a variety of container sizes, including a one-gallon can. Why would anyone want that much? Because it works exceptionally well as a pH neutral, odor-free, detergent-free, water-free ultrasonic cleaner solution. Some other cleaning liquids are essentially soapy water. As a result, the components must be rinsed, dried, dipped into a rust-preventing solution and then wiped down once more after they've been cleaned.
The Breakthrough Military-Grade Solvent eliminates several steps. After a component has been cleaned with the solvent, it evaporates completely, leaving no residue to be wiped off or rust-causing moisture. Once dry, take the gun directly into the lubrication process and the gun is ready to fire. For the best results, turn the ultrasonic cleaner's heater to OFF and set it to 40-45 kHz. MSRP: $95.95
Fremont Knives Hunter's Tool Kit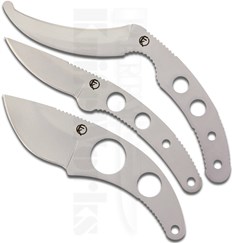 Fremont Knives offers a unique selection of useful and affordable knives. When harvesting big game, having the right knives in a compact, lightweight package can make all the difference. Shipped in a custom nylon roll-up sheath, the Hunter's Tool Kit consists of three simplified .100" thick, 4CR15 Stainless blades. The gutting knife, caping knife and skinning knife ship sharp and ready do use. The total weight of this tool set is just 6 oz. On Sale for $39.95
Hornady Lock-N-Load 7-Liter Sonic Cleaner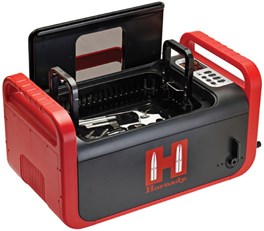 Spend less time cleaning your guns and more time shooting with the Hornady 7-Liter Lock-N-Load Sonic Cleaner. Utilize high frequency ultrasonic cleaning action to blast carbon residue and other debris from your cartridge cases, gun parts and other metal equipment. A solution saving 1.6-liter small-parts tank accommodates empty brass cases and small metal parts, and an additional tank can be purchased separately to allow two small batches to be cleaned simultaneously with different solutions. The keypad with illuminated display allows you to adjust and monitor time, solution temperature, de-gas, ultrasonic and heat functions. Currently available from Brownells for $319.99
Iver Johnson Folding IJ 700 .410 Shotgun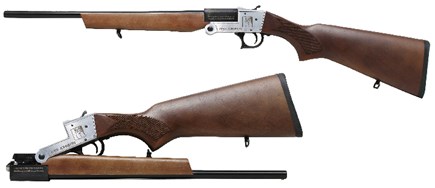 Usually I don't include firearms in these gift guides, but the new Iver Johnson folding IJ 700 .410 bore single-shot shotgun is priced right and will fit into a Christmas stocking (well, a big one anyway). Available in 24" and 18" barrel models, the IJ 700 has a sliding trigger guard that opens the action and allows the shotgun to fold neatly in half for easy storage or carry in a backpack. Imported from Turkey, the barrel is blued steel, the receiver is aluminum and the stocks are hardwood with sling loops and a rubber recoil pad.
The exposed hammer is manually cocked for each shot with the curved steel trigger exhibiting a 6 lb. single-action trigger pull.  Weighing in at 4 lbs. 8.5 oz. , this compact .410 handled nicely at the range with no malfunctions or issues. When fired at 7 yards using Federal Premium Ammunition Game Shok high brass 2-½" ½-oz. #6 birdshot it produced a 7" pattern. Federal's 3" 11/16-oz. #4 birdshot printed an 8" pattern at this same distance. If you're looking for a sweet little foldable .410, the IJ 700 is hard to beat for the price. MSRP: $160
LongShot Manufacturing's Diverse Accessory Rails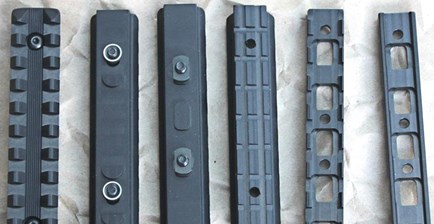 When I met with Jerry Arpaio of LongShot Manufacturing earlier this year, I was impressed by the company's philosophy and products. Simply stated, LongShot offers shooting enthusiasts top-quality machined aluminum accessory rails, many of which can't be found anywhere else. Do you need an extra long Picatiny rail? How about an accessory mount for a Kel-Tec or Hi-Point rifle? What about a rail for a gun stock that has no mounting system at all? You can find these and many more at LongShot. There are too many products to cover here, so please visit the company website at longshotmanufacturing.com
Nexbelt Precise Fit Tactical Belts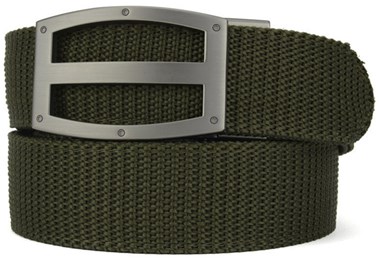 Nexbelt, the comfortable, adjustable belt with no holes, has expanded its men's line to include the new Tactical Belt for concealed carry and duty use. The stiff nylon-webbing strap holds a handgun or tools without sagging and the tip is laser cut and heat-treated to resist fraying. The removable buckle engages the PreciseFit adjust track via a magnetic trigger. Use the scale printed on the back of the 1.44" wide belt to trim the buckle end of the belt to the right size, anywhere from 50" to 25". This allows for adjustments in 0.25" increments versus the 1" increments of traditional belts. As a result, the belt will still fit perfectly whether you're tucking in an IWB holster or taking your gun off at the end of the day.
These black, tan or OD green belts are available with Matte Black or Titanium buckles. MSRP: $49.99
OTIS Tactical Cleaning Kit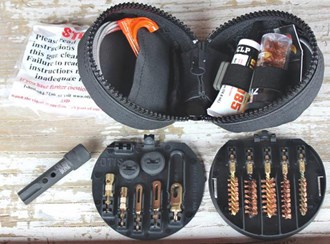 Earlier this year, I tested a convertible AR-15 that fires four different calibers of ammunition. When the review was complete, I was glad to have a total cleaning system capable of maintaining all the barrels while remaining compact enough to tuck into the pocket of a range bag. The OTIS Technology Tactical Cleaning System (FG-750 BX) contains everything you need to scrub rifles and pistols from .17 to .50 Caliber, and shotguns from .410 Bore to 12-ga. The Memory-Flex cables allow any gun to be cleaned properly, from chamber to muzzle. MSRP: $59.99
Raptor Products Locking Storage Holster


Raptor Products continues to expand its series of flexible, modular firearm storage options with the new Raptor Holster for Glock pistols.  This system secures Glocks, preventing unauthorized access, while providing a variety of staging options thanks to a series of different mounting plates (sold separately).  The pistol can be secured almost anywhere in your home, vehicle, RV and even off-road vehicles with roll bars. This system is also compatible with the Raptor Rail system. The holster features a heavy-duty construction using high-tech polymer and stainless steel components. Rubberized inserts hold the gun in place and a tamper-resistant keyed lock keeps it in place until deployed. Optional non-locking models are available. MSRP: $79.95–$144.90
Safariland's Hatch Model S7 Sling Pack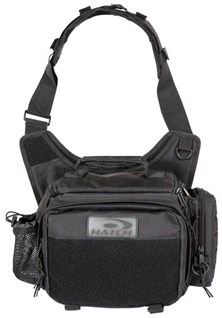 Safariland offers an extensive line up of proven support gear for civilian and on-duty applications.  The Hatch S7 Sling Pack (#1172117 ) is an ideal option for use as an ultra portable bug-out bag or for daily off-the-body concealed carry. Constructed of heavy-duty 1000-denier nylon, the S7 features numerous pockets for carrying everything from magazines to cell phones. This includes a dedicated, quick access pocket for medium and small handguns. The MMOLLE looped side pocket and two buckled straps along the bottom of the pack allow for easy attachment of accessories and additional items. A unique feature of the S7 is the C-clip located on the back which is designed to clip onto the belt to minimize any bouncing while running. MSRP: $49.99     
SOG Prophet 33L Backpack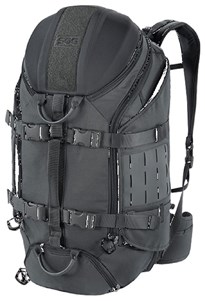 Known for its high-quality knives and multi-tools, SOG recently released a new line of convertible packs designed to adapt to a variety of situations. The Prophet 33L goes from backpack to duffle bag in a snap by stowing the quick-release shoulder straps and hip belt out of the way. An internal MOLLE loop field for concealed carry allows the user to customize the position and angle of a firearm for quick access. A built-in hydration sleeve with hose pass-through allows easy access to water (hydration bladder sold separately) while an internal laptop sleeve keeps electronics safe. Each side of the pack houses lash points for long items like fishing pole cases. I especially like the impact-resistant top pocket for more delicate items such as range finders, sun glasses, cell phones and binoculars. Available in black or gray, the list of features shown here just scratch the surface of what the Prophet 33 has to offer. MSRP:  $229.99
SportEar M-Series Axil M-4 Earmuffs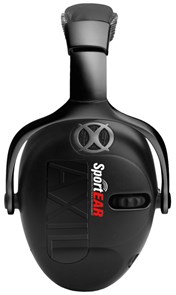 As much as we would all like to have a set of SportEar's Custom Edge hearing protection devices, not everyone is in a position to buy them. Luckily, SportEar offers a sleek, comfortable and more affordable option with the new series of electronically amplified Axil M-Series earmuffs. The M-4 model features four directional microphones with two forward facing and two rear facing for clear 360-degree hearing of ambient sound. The microphones cut out the instant noise reaches dangerous levels. The muffs provide 25-db of noise reduction and each has its own volume control. The M-4 has smart-phone compatible auxiliary ports so that shooting enthusiasts can take calls on the range without removing their hearing protection. MSRP: $139.99
Spyderco Folding Knives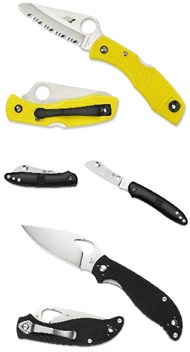 For those who need to shave a few bucks off the price tag of a high-quality folding knife while maintaining an edge, Spyderco has some terrific options that won't break the bank.
The Salt I (Top), shown here with a yellow handle and serrated edge, has a blade constructed of Japanese H-1 steel, a steel that will not rust. H-1 is a precipitation-processed alloy that's rolled hard without heat-treating and contains .1% nitrogen which does not react to chlorine-resulting rust. It holds a sharpened cutting edge comparable to the premium knife steels being used by most knife makers today. MSRP: Salt I (C88YL) $119.95
The Roadie Lightweight (middle) is a highly evolved penknife that is more practical and user-friendly than its historical predecessors. The unique "double dent" is a pair of symmetrical dimples in the blade that provide a solid purchase for a fingernail-free two-handed opening. Far superior to a traditional nail nick, it doesn't collect dirt or debris. The Roadie also features a subtle index-finger choil that increases control of the knife during use and acts as a safeguard against unintentional closure. It's available with a plain or serrated edge with handles in a variety of colors. MSRP: Roadie Lightweight (C189) $79.95
As a member of the next generation of the Byrd series of folders, the 3.41" plain-edge blade Raven 2 G-10 (Bottom) is one of the first knives in the series to feature a CTS BD1 steel blade. Built on a foundation of full stainless steel liners, the Raven 2's ergonomic handle is capped by textured G-10 scales that offer an extremely secure, comfortable grip. The handle liners are skeletonized to reduce weight and form the core of the knife's sturdy LinerLock mechanism. To further reduce weight, the handle features open-backed construction that also allows easy cleaning and maintenance. MSRP: Byrd Raven 2 G-10 (BY08G2) $74.95
Stack-On 22 Gun Security Cabinet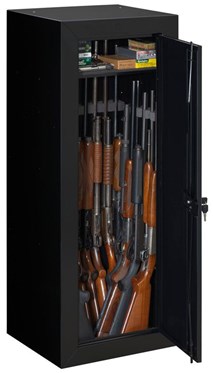 While some folks are looking for gun storage solutions with lots of nooks and crannies, others just want a wide open space for their rifles and shotguns. This year Stack-On released the new Model # GCB-1522 Security Cabinet. As the name implies, this steel cabinet is designed to hold 22 rifles or shotguns up to 54" in length. A three-point, key-operated locking system secures the door. The door swings on a full-length welded and staked piano hinge. The exterior has been treated with a durable, black baked-epoxy finish. The top is pre-drilled for attaching a Stack-On handgun box with the back and bottom drilled so the unit can be secured via screws to the wall or floor. Inside is a foam liner on the floor with a shelf for accessories. This cabinet is tested and listed as a California DOJ Firearm Safety Device. MSRP: $208.09
Steel Will Apostate 1108 Folder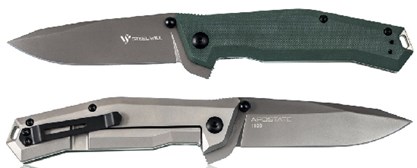 Steel Will, a division of the American SMG Inc. company founded in 2008, offers high-quality fixed and folding knives for on-duty and outdoor use. The new Apostate 1108's 4.13" long S35VN steel blade features a predatory drop point and a dark gray anti-glare coating. The left scale is textured G10 with the right scale made of high-strength titanium with milled slots on the inner side of the titanium frame. This combination of carefully engineered materials makes this knife light weight for its size, just 6.17-oz. Ceramic ball bearings provide for a smooth, quick one-handed opening. Other features include a reversible spring steel belt clip and a lanyard hole. MSRP: $174.99
Underfold Stocks for Ruger 10/22 Rifles


Underfold Stocks provides a top-notch, light weight polymer folding stock for the ubiquitous Ruger 10/22 rimfire rifle. This system employs a durable stainless steel pivot system which allows the 6061 aluminum extension arms and butt plate to lock firmly into the open or closed position. The high-impact black polymer stock is textured at the forend for an improved gripping surface and fitted with a comfortable Hogue rubber over-molded grip which is interchangeable with any AK-47-style grip. Select from models with a black or silver aluminum finish, extension angles for iron sights or optics, and barrel channels for standard factory profile barrels or aftermarket .920 bull barrels. Stocks are also available for the Ruger 10/22 Takedown models. This product is proudly made here in the U.S.A. MSRP: Starting at $109.99
VZ Grips AR-15 Accessories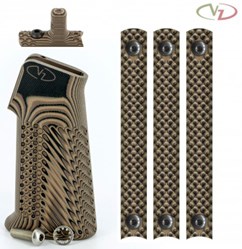 There's always a good reason to stop by the VZ Grips website to see what's cookin'. The company's Micarta and G10 grips and accessories are as good looking as they are functional and reliable. This year the company expanded its product line to include accessories for the ever-popular AR-15 rifle, which can be purchased separately or as bundles. The bundle option shown here includes three 4" Keymod or M-Lok textured rail covers, a hand stop and your choice of a Shorty or Standard size grip. As always, these accessories are available in several colors and texture patterns. Suggested Bundle Retail: Starting at $194.25