by
posted on November 15, 2021
Support NRA American Rifleman
DONATE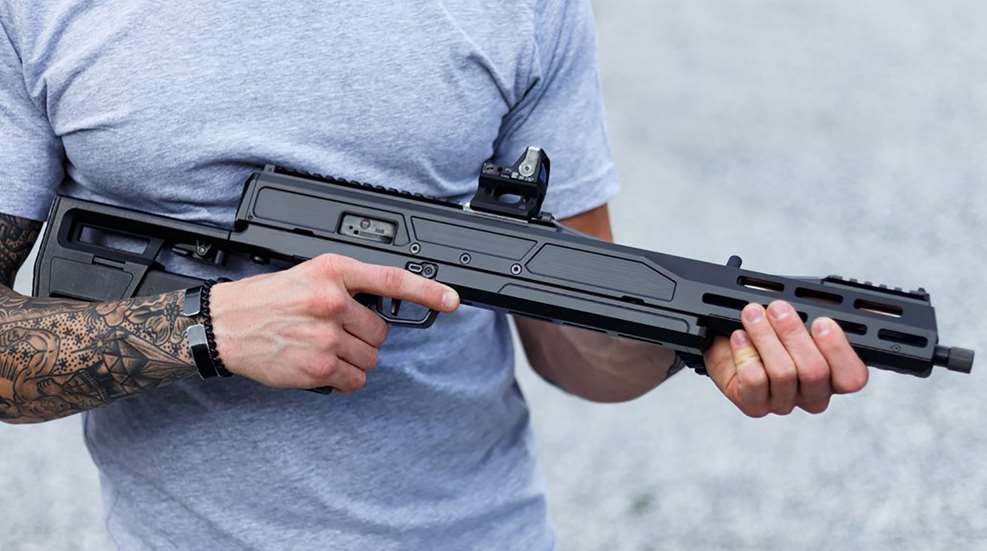 As the leaves begin to fall, many of us in the industry look forward to the National Association of Sporting Goods Wholesalers (NASGW) Expo. This year, we finally got to catch up with friends and industry partners we hadn't seen face to face for some time, due to the Covid-19 pandemic the year before. This show gives distributors a closer look at new guns that will start shipping between now and the first few months of 2022. Despite the dual challenges of record high gun sales nationwide and supply chain slow downs, several manufacturers are continuing to expand their catalogs. Here's a look at a few of the models that were on display.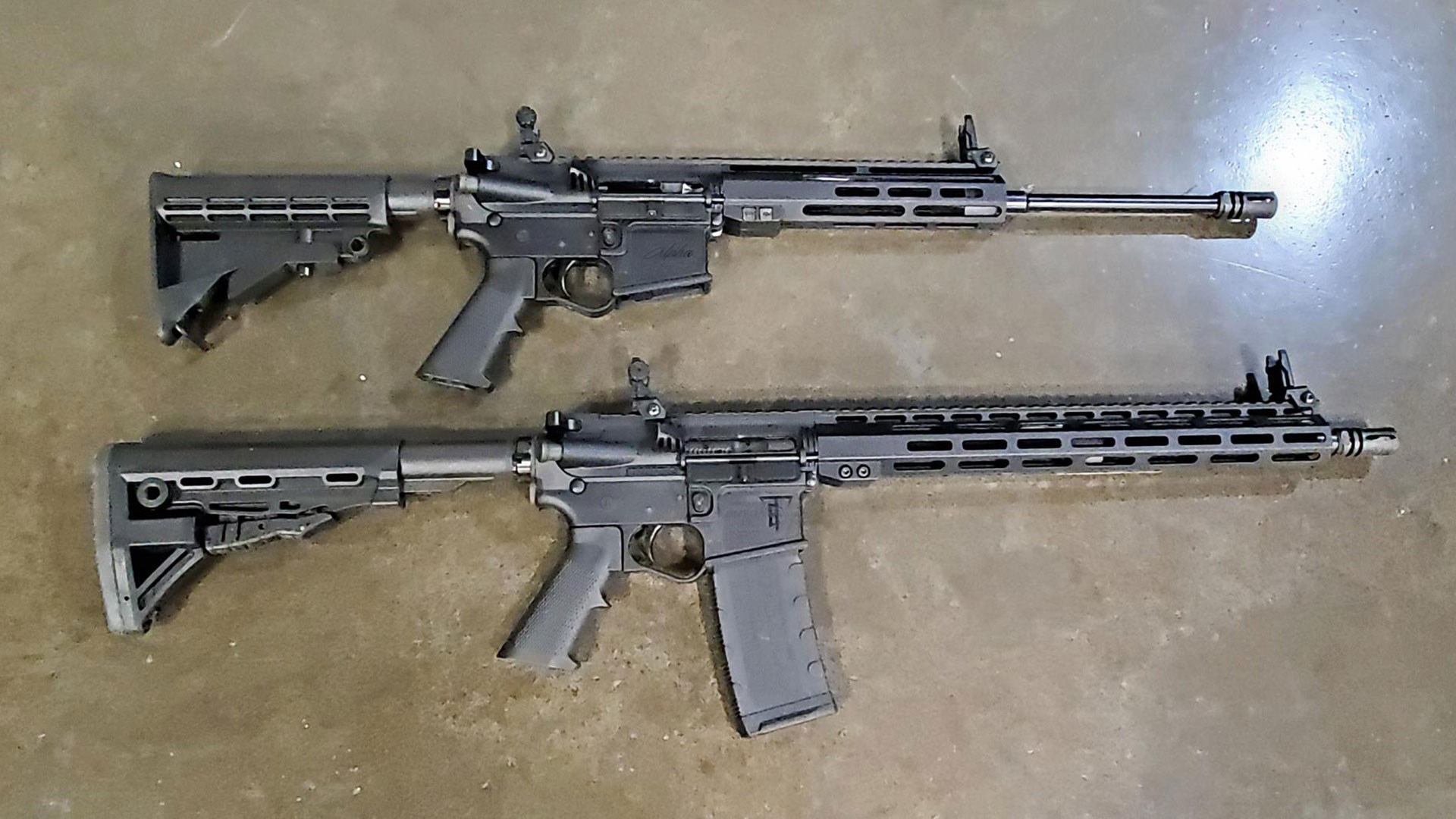 The American Tactical Alpha-15 on top and Omega-15 on bottom. 
American Tactical (AT) is now offering the Alpha-15 (top), a budget friendly AR-15-pattern carbine that weighs less than many rifles in its class. Outfitted with a 16" pencil barrel, it tips the scales at just 5.51-lbs. unloaded. This weight reduction is accomplished with the extensive use of carbon-fiber infused polymer components, including the upper and lower receivers, buffer tube, trigger and 8" MLOK handguard. It ships with polymer flip-up sights, a 6-position adjustable shoulder stock, an American Tactical 30-round magazine and an A2 flash hider for a suggested retail price of $499.95.
AT is also offering the Omega model (bottom). Made in conjunction with ET Arms Inc. of Arizona, it's built around the same receiver set and buffer tube as the Alpha-15. It incorporates other components including a 15" aluminum MLOK handguard and an ATI SR-1 shoulder stock for an unloaded weight of 6-lbs. at a suggested retail price of $630.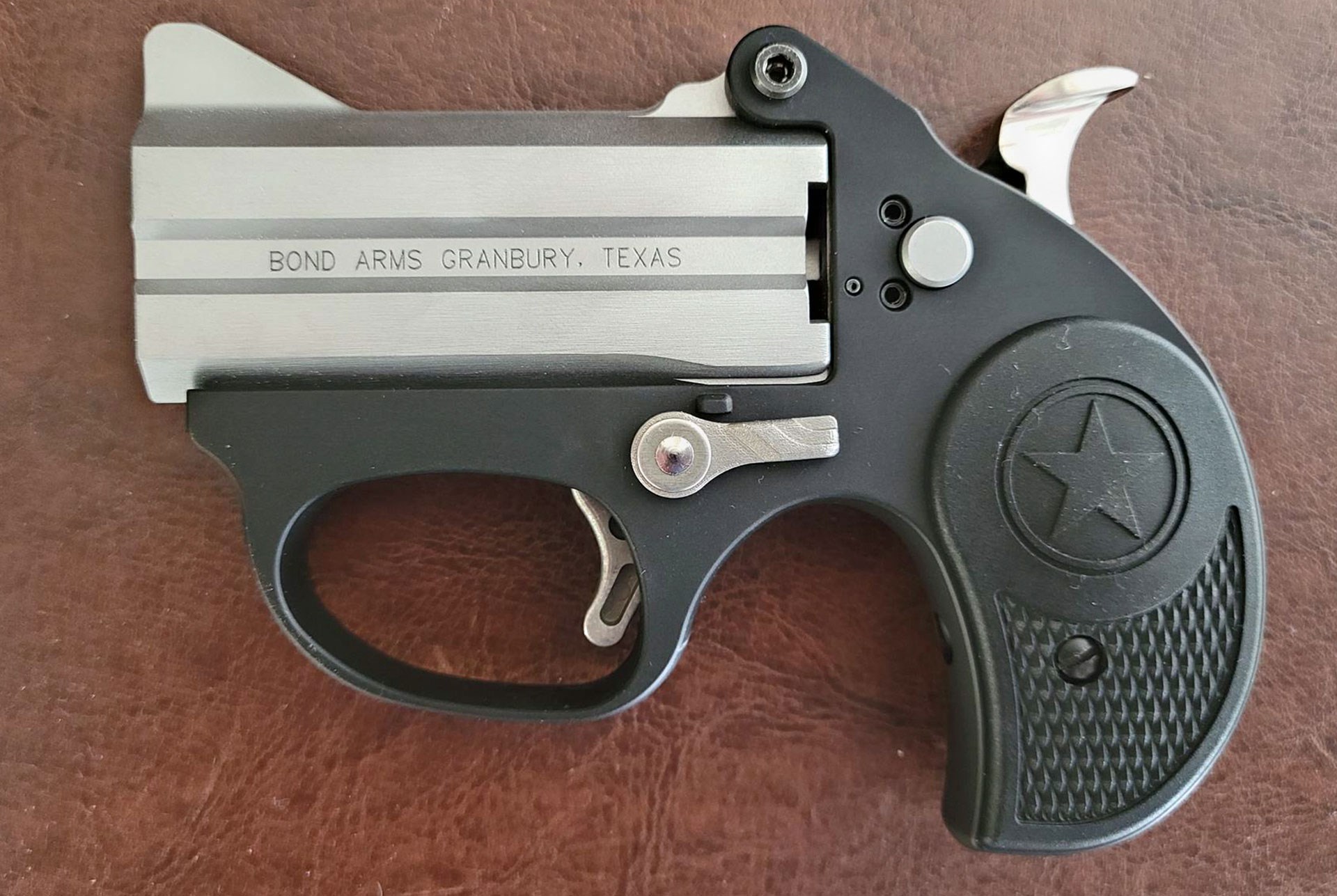 The Bond Arms Stinger.
Bond Arms is well known for its reliable double-barrel pistols with interchangeable barrels in a variety of lengths and calibers. Available in a durable, all-stainless steel configuration that can safely handle big-bore calibers, customers have been requesting a model that's lighter and slimmer for more comfortable carry. The new Stinger line-up is the company's answer to that request.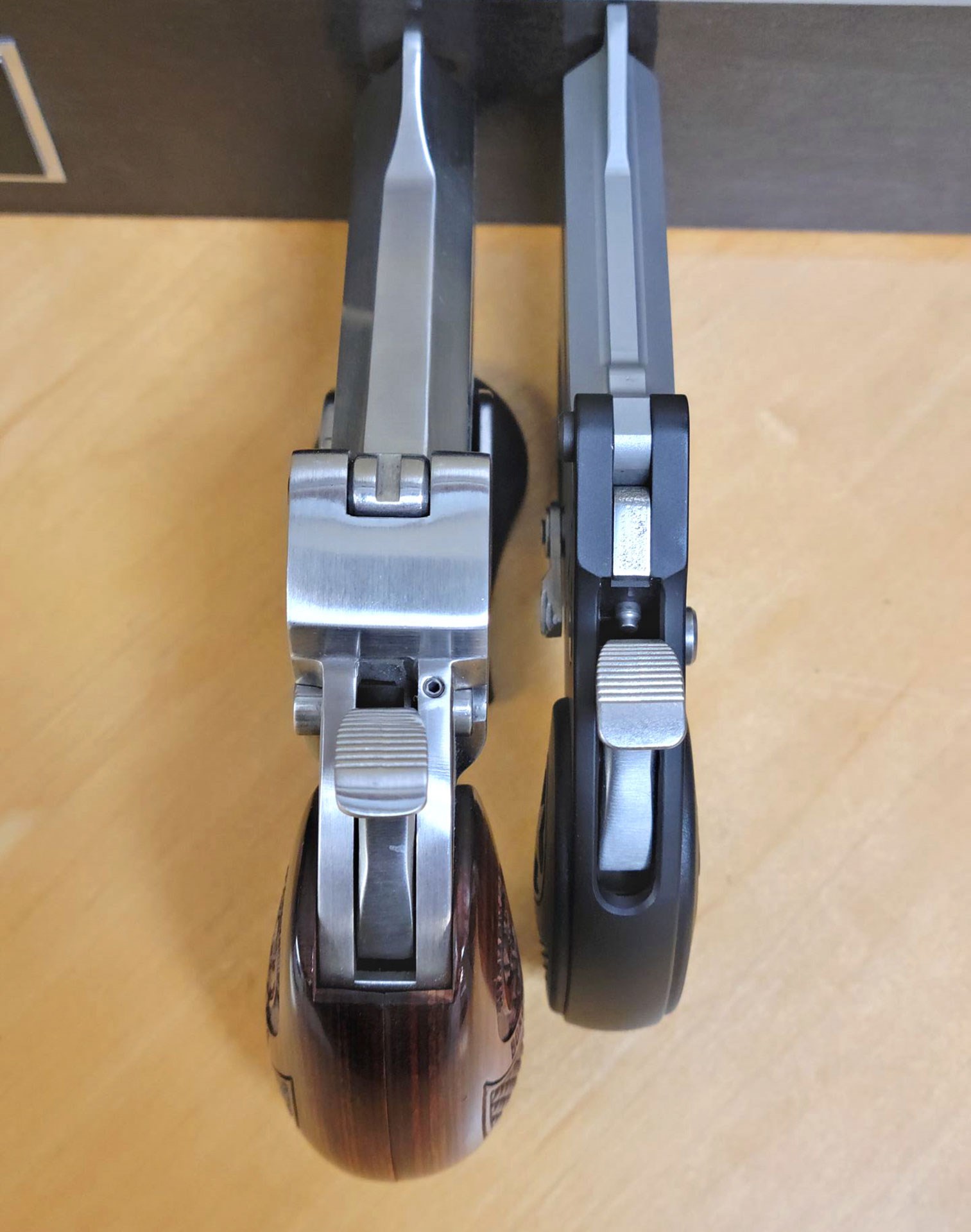 A size comparison between the Bond Arms Stinger (right) and Snake Slayer (left).
The Stinger's frame and barrel are just 0.55" wide with a grip thickness of 0.88" when the checkered composite polymer grip panels are installed. This pistol is outfitted with stainless steel controls and a slimmed down 3" tip-up barrel chambered in either .380 ACP or 9mm. The 7075 aluminum one-piece receiver and grip frame are milled from billets, just like some AR-15 lower receivers, for an unloaded weight of just 12-oz. The receiver is treated with a matte black hard coat anodized finish that contrasts nicely with the natural satin silver of the stainless steel components. The .380 ACP and 9 mm models are both available with a suggested retail price of $379.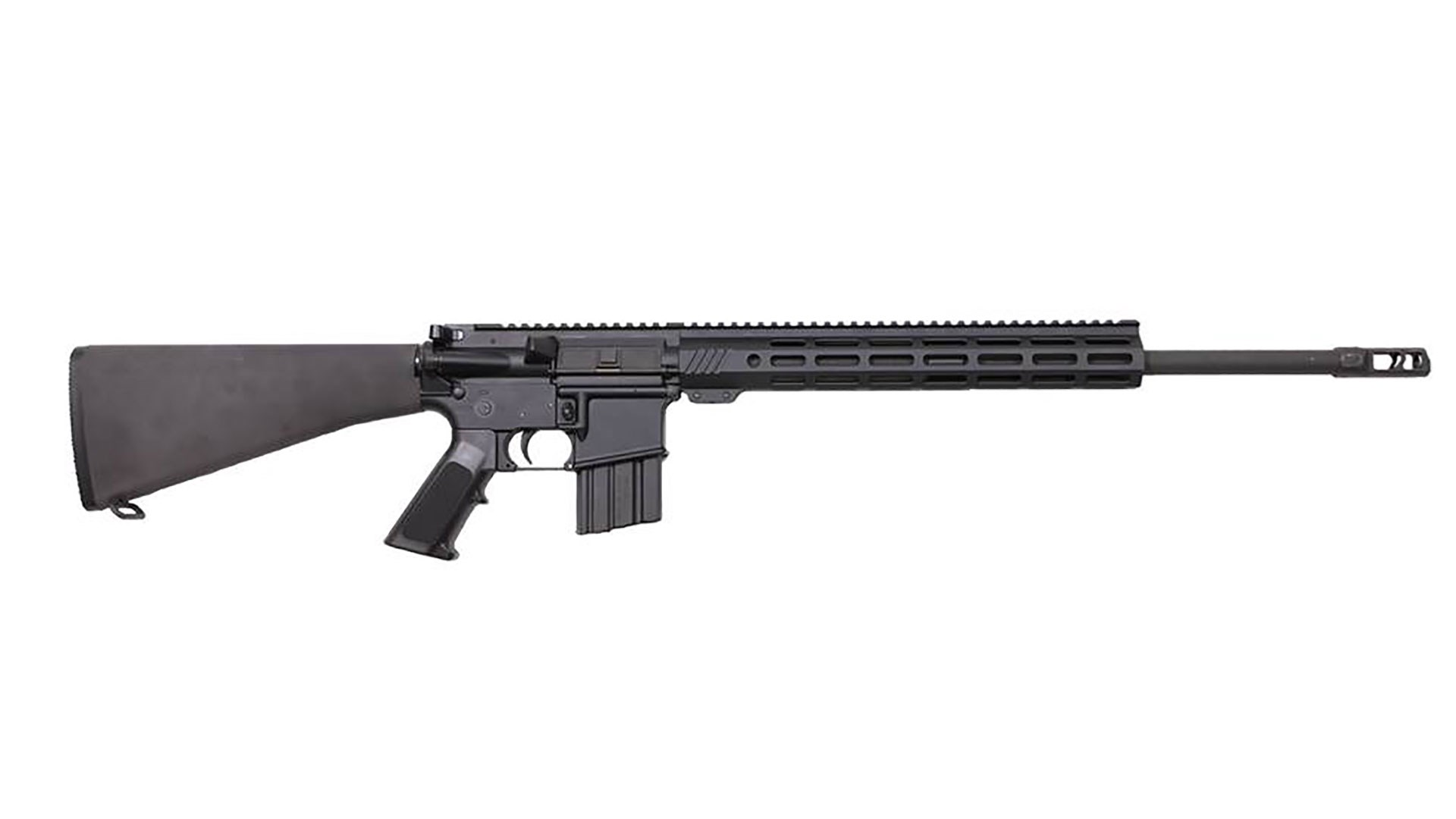 The Bushmaster International Arms' .450 Bushmaster Lite.
Bushmaster International Arms is back in business this year under new management. The team has been busily working to revive a variety of the company's famous AR-pattern rifles. One of the latest releases that caught our eye is the .450 Bushmaster Lite chambered in .450 Bushmaster. This reduced weight model is configured to be more comfortable to carry when hunting deer, bear and hogs while significantly reducing the levels of felt recoil produced by this big-bore cartridge. Features include a Snake Charmer muzzle brake, 20" barrel, 14" BFI free-float handguard, DM2S 2-stage trigger, 5-round aluminum magazine and a fixed A2 style shoulder stock. This Bushmaster rifle has a suggested retail price is $1,329.99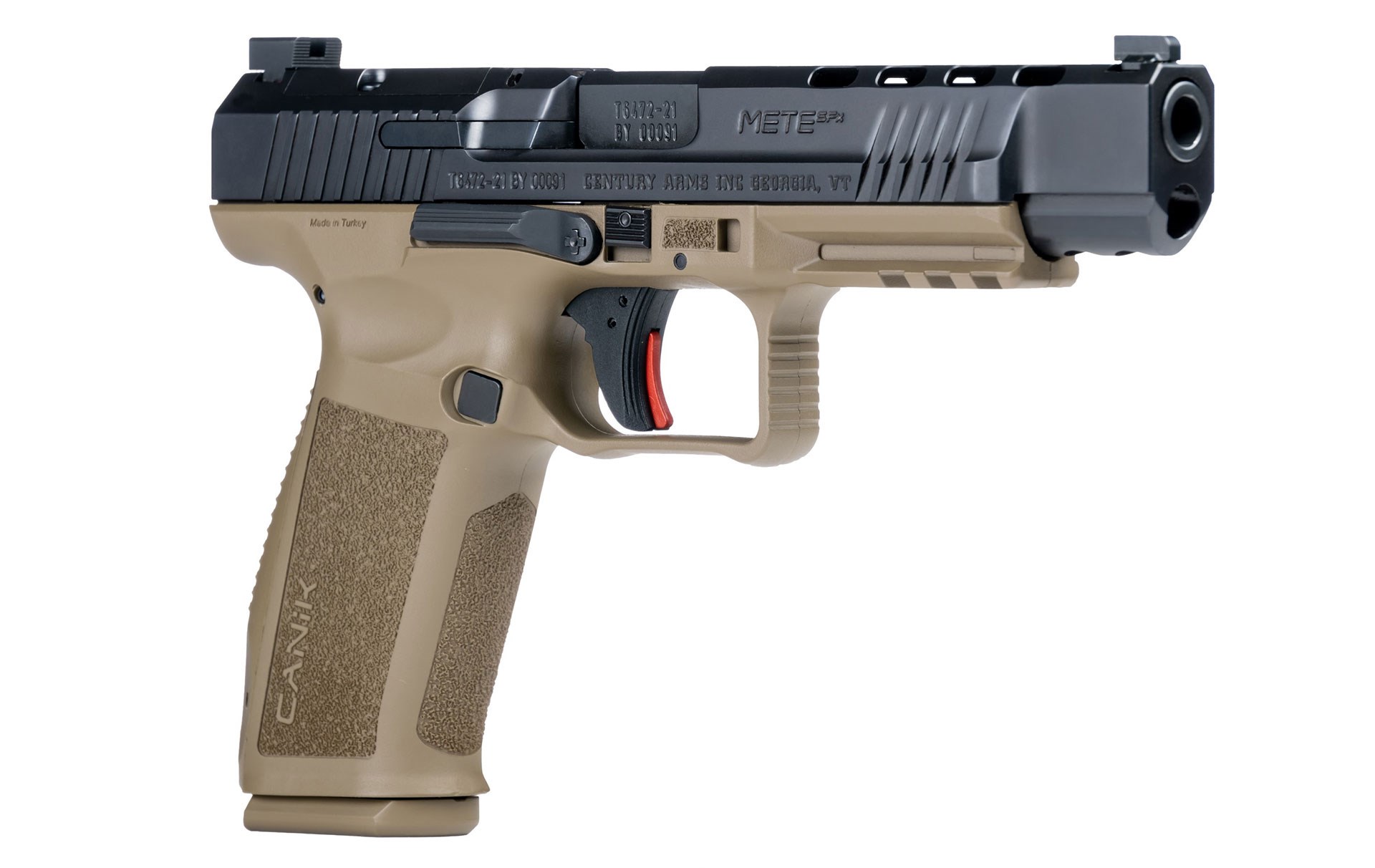 The Century Arms Canik METE.
Century Arms continues to expand its popular line-up of Canik polymer framed semi-auto pistols with the introduction of the METE series (pronounced Met-Ay) including the SFT and SFx models chambered in 9 mm. Based on the Canik TP series, these pistols incorporate enhancements based on consumer and engineering feedback. They include an integrated flared mag-well, an angled rear sight for emergency one-handed operation, a redesigned beavertail, and an optics-ready slide. Each pistol ships with an 18-round and 20-round magazine along with a holster and several other accessories packed into a lockable hard case. The 4.42" barrel SFT model has a suggested retail price of $520. The SFx with its longer 5.2" barrel and vented slide sells for $575.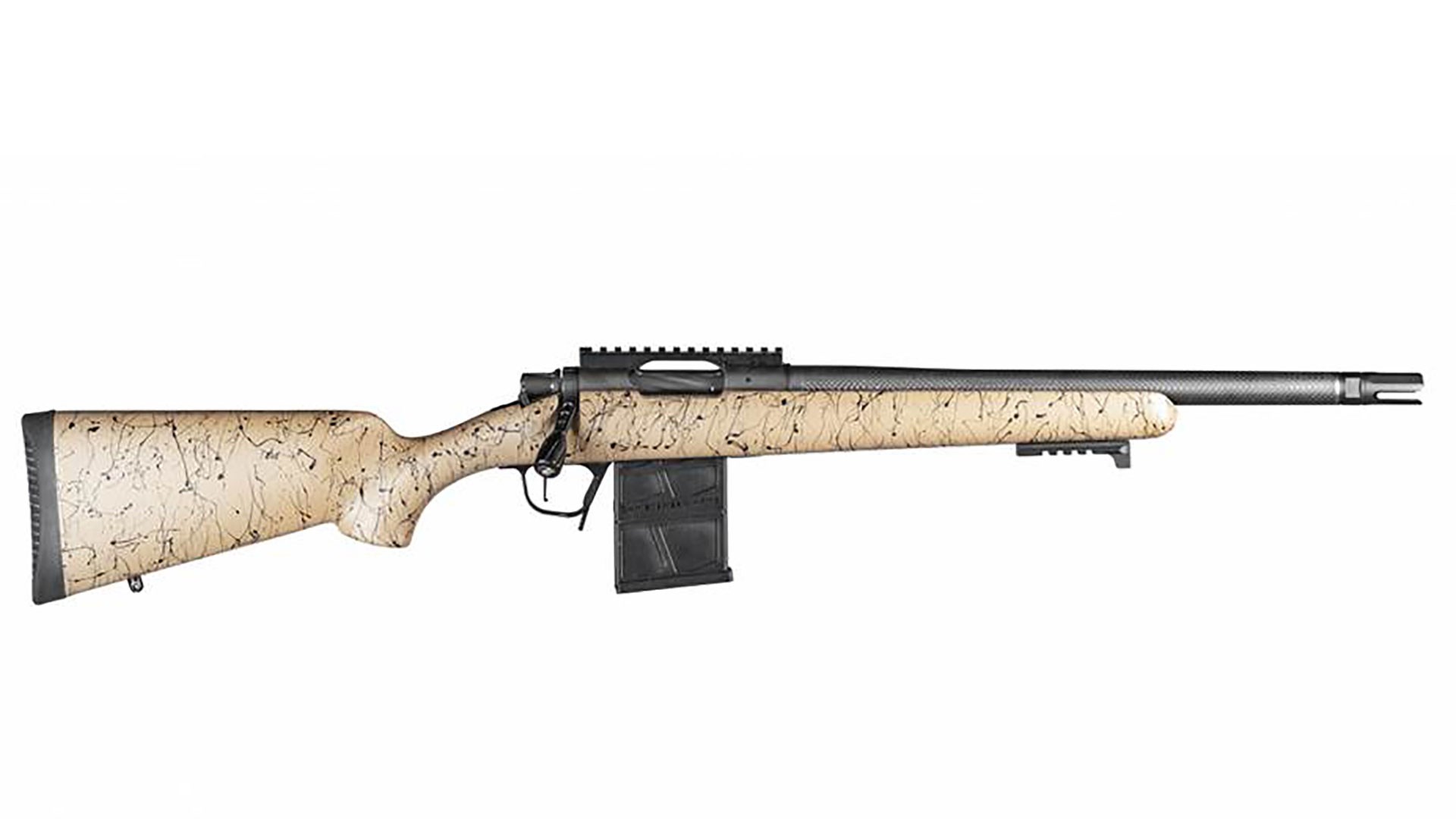 The Christensen Arms Ridgeline Scout.
Christensen Arms of Gunnison, Utah, specializes in making top notch precision bolt-action rifles and custom carbon fiber barrels. This company's latest model is the Ridgeline Scout. It's a purpose-built bolt-action that packs the best features of the company's Ridgeline series into a more compact scout rifle configuration. Features include a Black-Nitride coated action, barricade stop, a 10-round AICS drop-box magazine, and a flat-shoe Trigger Tech trigger. The rifle sports a tan and black carbon fiber composite Sporter stock and is topped with a 0-MOA optic rail for the scope of your choice. Caliber options include .223 Rem., .300 BLK, 6.5 mm Creedmoor and .308 Win. with a suggested retail price of $2,200.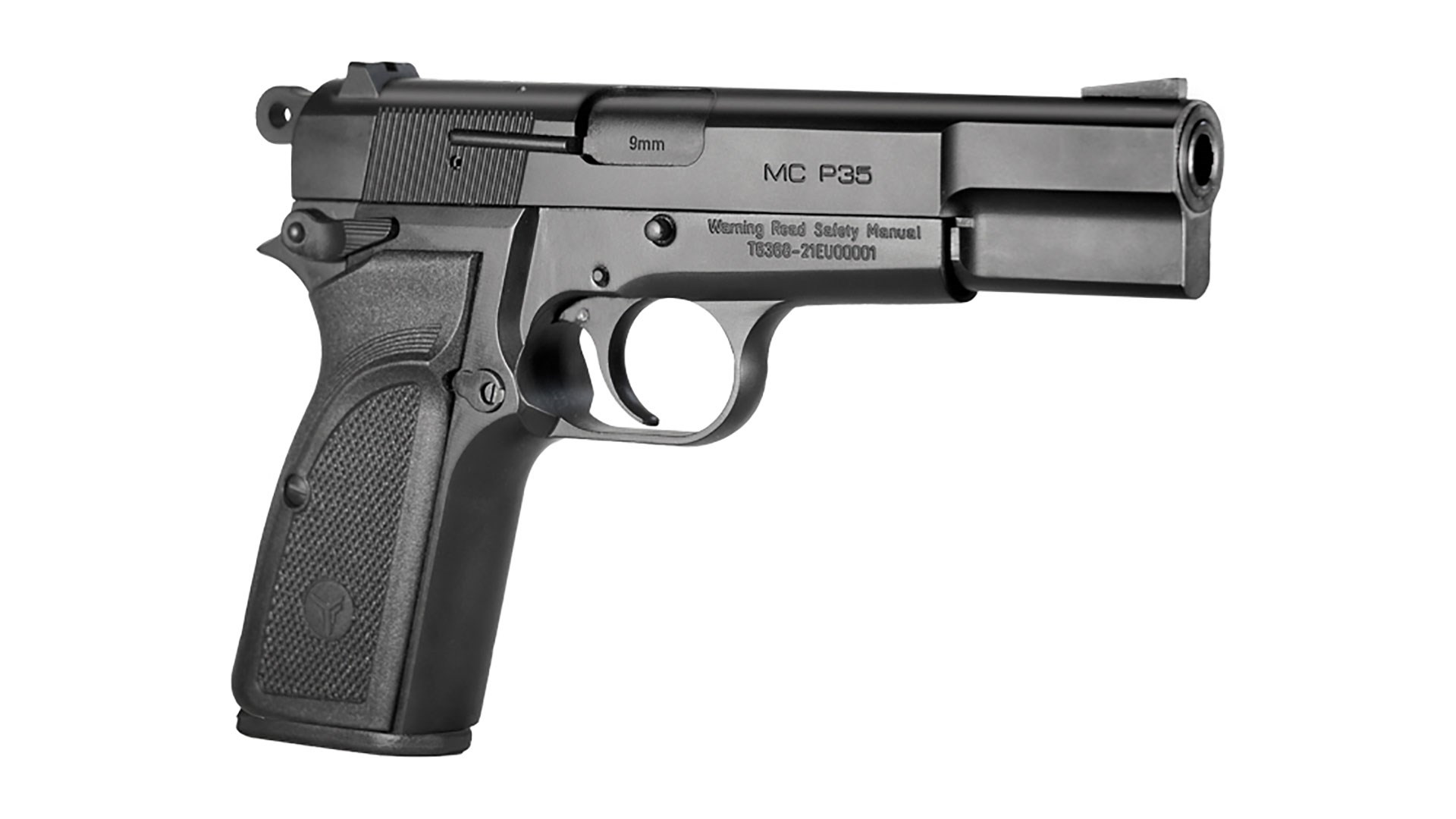 The EAA Girsan MC P35.
European American Armory (EAA) pays homage to one of the most widely adopted military 9 mm pistols in the world, namely, John Browning's iconic Hi Power, or P-35. EAA's latest interpretation of this classic handgun design is the MC P35 made in Turkey by Girsan. This short-recoil operated pistol maintains the sleek, slim profile of the original with an all-steel construction, matte black finish and a 4.625" barrel.
The traditional trigger allows for a short trigger reset and is accessible even while wearing gloves. The serrated ring hammer is easy to cock and is less likely to pinch the shooting hand than the original hammer design. The double-stack magazines hold 15-rounds instead of 13. Other features include an external extractor, dovetailed sights, ambidextrous thumb safety lever, a magazine disconnect safety and textured black polymer grip panels. The MC P35 has a suggested retail price of $528.

The Inland Manufacturing SLT AR-15 magnum rimfire upper receiver with magazine.
Inland Manufacturing insists on keeping us guessing as to what they will come up with next. Although the company is well known for fully functional replicas of World War II rifles, shotguns and pistols, this next year the company will be offering an unusual rimfire upper for the AR-15 carbine. The SLT-17 and SLT-22 will be chambered in .17 HMR and .22 WMR respectively.
These gas operated uppers use a patented ball bearing lock-up design developed by Michael Garrow. The SLT action is designed to prevent firing unless the action is fully closed so as to avoid the dangers of ruptured cases that occur with some blow-back operated action designs. Other features include a stainless steel barrel, threaded muzzle and aluminum free-float handguard. The SLT uppers ship with polymer magazines that fit Mil-Spec 5.56 mm NATO and .223 Rem. AR-15 lower receivers. Look for them to start shipping Spring of 2022 with a suggested retail price of $645.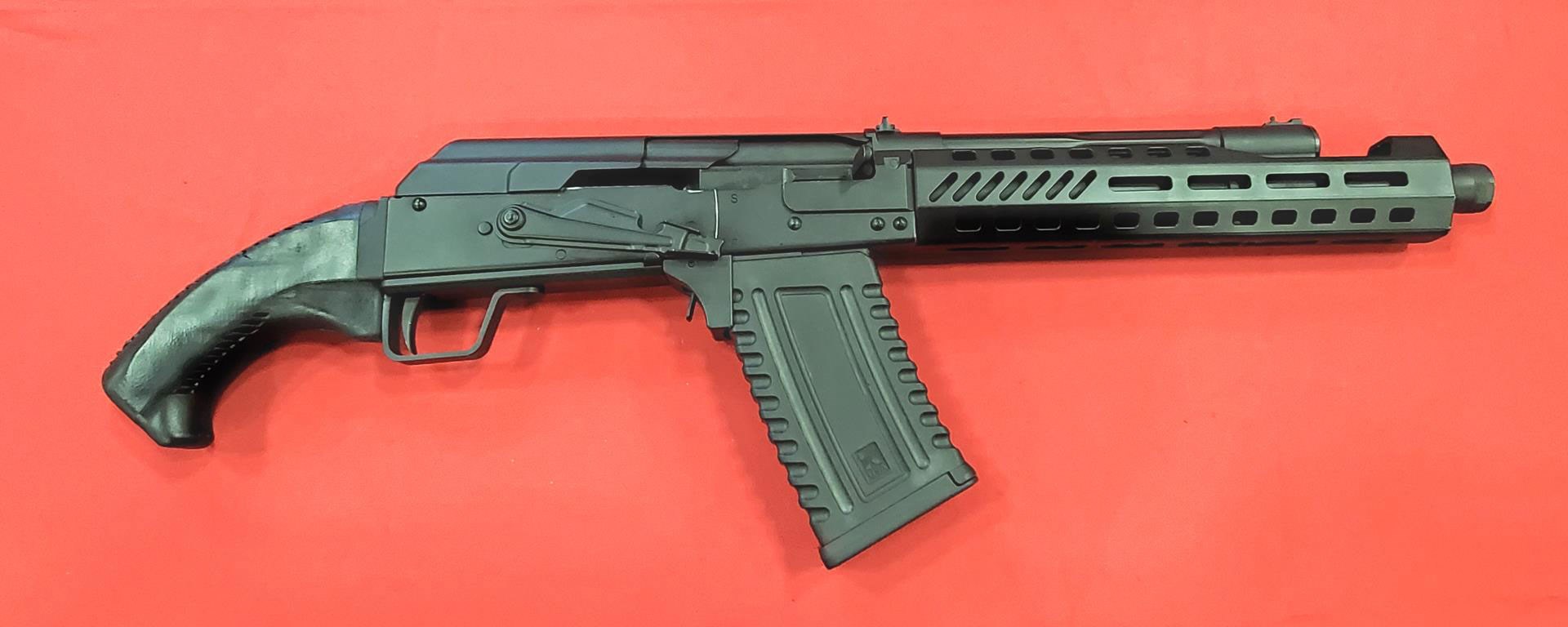 The Kalashnikov USA Chaos.
This year Kalashnakov USA gave us a sneak peek at a pre-production prototype of their take on a non-NFA 12-ga. firearm. Like the Mossberg Shockwave 12-ga, it has a curved birdshead style grip, a short 14" barrel and an overall length of 26". But that's where their similarities end. Called the Chaos, the Kalashnakov offering is a semi-auto based on the company's AK-pattern KS-12T shotgun. This gas operated scatter gun feeds from removable 5- or 10-round magazines. The Chaos will also pioneer the company's brand new one-hand operations action. Most AK-type shotguns must have the bolt locked in the open position in order to insert a fully loaded magazine into the receiver. This gun's action is designed to be reloaded with the bolt closed. The official launch date and pricing for the Chaos have yet to be determined as of this writing.

The Howa Elevate imported by Legacy Sports International.  
Legacy Sports International imports a variety of useful sporting arms including top notch bolt action rifles made by Howa in Japan. This year the company will be expanding its catalog of lightweight Howa 1500 models in various calibers. Among these new options is the Carbon Elevate with a listed unloaded weight of just 4.2 lbs. Available chambered in 6.5 mm Grendal, .308 Win., 6.5 mm Creedmoor or 6.5 mm PRC, the Elevate is outfitted with a with a feathery carbon fiber stock treated with a camouflage finish. It's also outfitted with a carbon-fiber-wrapped barrel, threaded muzzle, H.A.C.T. two-stage trigger, sling swivel studs and a removable magazine. Pricing has yet to be announced.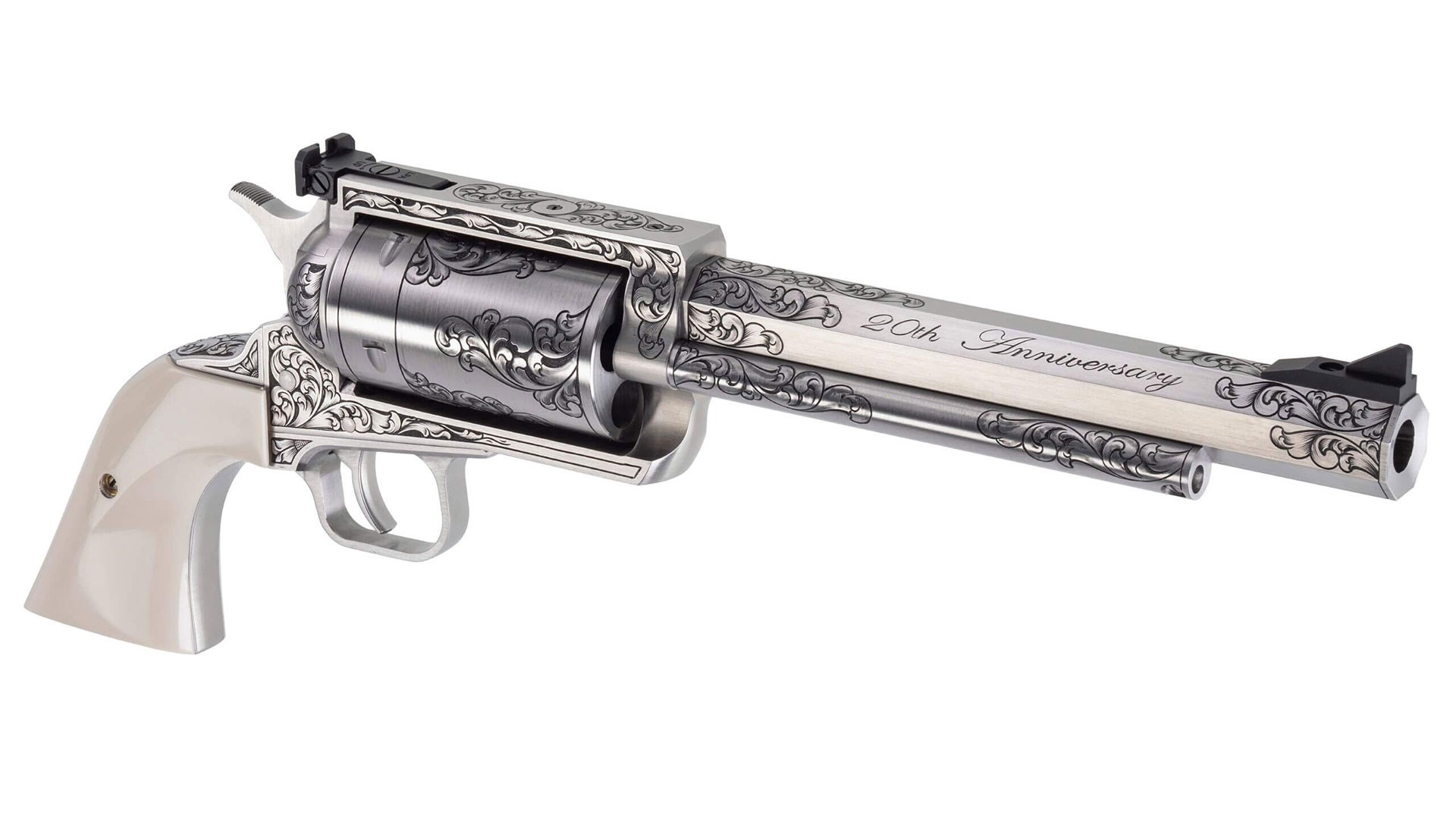 The Magnum Research 20th Anniversary BFR.
Magnum Research is celebrating two decades of manufacturing the Biggest Finest Revolver (BFR) with an exclusive anniversary edition. The hand-crafted 20th Anniversary BFR is part of a limited series, with only 20 pistols to ever be produced. It's built on the original long-frame receiver and chambered in .45-70 Gov't, just like the first production guns. Constructed wholly of satin finished stainless steel, these revolvers feature a full octagonal barrel with a custom E-Rod Housing and base pin. The traditional plow style grip frame is outfitted with smooth, white synthetic grip panels. The exterior surfaces are engraved with elegant scrollwork by the artists at Tyler Gun Works. The revolvers will ship with a wood case and a signed letter of authenticity at a suggested retail price of $7,200.
O.F. Mossberg & Sons recently launched two new options including the MC2sc Micro Nine pistol and the 590S series of pump-action shotguns.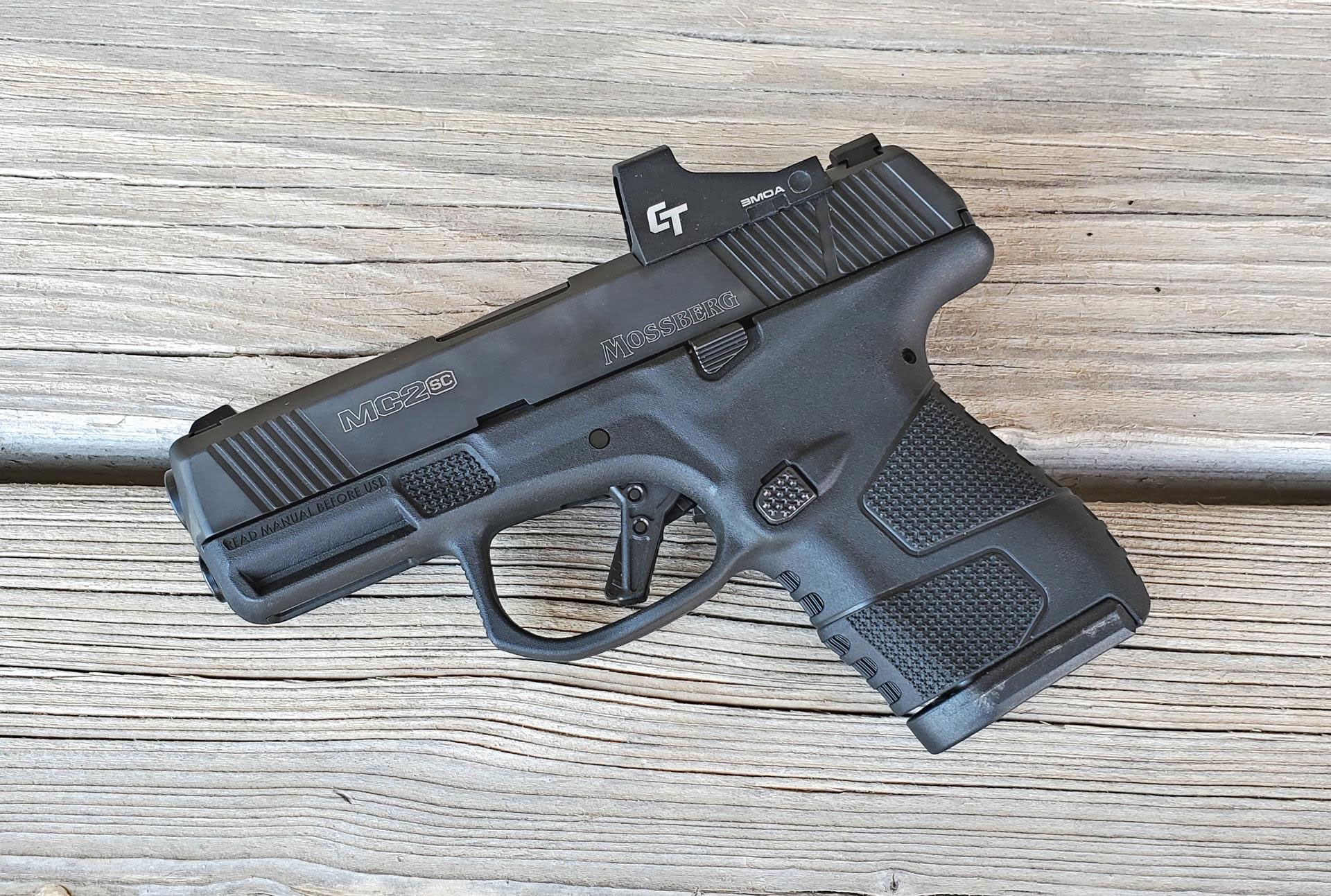 The Mossberg MC2sc with a Crimson Trace micro red-dot sight mounted.
The new MC2sc 9 mm pistol blends the best daily carry features of Mossberg's two previous MC pistol models. It has the shorter 3.4" barrel and reduced grip length of the MC1sc subcompact while accepting the same slim profile, double-stack magazines developed for the compact sized MC2c. The pistol ships with a flush fit 11-round magazine and an extended finger rest base plated 14-round magazine. The top of the MC2sc slide is milled to accept the smaller micro red-dot optics with a JPoint or Shield profile. The polymer frame has a comfortable grip and an accessory rail molded into the dust cover. The MC2sc can be ordered with night sights or an external thumb safety with suggested retail prices starting at $556. Click here for a full review.

The Mossberg 590S Tactical 20" barrel model (top) with the 14" barrel Shockwave (bottom).
Mossberg's new series of 590S pump-actions feature an action that has been re-designed to accommodate 1¾" long mini 12-ga. shot shells in addition to traditional 2 3/4" and 3" shells. All three shell lengths can be loaded into the magazine in any order or combination without the risk of feeding issues. Mini shells produce lower levels of felt recoil and allow for more shells to be loaded into the magazine. The 18.5" barrel 590S models have an ammunition capacity of 5+1 when using 3" shells, 6+1 with 2¾" shells or 9+1 rounds when the magazine is filled with 1 3/4" mini shells.
The 590S series is launching with a total of four models. The shoulder-stocked long gun versions are available with two different types of barrels and fore-ends. Customers can choose from a brass-bead sight 18.5" barrel with a fixed cylinder bore choke and a "corn cob" polymer fore-end, or a 20" barrel outfitted with ghost ring sights, an interchangeable choke tube and an M-Lok slotted, seven-sided, fore-end. The other two models are Shockwave configurations with either 18.5" or 14" fixed cylinder bore choke barrels, strapped polymer fore-ends and gently curved Shockwave grips. Suggested retail prices for the 590S series range from $605 to $708, depending on the model selected. You can see a full review of the 14" version of the 590S Shockwave by clicking here.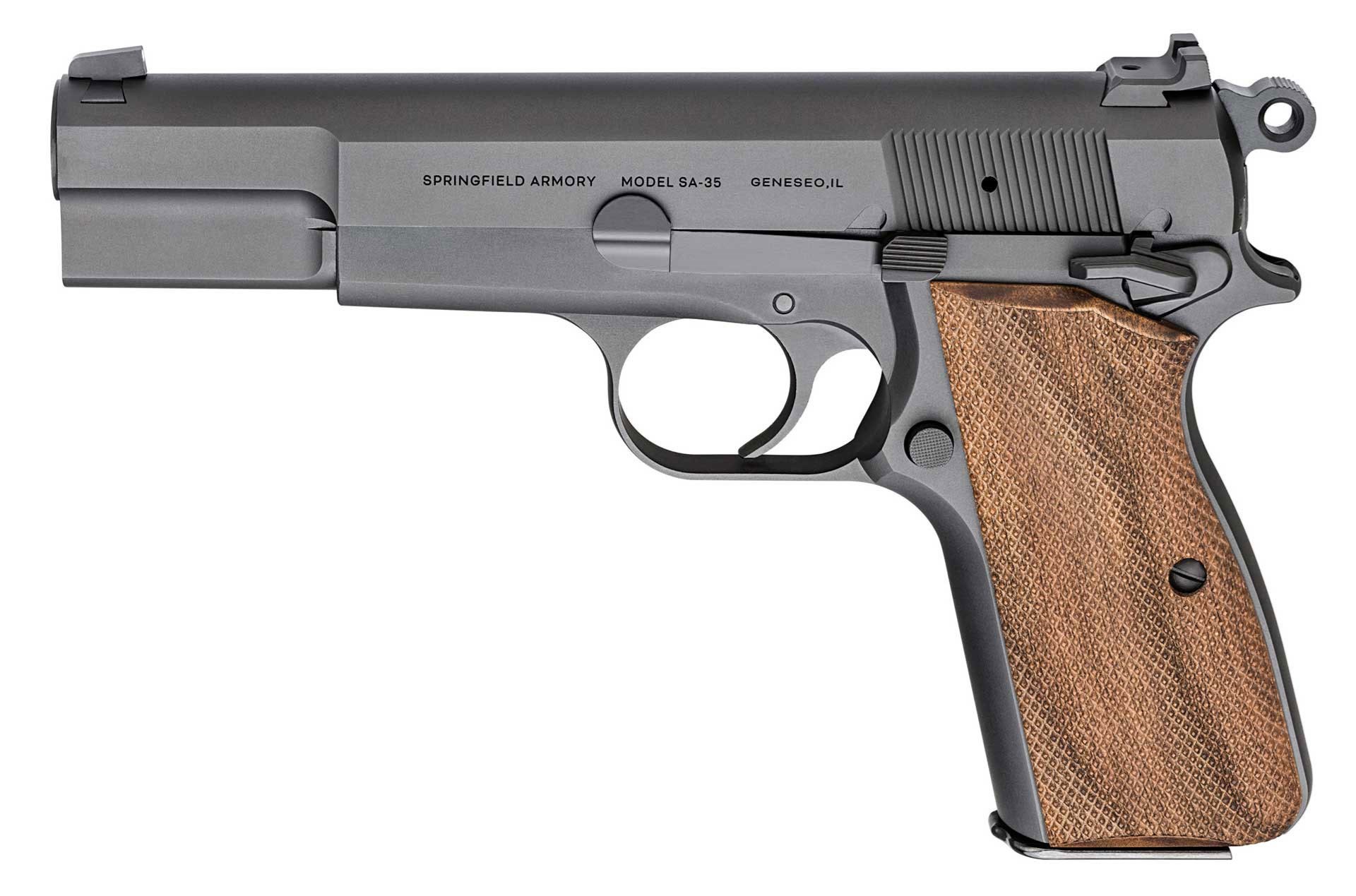 The Springfield Armory SA-35.
Springfield Armory is another company that's reviving the P-35 9 mm pistol, but in their own way. The company is saying, "Don't call it a classic," because their SA-35 is not a clone of the Browning Hi Power. Instead, the SA-35 is their modern interpretation of the platform. It preserves much loved vintage features including an all-steel construction, blued finish and handsome checkered walnut grips. This pistol design is a boon for those of us with somewhat smaller hands who want a slim, sleek 9 mm with a bit more weight in the frame to help manage felt recoil. You can see a full review and range report of the SA-35, taken from the pages of the American Rifleman Magazine, by clicking here.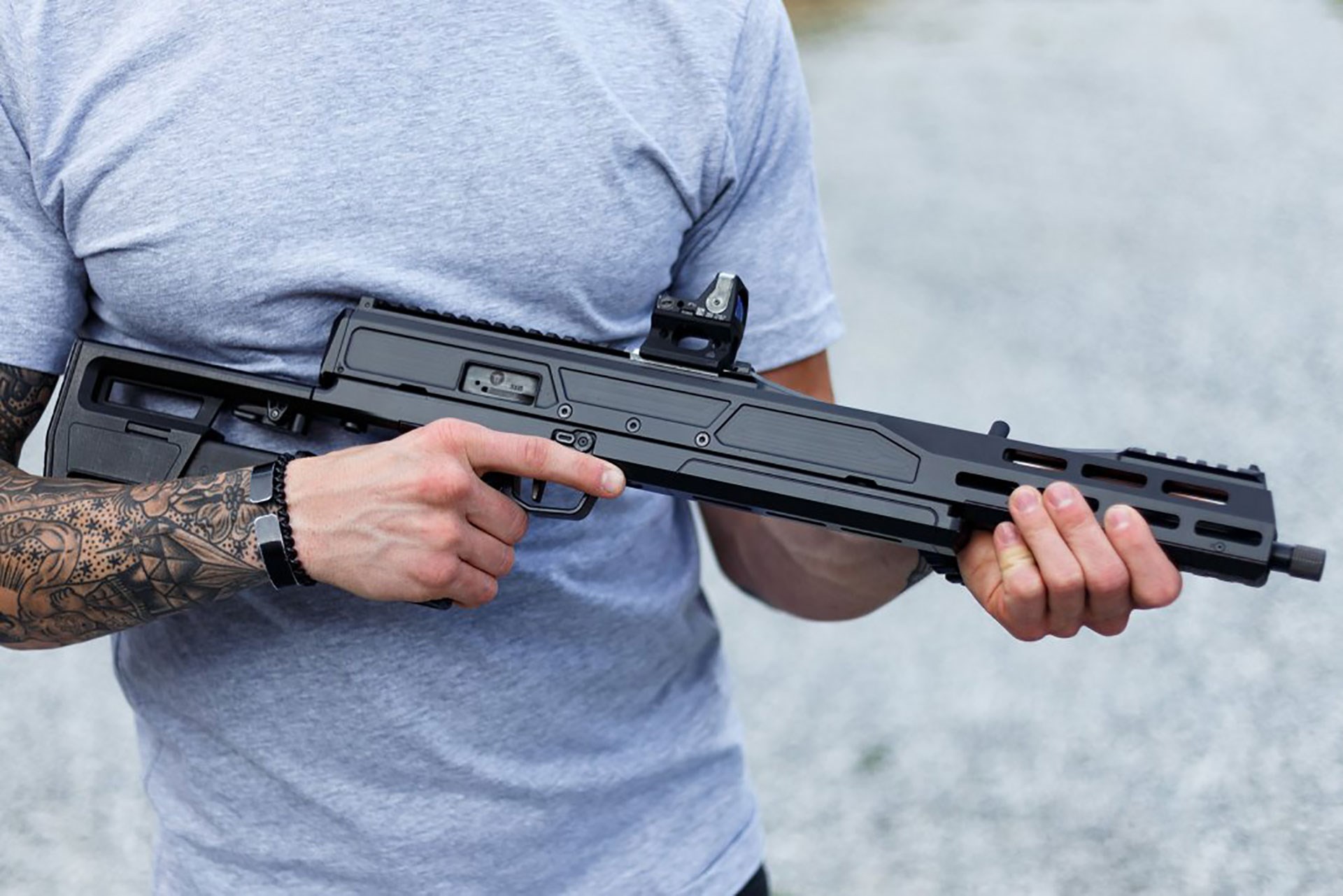 The Trailblazer Firearms Pack9.
Trailblazer Firearms shook things up in 2017 with the release of the folding Lifecard, a single-shot .22 LR pistol which is about the same size as a stack of business cards. For 2022, the company is taking the 9 mm pistol-caliber carbine (PCC) in a fresh direction with the new Pack9. The upper half of the carbine pivots to the rear and the shoulder stock collapses for a more compact storage profile which is 20.9″ long and 1.15″ thick.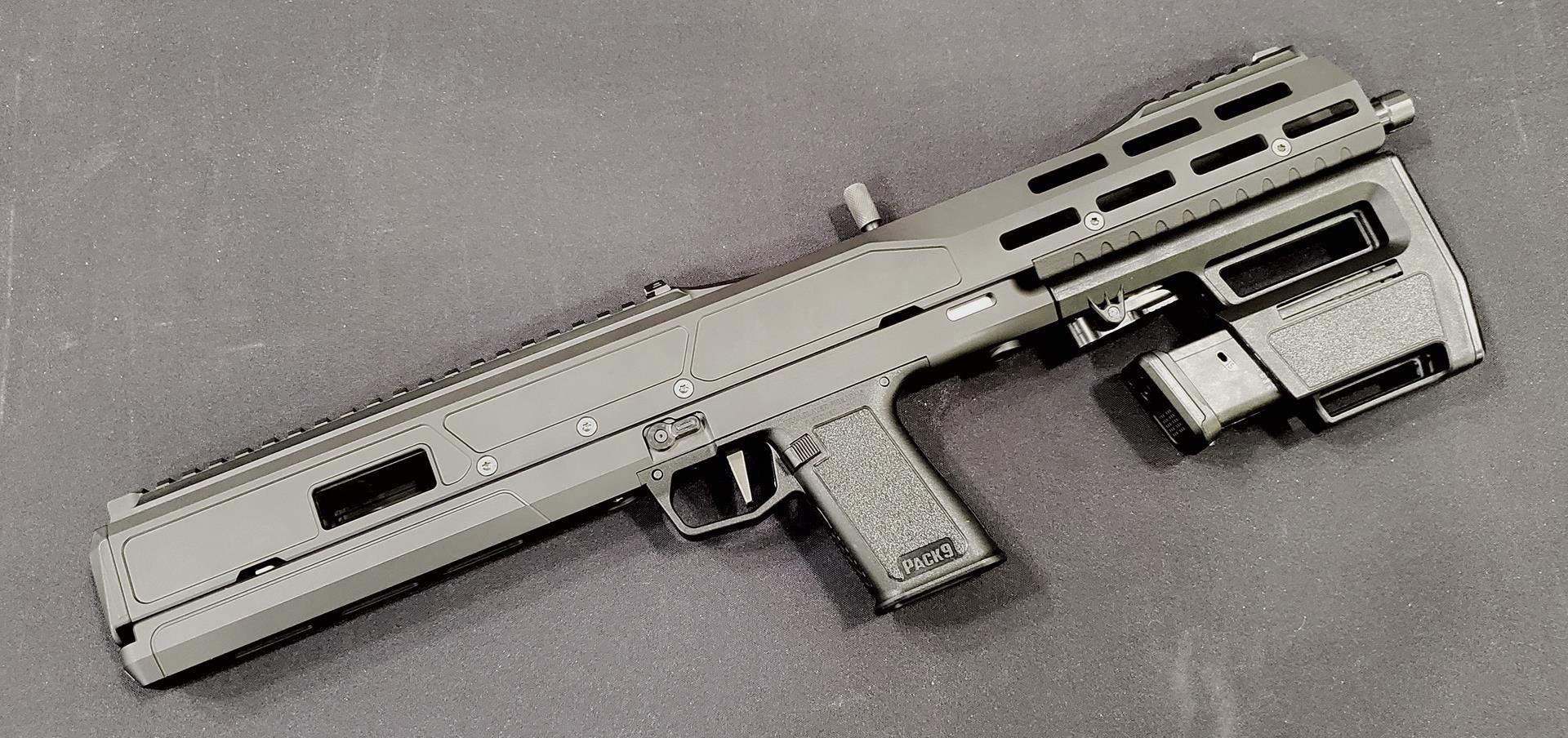 The Pack9 in its collapsed configuration.
Using steel, aluminum and polymer components, the Pack9 weighs in at 5 lbs. when unloaded. The top of the receiver and the handguard have milled-in sight rails that allow for the use of magnified scopes, red-dot optics and flip up iron sights. The 16" barrel is threaded, the lower receiver accepts Glock-style magazines and the shoulder stock can be used to store a spare magazine. Pricing has yet to be determined.