Support NRA American Rifleman
DONATE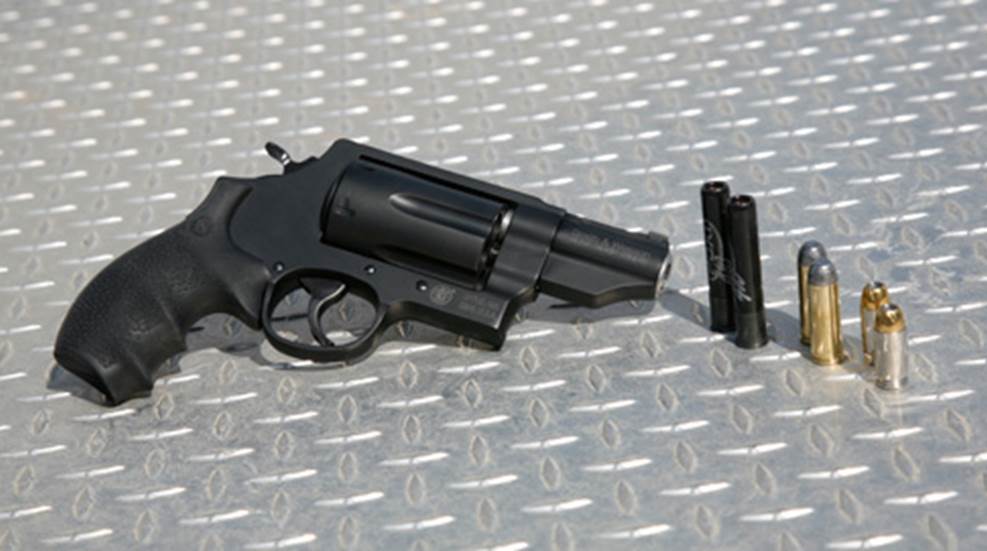 For seven years in the 1970s, Smith & Wesson and Taurus were owned by the same parent company—Bangor Punta—so some crossover between models is understandable. In fact, it is easy to see the S&W influence in certain Taurus designs.
A few years ago, Taurus introduced a revolver with a stretched cylinder window capable of chambering the .410 shotshell, as well as .45 Colt pistol cartridges. The unconventional look of this revolver did nothing to dampen its popularity. Major ammunition companies like Winchester and ATK-Federal quickly developed .410 personal-defense loads. The concept of a multi-chambered, shotshell-compliant self-defense revolver has blossomed big time.
So the folks in Springfield decided they'd make a little run at their Brazilian counterparts for a change. At the 2011 SHOT Show, Smith & Wesson introduced the Governor, a six-shot, large-framed revolver capable of chambering not only .410 shotshells and .45 Colt, but .45 ACP as well, by utilizing the same full-moon clips from its .45 ACP revolvers.
Like the rest of the media, I got in a little trigger time with the Governor at the SHOT Show, and I asked for one to review. After spending a few days with it at my range, I am still impressed.
Two things have set Smith & Wesson apart during its 159-year existence—quality and innovation. A few years ago, I was blessed with an invitation to tour the Smith & Wesson facility in Springfield, Mass. The biggest takeaway for me was the successful way the company melds 19th-, 20th- and 21st-century technology into a seamless manufacturing process. None of that has been lost in the development of the Governor.
Though it has undergone several refinements, the basic design of any Smith & Wesson double-action revolver—except the Bodyguard—dates from the last decade of the 19th century. In the case of the Governor, the basic frame size is its N-frame, and in this revolver the cylinder window is enlarged to accommodate not only a longer cylinder, but one of a slightly larger diameter as well. To save weight and make it easier to carry, the frame and barrel shroud are made from the company's proprietary material, Scandium. The barrel liner and cylinder are made from stainless steel, and the cylinder is blackened via the phase vapor deposit (PVD) process.
As is typical for modern Smith & Wesson revolvers, the sideplate is held to the frame with three screws. A fourth screw on the right side of the frame just forward of the sideplate secures the yoke in the frame. The grip frame has the popular K-frame, round-butt profile that allows a large variety of grips to accommodate most any hand size. Standard grip is a molded rubber with a filler under the trigger guard and three finger grooves. For an additional $220, you can get the Governor equipped with Crimson Trace Lasergrips—arguably money well spent. Standard sights consist of a large tritium dot front sight dovetailed into the barrel shroud and a fixed groove milled into the topstrap for a rear sight. Given the tri-caliber chambering of this revolver, I'd feel more comfortable with the adjustable Crimson Trace sight system.
The lightweight Scandium frame combined with the powerful chamberings necessitated Smith & Wesson to include a ball detent in the front of the yoke to provide more support during firing—a third locking point distantly reminiscent of the Triple Lock. Metal finish is matte black, and the fit and finish is quintessential Smith & Wesson—which is to say, superb.
At the range I was pleasantly surprised. I figured the pistol calibers would not group very well because of the long, unsupported jump the bullet has to make within the cylinder. However, all my 20-yard groups with .45 ACP and .45 Colt ammo were less than 2 inches. Best groups in .45 ACP were with Double Tap 230-grain brass JHPs. Average group size was 1 1/2 inches, and though it is touted at 1,000 fps in a 5-inch barrel, the abbreviated 2 3/4-inch barrel of the Governor yielded an average of 710 fps. In .45 Colt, Winchester Cowboy Loads won the accuracy race at 1 1/2 inches, as well, leaving the muzzle at 630 fps.
For testing .410 performance, I chose Winchester Supreme Elite PDX1 ammo, featuring three plated discs in front of a dozen plated BB shot in a 2 1/2-inch hull. This stuff spreads quickly out of the short-barreled revolver so I did not risk the Skyscreens of my chronograph to test velocity. This ammo is effective only at close range. How close? I'd say no more than 5 yards. Beyond that, hit probability is problematical. Inside 5 yards, patterns look impressive, but I wonder if velocity and, therefore, terminal energy may be a problem. Still, a potential carjacker that receives a face full of this stuff might very well consider a career change. Too, I wonder whether at this lower velocity the disks and BB shot would penetrate car glass. I did not have an opportunity to garner some test glass—though I tried—and, quite selfishly, I chose not to press my own truck into service as a test medium. It is something that needs to be tested before pressing this load into service.
The handling qualities of the Governor are different than with most Smith & Wesson revolvers. It's nearly a half-pound lighter than a 4-inch Model 19, though its overall dimensions are similar to that of the .357 Mag. However, the weight is concentrated in the long cylinder and, thusly, the center of gravity is well forward of the grip. That's a good thing since it helps attenuate muzzle flip, but it does take some getting used to.
Even with the hefty cylinder and forward balance point, recoil can be a little stiff with .410 shotshell loads. That's not a big thing for a seasoned shooter, but this revolver is being marketed as a home-defense firearm. I asked three female shooters if they wanted to give the Governor a whirl and only one accepted. She's a somewhat-experienced informal target shooter, but she shoots only very light target loads and found the recoil with .410 ammo objectionable. Point is: Like any self-defense firearm, this one will require some trigger time in order to develop a comfortable level of proficiency.
The popularity of these multi-chambered, shotshell-compliant revolvers ensures success for the Governor. Its plusses—three chamberings vs. two and six shots instead of five—are real improvements for which some will be willing to pay the difference in order to have. As for me, I doubt that it would replace one of my 1911s as a day-to-day carry gun, but if I spent much time in an environment favoring car jackers, this might be the gun to have within reach.
Specifications:
Contact: (800) 331-0852; smith-wesson.com
Type: Double-action revolver
Chambering: .45 ACP, .45 Colt, .410-Bore 2 1/2" shotshell
Barrel Length: 2.75 inches
Cylinder capacity: 6 rounds
Rifling: 1:16 RH
Sights: Tritium dot front sight; fixed-groove rear; C/T Lasergrips available
Safety: Hammer block
Grips: Rubber
OAL: 8.5 inches
Weight: 29.6 ozs.
Metal Finish: Matte black
Accessories: Locking key; grip installation tool
MSRP: $679; $899 with C/T Lasergrips
Shooting Results (20 yds.)

 

Vel. @ 15' (f.p.s.)

 

Energy

(ft.-lbs.)

 

Group Size in Inches

 

Smallest Largest

 

 

 

Average

.45 ACP Double Tap 230-gr. BJ JHP

710 Avg.

22 Sd

257

1.25 1.6

1.50

.45 Colt Winchester Cowboy 260-gr. LFP

630 Avg.

17 Sd

229

1.0 1.75

1.50

 
 
 
 
 

Average Extreme Spread:

 
 

1.50

 
Measured average velocity for 10 rounds from a 2 3/4-inch barrel. Range temperature: 78 degrees Farenheit. Humidity: 46%. Accuracy for five consecutive, five-shot groups at 20 yards from sandbags. Abbreviations: BJ JHP (Brass Jacketed Jacketed Hollow Point), LFP (Lead Flat Point), Sd (standard deviation).