by
posted on December 16, 2020
Support NRA American Rifleman
DONATE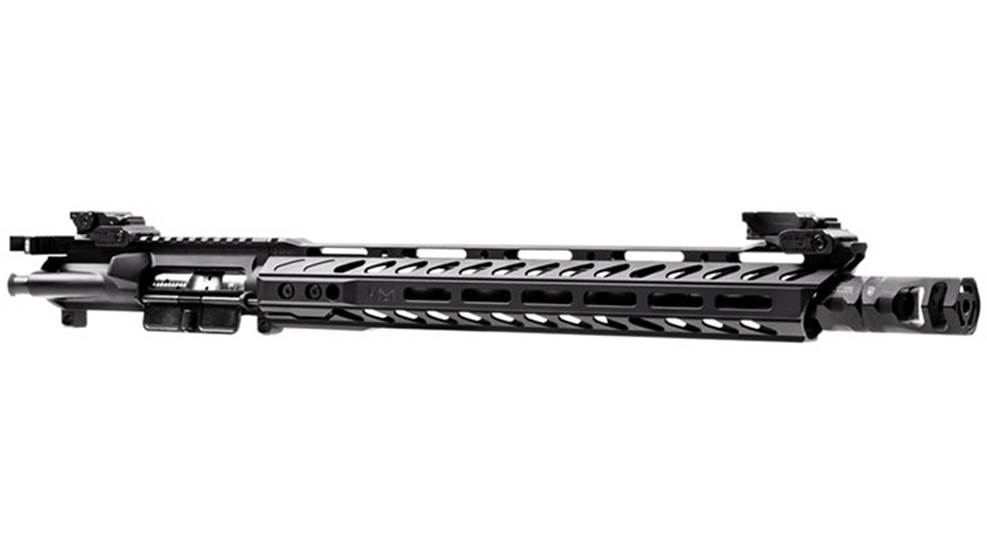 Since the AR-15 at-home-build bug bit me a few years ago, I've been incorporating Phase 5 Weapon Systems components into various rifles I've worked on. I keep finding my way back to this company's catalog because its high quality components are designed to tackle particular issues and make the AR-15 platform easier to operate in the field. Phase 5 is focused on aiding uniformed professionals in successfully performing their duties. However, it's only natural that their well thought out designs would attract the attention of the high-speed, low-drag competition crowd.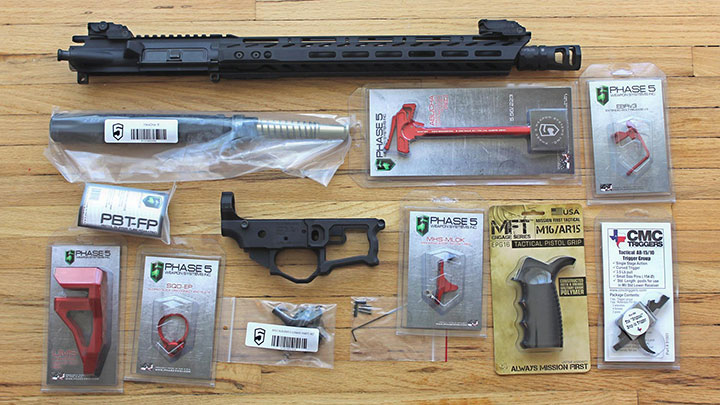 As of this writing, the company offers all but one of the components needed to build a top notch multi-purpose long gun, or a competition style rifle, that looks as sharp as it shoots. The part that's missing from their line-up is the lower receiver. For this build, I wanted to showcase Phase 5's dressed up competition side and F-1 Firearms had just the lower I was looking for to tie this AR together.
Phase 5's product line is designed to support Mil-Spec, gas-impingement operated AR-15 platforms. Although just about every upper and lower assembly component can be purchased separately, the company does offer factory complete uppers for those who wish to simplify the at-home build process. For this build I went with an upgraded version of the P5T15 complete 16" M-LOK rifle upper.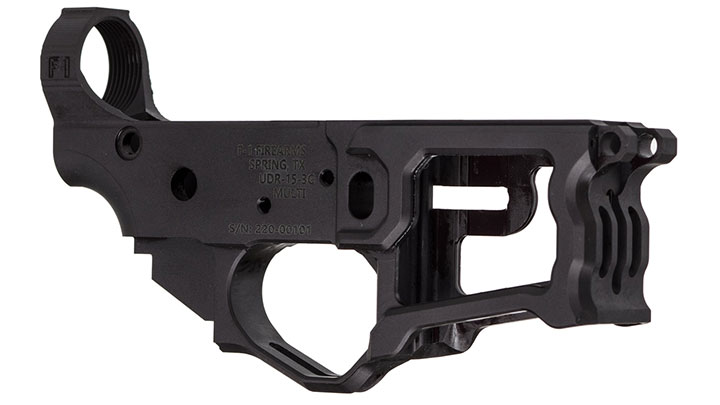 The flat top Mil-Spec upper receiver is forged from 7075-T6 aluminum with a mil-spec type III hard-coat anodized finish.  It does have an ejection-port cover and forward assist which are installed at the factory. This upper ships with a black-anodized Phase 5 Battle Latch over sized and ambidextrous charging handle which, in this case, was switched out for the red version. The bolt carrier is heat treated, hardened and features a patented, nodular nickel-boron (NiB) surface treatment. This silver colored coating reduces friction for an increased working lifespan while making the assembly easier to clean.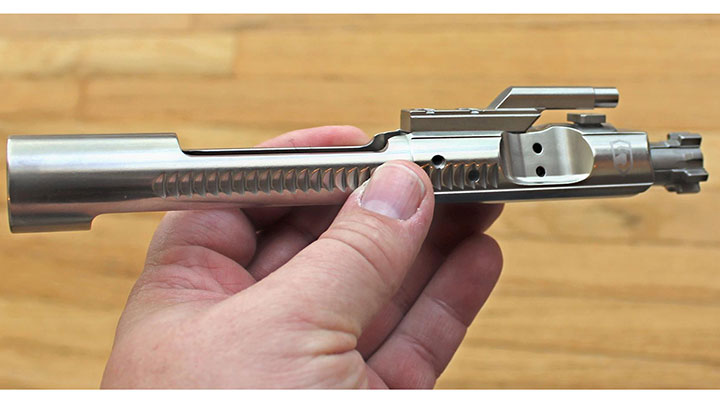 The 16" 4150 steel barrel is outfitted with a mid-length gas system. It features a 1:8 twist chrome-lined bore with an M4 feed ramp, a 1/2 x 28" threaded muzzle and a manganese phosphate finish. The 15" long slim profile Lo-Pro Slope Nose free float quad rail hand guard weighs in at just 9 oz. It sports an integral 2.25" 4-Slot Picatinny rail to support the front sight of the provided A.R.M.S., Inc. polymer 71L flip-up sight set. The rest of the rail's surface is dedicated to weight reduction vents and M-LOC accessory slots. I took advantage of the slots to install one of the company's aluminum Mini Hand Stops.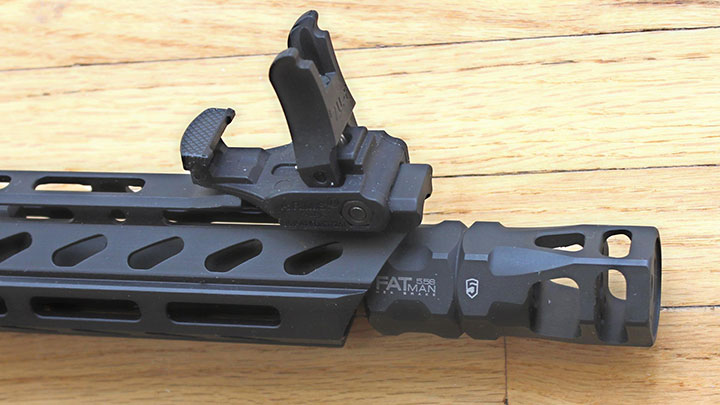 The muzzle is capped off with the distinctive in-house FATman Hex Brake. The two large ventilated chambers work to reduce felt recoil. On the top you'll find two ports which are cut into the device at a 20-degree forward angle in order to reduce muzzle rise. The FATman is 3" long and weighs in at 6.1 oz. That much weight at the muzzle is noticeable, but useful in competition settings. 
The lower receiver this rifle is built around is F-1 Firearms skeletonized Mil-Spec compatible UDR-15 3G Style 2 Universal model. This highly stylized receiver is milled from a billet of 7075-T6 aluminum. The sides of the magazine well are trimmed out and rounded off with the mouth of the well beveled at 60-degrees for easier reloading. Both the integral oversized trigger guard and the face of the magazine well feature weight reduction cut outs.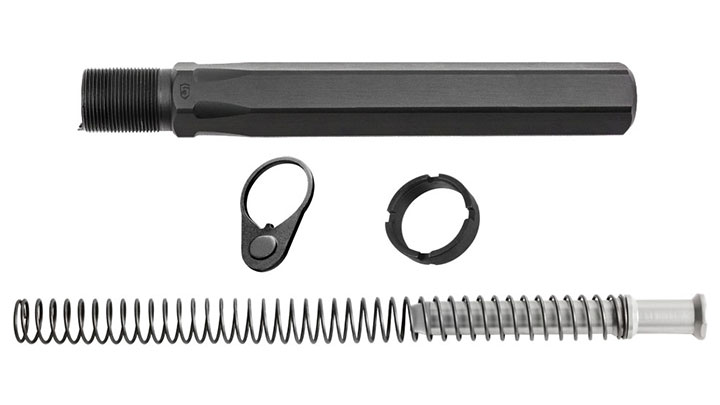 The bolt catch roll pin has been replaced with a screw (a hex wrench is provided) and the lower is fitted with extended takedown and pivot pins at the factory. Inside you'll find an adjustable tension screw which stabilizes the upper receiver. A red anodized aluminum Duramag 30-round magazine shows off all of these cut outs while complementing the other red highlights.
The lower receiver was filled out using a Phase 5 Mil-Spec AR-15 Builder's Kit, a Mission First Tactical (MFT) Engage pistol grip and a CMC Triggers drop-in Tactical AR-15 and AR-10 trigger group with a flat faced curved trigger. The single-stage trigger pull was clean, crisp and light at 3-lbs. 8-oz., as tested. Two upgrades were made to the controls, including an Armaspec TCB-31 extended magazine release and a Phase 5 EBRv3 extended bolt release. The EBRv3 curves down into the trigger guard so that the bolt can be released using the tip of the trigger finger as well as pressing the release on the left side of the frame.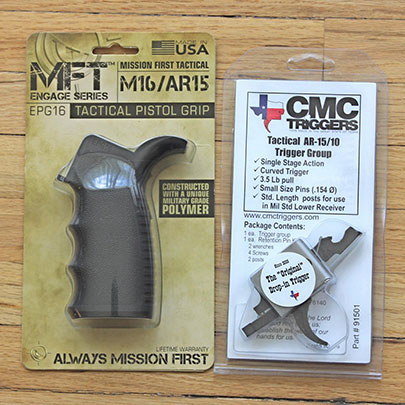 The shoulder stock assembly was kept simple, rugged and light weight. The Phase 5 HexOne-R rifle length buffer tube has a 6-sided profile which ties in nicely with the FATman muzzle device. The aluminum Sloped Quick Disconnect End Plate and the clamped on Universal Mini Stock are available in four colors, including the red options shown here. The good folks at Phase 5 suggested adding a pistol-length piece of foam buffer tube cover. It proved to be a sound bit of advice because adding the foam makes forming repeated cheek welds while running a course much more comfortable.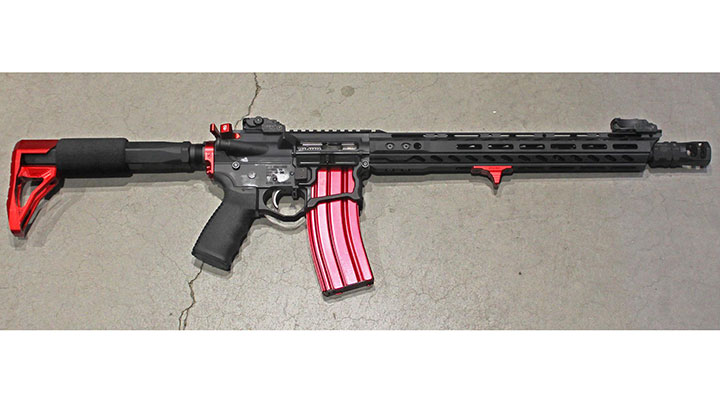 Taking this Phase 5 race gun to the range was a real treat. It exhibits a top notch level of fit and finish throughout and it operated flawlessly throughout the testing process.  Its sleek lines, red highlights and skeletonized receiver are eye catching without screaming for attention like some race guns do. The rifle was topped with a Crimson Trace CTS-1100 Illuminated 3.5x Battlesight throughout the range test.
The kicked out toe and no-rubber butt of the Universal Mini Stock allows for the quick on-and-off shoulder mounting required for moving between target stations. The trigger finger activated bolt release and oversized ambidextrous charging handle are more intuitive than Mil-Spec components. The MFT pistol grip, clean trigger pull, and slim profile handguard also contribute to the professional grade feel and easy handling characteristics of this rifle.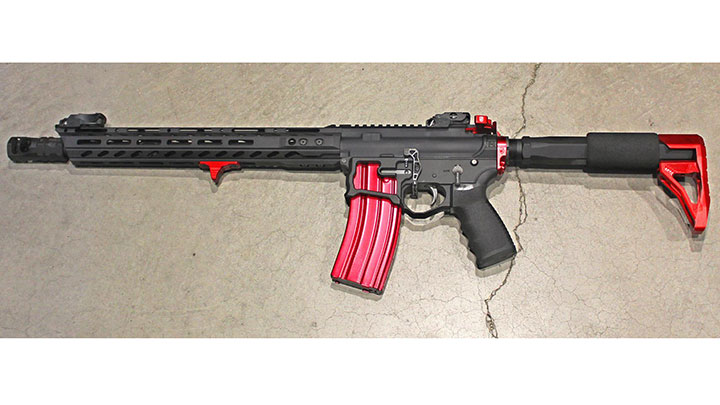 The aluminum hand stop is that just right size that gets the job done without adding unneeded bulk. The FATman Hex Brake adds a bit of stabilizing weight at the muzzle while successfully leveling off the felt recoil and muzzle rise nicely for quick follow-up shots. The Phase 5 rifle ran reliably with all of the 5.56x45 mm and .223 Rem. ammunition tested. I know that premium rifles testfired with premium ammunition will produce premium group sizes down range. But that's not how race guns are used.

Competitors tend to blow through hundreds of rounds in a weekend of ringing steels and punching paper. In order to keep costs down, the rounds fired tend to be affordably priced loads purchased in bulk or cartridges that have been reloaded at home. With this in mind, the Phase 5 bench rested accuracy testing at 100 yds. was conducted using practice grade loads. I even threw in some steel cased cartridges just to see if the gun could handle them. The rifle fed, fired and ejected it all with aplomb. In addition to the Duramag, a set of Surefeed E2 magazines were used. These aluminum magazines have a raised bump textured surface that improve purchase for quick reloads.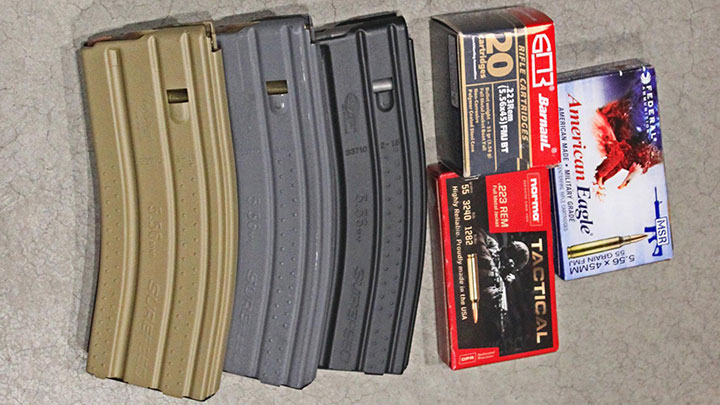 Federal's American Eagle 5.56 MSR brass case 55-gr. full-metal jacket load printed a best single 5-shot group of 1.62" with a five group average of 1.73". Barnaul's steel case .223 Rem. 55-gr. full-metal jacket tapped out a best group of 1.61" with an average of 1.67". Norma's Tactical .223 Rem. 55-gr. full-metal jacket load was the tightest shooter of the set with a best group of 1.24" and an average of 1.39".
I'll freely admit that I was already a fan of Phase 5 Weapon Systems heading into this review. I have yet to work a product this company makes that didn't live up to my expectations. I was also impressed by F-1 Firearm's lower, so I'll be looking for more opportunities to include their products in future projects.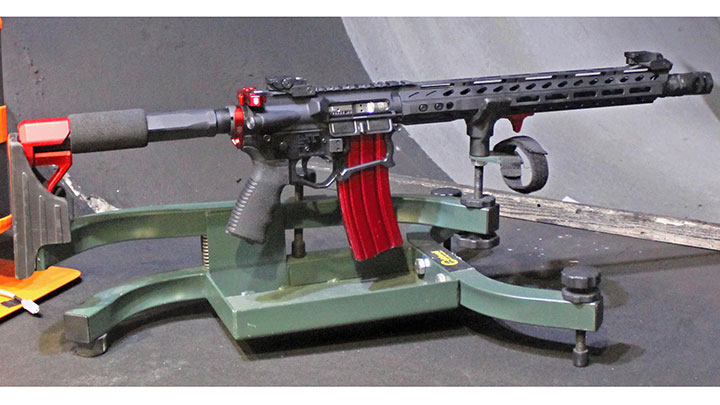 Working with this at-home build just confirmed what I already knew: Phase 5 offers top notch products for serious shooting enthusiasts who are building a rifle from scratch or those who are looking to spice up a gun they've already got. And just in case you need another reason to consider this company, the components available through the Phase 5 website are made right here in the United States.
Specifications:
Components Provider: Phase 5 Weapon Systems and F-1 Firearms
Model: Custom Kit for At-Home Build
Action: Gas-Impingement Semi-automatic
Caliber: .223 Rem. / 5.56x45 mm
Factory Complete Upper Assembly: Phase 5 M-LOK Upper $1,049
Upper Receiver: Forged 7075-T6 Aluminum, Mil-Spec Hard-Coat Anodized
Ejection Port Cover: Yes
Forward Assist: Yes
Charging Handle: Phase 5 Ambidextrous Battle Latch Charging Handle Assembly (ABL/CHA)
Bolt Carrier Group (BCG): Phase 5 Mil-Spec Nickel Boron (NIBX)  AR-15, Heat Treated, Chrome-Lined Interior
Barrel: 4150 Chrome Lined, M4 Feed Ramps
Rifling: 1:8" RH
Barrel Length: 16"
Grooves: 6
Muzzle Threading: 1/2x28 TPI
Muzzle Device: Phase 5 FATman Hex Brake
Gas Block: 15" Lo-Pro Slope Nose Free Float Quad Rail, M-LOK (LPSN15-MLOK)
Gas Tube: Mid-Length
Handguard: Phase 5 Free-Float 15" Lo-Pro Slope Nose with True Fit Technology
Handguard Slots: M-LOK
Sight System: A.R.M.S., Inc. 71L Flip-Up Sight Set
Lower Receiver: F-1 Firearms UDR-15 3G Style 2 Universal Lower $250
Lower Parts Kit: Phase 5 Mil-Spec AR-15 Builder's Kit (No Trigger or Grip) $49.99
Trigger Group: CMC Triggers Tactical AR-15/10 Drop-In, Curved Trigger, For Small Pins  $174
Trigger Pull:  Single-Stage, 3-lbs. 8-oz. (As Tested)
Pistol Grip: Mission First Tactical (MFT) Engage AR15/M16 Polymer with Storage  (EPG16-BL) $24.99
Buffer Tube Assembly: Phase 5 HexOne-R,  Rifle Length $79.95
Shoulder Stock: Phase 5 Universal Mini Stock (UMS) $69.99
Magazine Release Upgrade: Armaspec https://armaspec.com/ TCB-31 Extended (ARM103-BLK) $17.99
Bolt Release Upgrade: Phase 5 EBRv3 Extended Bolt Release V3 (EBRv3) $49.99
End Plate Upgrade: Phase 5 SQD-EP Sloped Quick Disconnect, Red $39.99
Hand Stop Upgrade: Phase 5 Mini Hand Stop, M-LOK, Red $35
Buffer Tube Cover: Phase 5 PBT-FP 3.5" Foam Buffer Tube Cover (PBT-FP) $7.00
Magazine: Duramag Aluminum 30-Round AR-15, Red Anodized Finish $16.95
Capacity: Accepts AR-15 Pattern Magazines
Overall Length: 35.25"
Weight: 7-lbs. 4-oz. (No Magzine or Optic)
Length of Pull: (LOP): 13.25"
Build Package Suggested Retail: $1864.84 (Excluding Shipping, Taxes and Labor)
Optic: Crimson Trace CTS-1100 Illuminated 3.5x Battlesight $549