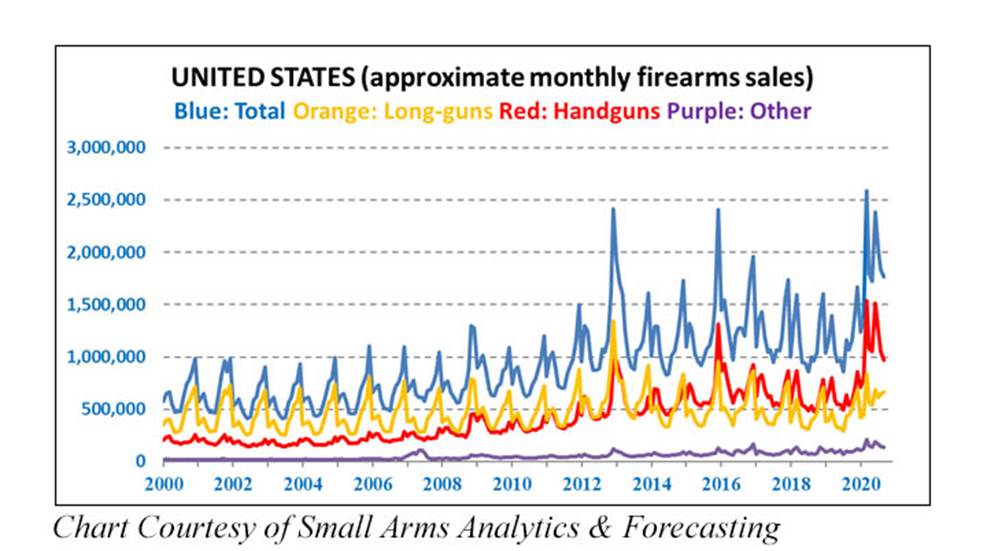 More guns have sold this year than ever before, and there are three months to go. The number of firearm purchases reflected by National Instant Criminal Background System (NICS) checks the FBI performed Jan. 1 through Sept. 30 reflects an all-time record, according to findings released by Small Arms Analytics & Forecasting (SAAF) last weekend.

"The 2020 year-to-date sales (January to September) now stand at 16.7 million and thereby exceed the previous annual high (January to December) set in 2016 with 16.6 million units sold," SAAF Chief Economist Jurgen Brauer said in the news release. Volume for 2020 had already eclipsed 2019's total by August.
For the month of September the organization found the number of firearm sales that resulted in a background check came in at roughly 1.8 million, which represents a 66 percent increase over the same period in 2019. Handgun sales led the way at .98 million.
The National Shooting Sports Foundation's findings were slightly more conservative. It estimated total sales in September were roughly 16.1 million. While NICS serves as a barometer for total sales, precise numbers are not possible due to its comingling with other administrative use of the system.

It also processes and checks the status of many with concealed carry permits as well as performing other routine administrative duties. In addition, some regions of the country do not require law-abiding citizens with a valid carry permit to undergo a redundant background check when purchasing a firearm.
With the traditionally heavy holiday sales months of November and December on the horizon—as well as the contentious Presidential election in November—speculation already widely circulates that a figure of 20 million will be reached by Dec. 31.
Whether the once-unimaginable mark is possible or not may, however, be determined by ability of manufacturers to keep supply lines filled. In addition, Brauer noted while monthly sales improvement remains significant the pace's acceleration has slowed. "…[T]he August and September in 2020 increases are the lowest since March 2020," he said.