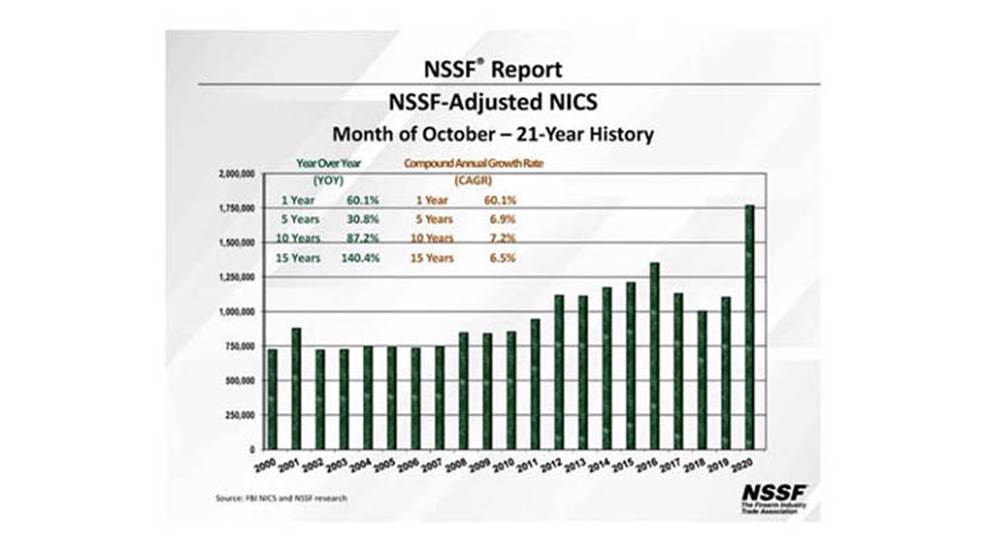 October figures release by the FBI indicate 2020's firearm demand has not slowed and underscore the need to order early if a special gun is on your holiday shopping list. The National Shooting Sports Foundation's (NSSF) adjusted NICS numbers reflect a 60.1-percent increase in purchases last month—compared to the same period last year. The organization estimates that 1,769,553 gun purchases in October resulted in the FBI conducting a background check. For the same reporting period in 2019, volume came in at only 1,105,335.

Small Arms Analytics & Forecasting (SAAF) confirms the increase, but its methodology resulted in a finding slightly more generous; a 65-percent improvement with a total of 1.9 million units. Handguns led the way, once again, at roughly 1 million.

Not all firearm purchases result in the FBI conducting a NICS background check, either. Twenty-five states currently have at least one qualified alternative that, under the Brady Act, allows a current permit holder—who has already undergone the background check—to purchase a firearm without undergoing the redundant process.

"The year-to-date total of 17.2 million background checks shatters the previous annual record of 15.7 million background checks set in 2016," the NSSF press release states. "Two months of sales remain, traditionally among the busiest of the year." SAAF Chief Economist estimates gun purchases are closer to 18.6 million for the year, but notes an interesting trend. "Handguns continue to outsell long-guns, but at a continuously declining rate since June of this year," he said. "In June, the rate was 2.2 handguns per long-gun; in October, it was 1.4 handguns per long-gun."

One American Rifleman contributor visited a big-box sporting goods store last weekend and speculates that may change as inventory returns to normal. Seven glassed-handgun cases that would usually have dozens on display had only three occupants on Saturday—a solitary 9 mm semi-auto and a pair of single-action revolvers. There were at least two dozen shotguns and rifles on the wall, however.

FFLs have noted a significant increase in first-time owners throughout the year, and results from a poll conducted by the University of Texas at Tyler and The Dallas Morning News confirm their observations. The study, released in late September, found that more than half of the guns purchased between May 28 and Sept. 2 were purchased by people who had never owned one before.