Support NRA American Rifleman
DONATE
After a few years of frenzy in firearm production, 2018 may have seemed comparatively sluggish. While gun sales remained steady all year, the calmer environment didn't stop the innovation and design progress. American Rifleman editors were easily—and pleasantly—reminded of this when it came to selecting the coveted 2019 Golden Bullseye Awards. NRA Publications will present its 17th annual Golden Bullseye Awards and Golden Bullseye Pioneer Award at an invitation-only breakfast during the 2019 NRA Annual Meetings & Exhibits in Indianapolis, Ind.
"We are pleased to announce the winners of the 2019 Golden Bullseye Awards," said Doug Hamlin, executive director of NRA Publications. "Selected by a seven-member committee consisting of veteran NRA Publications staff, they epitomize what NRA members seek in their shooting and hunting equipment—outstanding performance, innovation and value. Congratulations to those who have created the industry's best new products."
The winners of the 2019 American Rifleman Golden Bullseye Awards are below.
---
 Rifle Of The Year


Ruger Precision Rimfire
Sometimes a rifle doesn't have to be a big-bore to make a big impression. "Ruger set the long-range tactical rifle market on its ear in 2015 when it released the center-fire Precision Rifle platform … . At the end of 2017, the Precision line was extended with the addition of a rimfire version chambered in .22 Long Rifle," wrote Field Editor B. Gil Horman in "Big-Gun Feel, Little-Cartridge Fun: Ruger's Precision Rimfire Rifle" (September 2018, p. 50).
Like the center-fire, Ruger's Precision Rimfire rifle is built around a CNC-machined, pre-hardened 4140 chrome-moly steel receiver. In this case, it is topped with a removable 30-m.o.a. Picatinny optics rail, is mounted in a polymer lower and features a full-length handguard with M-Lok slots. Add in a fully adjustable buttstock—designed in-house by Ruger—and a free-floated bull barrel, the Marksman adjustable trigger and its use of the ubiquitous 10/22 magazines, and you have quite a package. And the gun has design touches to appeal to different users—take the bolt travel for instance. Precision Rifle Series shooters wanted the Precision Rimfire as a trainer, so Ruger engineered the bolt stop to give them a full, almost center-fire-length bolt travel. Or you can set it for just enough length to merely toss out the diminutive .22 Long Rifle empties.
The gun possessed target-grade accuracy and reliability, and the price tag was significantly lower than other rifles in its class. The accuracy, with some groups dropping below the 1/2" mark, though, was what really impressed Horman and the entire editorial staff. "The target-grade .22s I've tested in the past, including factory-assembled and at-home builds, have cost from $800 to $1,200," he wrote. "This rifle outshot them with a suggested retail price of $529. Real-world prices will likely be even lower." Not only was it a value, but one that transformed an entire class of rifles—one of our favorites, the bolt-action .22—and that's why the Ruger Precision Rimfire is the Rifle Of The Year.
---
Shotgun Of The Year


TriStar Viper G2 Bronze .410
While some misguidedly suggest a .410 bore as a first shotgun due to its lack of recoil, in many ways, it really is a gun for the more advanced shooter. Once the fundamentals are mastered, though, .410s can be a lot of fun. Make it a reliable, pointable and affordable semi-automatic—one that works without fail—and that is going to get our attention. That is exactly what put the TriStar Viper G2 Bronze in .410 bore on our radar.
While we have covered the Viper G2 in other gauges, Assistant Editor Christopher Olsen made the scaled- down .410—built on its own diminutive receiver—our "Gun of the Week" on americanrifleman.org on Aug. 4, 2018. TriStar Arms is an experienced and well-respected importer of Turkish-made firearms, and this gas-piston-operated semi-automatic shotgun features a Bronze Cerakote finish over a scaled aluminum receiver. It paired a chrome-lined, 28" steel barrel—that comes with Beretta-style interchangeable choke tubes—rendered in a deep blue finish with a Turkish walnut stock for an aesthetically pleasing, low-recoiling shotgun.
The gun is fast-handling and lightweight, coming in at 5 lbs., 8 ozs., which is actually about a pound lighter than its crisp single-stage trigger. It cycled every time one of our editors pulled the trigger. The Viper G2 resulted in a serious scarcity of .410 shells here at NRA HQ, just one of the reasons why we named it Shotgun Of The Year.
---
Handgun Of The Year


Smith & Wesson M&P M2.0 Compact
"In the interest of full disclosure, I have to admit that this is one I've been waiting for—and I know I'm not alone. Smith & Wesson's M&P M2.0 Compact downsizes the striker-fired, self-loading M2.0 platform to use a 4" barrel and a 15-round magazine in its 9 mm Luger configuration," wrote Executive Editor Joe Kurtenbach in "Smith & Wesson's M2.0s Go Compact" (August 2018, p. 38). "It's not a major overhaul considering the full-size models' 4.25" or 5" tube and 17-round capacity, but the changes put an M&P model in direct competition with the Glock 19 for the first time, and that is exciting."
There's something to the G19's size, a "sweet spot" for a near-perfect duty/carry crossover pistol for lawmen and armed citizens alike, yet there has been a scarcity of choices in the 4"-barreled, 15-round 9 mm platforms—one S&W set out to address. There are some serious enhancements on the M2.0, including upgrades to the aggressive pebbled texturing pattern on the frame and the much-improved trigger system, plus there is the option of a bilateral manual thumb safety. The M&P M2.0 Compact retains the 18-degree grip angle of the original and has interchangeable backstraps to adjust the grip frame's dimensions. The small, medium and large have also been joined by an "ML" grip that splits the difference between the M and L inserts.
The M2.0 Compact has a frame that has been chopped by about 1/2", reducing height from 5 1/2" to right about 5", enhancing the gun's concealment qualities while only losing two rounds from the full-size gun. But it was the trigger that impressed Kurtenbach the most. The M&P M2.0s possess "by far, the best stock M&P triggers to date. Out of the box, the Compact's trigger pull weight was 5 lbs., 13 ozs., and it only got better from there." Wrapping up, Kurtenbach concluded: "I had high hopes that the Smith & Wesson M&P9 M2.0 Compact would prove utterly reliable, and would stand out as a legitimate alternative in the duty/carry crossover category—right size, right capacity, reputable manufacturer. I was not disappointed, not in the least." Neither were we, Joe, that's why the S&W M&P M2.0 Compact is our Handgun Of The Year.
---
Ammunition Product Of The Year


SIG 365
There is no doubt that SIG Sauer's diminutive P365 pistol—Shooting Illustrated's 2019 Handgun Of The Year—changed the market dynamic when it comes to micro-compact carry guns. "To meet the performance requirements of this new pistol, the ammunition development team at [SIG Sauer's] new state-of-the-art manufacturing facility in Jacksonville, Ark., was tasked with producing an appropriate round for this pistol," wrote Field Editor B. Gil Horman in "From The Bench: SIG 365 Ammunition" (November 2018, p. 44). "The result of their work is the 365 lineup of 9 mm ammunition including a 115-gr. V-Crown hollow point and a ballistically matched practice load."
Matching a training load with a defensive load isn't a new concept, but doing so with a load optimized for small, personal-protection guns offered a new twist. All the decisions in the 365 line were predicated on performance out of 4" or shorter barrel lengths. The loads tested included the 9 mm Luger 365 V-Crown with a 115-gr. jacketed hollow point and the 365 Elite 115-gr. full-metal jacket. "The company successfully reduces practice cost without reducing cartridge performance. The 365 Elite is also topped with a 115-gr. projectile traveling at 1050 f.p.s. using the exact same powder charge as the V-Crown cartridge."
The two loads were fired through three different concealment pistols: a SIG P365 (3.1" barrel); a Ruger EC9s (3.12" barrel); and a Walther PPQ SC (3.5" barrel). "The 365 defense and the practice rounds both successfully loaded, fired and ejected without any malfunctions in all three of the test guns," wrote Horman. "They produced moderate levels of felt recoil and muzzle rise comparable to .380 ACP pistols of a similar size and weight."
"I'm glad to report that the new soft-shooting 365 9 mm ammunition series for micro-9 pistols demonstrates the same levels of quality and reliability as SIG Sauer's other ammunition offerings," concluded Horman. For addressing a crucial market segment so well, we concurred with Horman and named SIG 365 Ammunition Product Of The Year.
---
Tactical Gun Of The Year


Springfield 911
"Folks sometimes buy pocket pistols based on size alone, and too often find out that shooting them is difficult and unpleasant," wrote Richard White in "To The Rescue: Springfield's 911" (May 2018, p. 62). "Springfield Armory's new semi-automatic .380 ACP pistol possesses so many 'big-gun' features that it just may be the remedy to the micro-compact pistol's maladies." Built with a priority on size and weight, Springfield Armory's engineers also placed an emphasis on ergonomics in an effort to make the 911 shoot like a much bigger gun.
The 911 is a recoil-operated, single-action, semi-automatic in .380 ACP—and while its slide is steel and its frame aluminum, Springfield choose to make the trigger, the stocks and the little gun's mainspring housing of G10. Just 4" tall and 5.5" long, the 911's diminutive dimensions make it a very concealable gun. It weighs only 12.6 ozs. empty, making it a gun that is effortless to carry. The pistol marks the company's first .380 ACP-chambered offering, and unlike a lot of other .380s out there, the gun's three-dot drift-adjustable sights were prominent and easy to find.
"In my opinion, Springfield Armory has every right to be proud of its newest pistol, having met its goal of building a micro-compact that is comfortable to shoot and pleasant to carry" wrote White. "The new 911 has the reliability and accuracy required to meet the needs of those who have to act as their own first responder." Our editors agreed completely, naming the Springfield 911 our Tactical Gun Of The Year.
---
Optic Of The Year


Trijicon Reap-IR
"With demand growing, a number of U.S.-based firms are now involved in producing night-vision equipment with performance light-years better than the Red Army leftovers. Foremost among these sources is Trijicon, whose new line of thermal imagers appears every bit as capable and rugged as its highly regarded reflex sights and scopes," wrote our evaluators in a "Dope Bag: Data & Comment" review of the Trijicon Reap-IR (March 2018, p. 82). But rather than tool-up for a new product category or re-brand import gear, Trijicon acquired prominent military contractor IR Defense—including its products, R&D and manufacturing plant. As is the case with most Trijicon products, this gear is all U.S.-manufactured, including three rifle-mounted models, and we selected the Reap-IR for evaluation. The Reap-IR's sensor core is studded with detectors, and more is better. "Standard detectors each measure 17 microns, while Trijicon IRs use smaller 12-micron detectors, thus allowing a greater number to be packed tighter together. The result is 640x480-pixel imagery, twice the 320x240 resolution yielded by 17-micron units."
On a trip to Texas, one evaluator reported, "This compact 8.13"-long, 21-oz. sight delivered surprising imaging performance out to 300 yds. and beyond." He continued, "In fact, we found it may be easier in some scenarios to spot game by their heat signatures than it would be using standard optics in daylight." Thermal imagers are now attracting interest from folks who aren't special operators, in particular, from security-minded property owners, farmers and hunters targeting feral hogs and predators. The fast-emerging thermal field now spans a wide range of cost and performance options, with Trijicon IRs at the top of the heap in both regards—it's MSRP is $8,999. "Given the company's history of bridging the military-commercial gap with sights whose battle-tested ruggedness is prized no matter the mission, it makes perfect sense that Trijicon is taking the lead in outfitting civilian users with night vision on par with what professionals use," concluded our tester. While spendy, the Reap-IR impressed us with its features, performance and ruggedness, so much so we named the Trijicon Reap-IR Optic Of The Year.
---
Accessory Of The Year


Maglula 10/22 Loader
Any time an accessory makes life easier, we are going to want to examine it. In a "Product Preview" on the Maglula 10/22 Loader one of our editors wrote: "If I am staring down a range day involving several hundred rounds of .45 ACP or 9 mm, the one accessory I never forget to pack in my range bag—in order to save both time and my thumbs—is my trusty Maglula UpLULA handheld magazine loader." Not just for center-fires any more, Maglula has taken on the ubiquitous Ruger 10/22 rifle—more specifically, its magazine. Sold as a pair, the Maglula 10/22 BX LULA Loader and Unloader set was easy to set up and quick to use. Orient the large and small pins on the 10/22 magazine toward their respective holes on the loader (front and rear) and press until it snaps into place. Then push down on the top lever, which holds down the follower and cartridges, enabling one to slide in a fresh cartridge without having to exert almost any downward pressure. To release the magazine, press the tab on the bottom and it falls right out. Load a magazine too many? Clip the handy unloader onto the small rear magazine pin. "Once in place, actuate the lever back and forth until the magazine is empty, a process that takes approximately two seconds (I timed it)," wrote our tester. There are a lot of 10/22 and T/CR22 owners on the staff, and we voted unanimously to name the Maglula 10/22 Loader our Accessory Of The Year.
---
Women's Innovation Product Of The Year


Smith & Wesson M&P380 Shield EZ
"What the M&P380 Shield EZ does is make it easy for those without a lot of hand strength or manual dexterity to efficiently operate the pistol," wrote Editor In Chief Mark Keefe in "The Easy Road: The S&W M&P380 Shield EZ" (June 2018, p. 56). That is an area gun companies have been trying to address, for not only new shooters—including women—but also other shooters that struggle with being able to "run the gun."
"With the Smith & Wesson M&P380 Shield EZ, the compromise for ease of use is in the power of the chambering, .380 ACP," Keefe wrote. "The recoil-operated pistol has a barrel hood that locks into the slide's action port at its front. But this gun's slide is very, very easy to retract. Part of that comes from its single-coil recoil spring, which gives the gun just enough energy to go back into battery without requiring the strength of an orangutan to work the slide. According to S&W's engineers, the EZ requires less than half the force needed to rack the slide on a 9 mm Luger Shield. This really is the feature that sets the EZ apart."
The gun borrows from the M&P M2.0 Compact stylistically in its slide lines and scallops. It has a hand-filling polymer frame with all the texturing one would expect, enough to hold onto but not enough to abrade the skin. While it can be had with a manual safety, it also has a grip safety pinned at the bottom that prevents the gun from firing unless depressed with a firm grip—actually, and in Keefe's opinion "it helps one get a proper high grip. But the grip safety does more than just act as a safety. If not depressed, the passive firing safety, which protrudes down from inside the slide, is not lifted up by its frame-mounted plunger, and the firing pin cannot move forward if hit by the hammer." The M&P380 Shield EZ took top honors for the third of American Rifleman's Ladies Pistol Projects (p. 78), and Keefe thought so much of the gun he is buying one for his mom. If that doesn't notch a win for Women's Innovation Product Of The Year, we don't know what could.
---
2019 Golden Bullseye Pioneer Award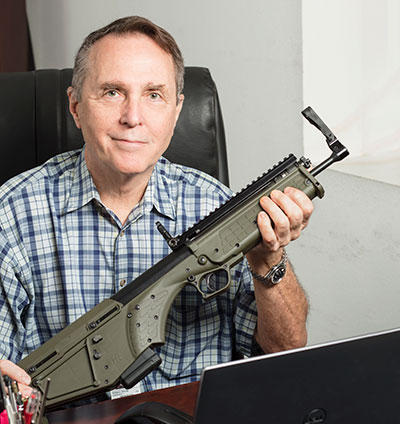 George Kellgren, CEO, Kel-Tec
A man's stature in the firearm world can extend beyond the number of guns made by his company, and that's certainly true of 2019 Golden Bullseye Pioneer honoree George Kellgren. Though his family-owned Cocoa, Fla.-based Kel-Tec CNC, Inc., produces a fair number of guns, virtually everyone who carries a lightweight, compact, recoil-operated .380 ACP or 9 mm pistol can thank Kellgren. 
Born in Sweden in 1943, Kellgren attended that nation's Royal Naval Academy before earning a bachelor's degree in mathematics. He went to work as a firearm designer for Husqvarna—at that time Sweden's foremost gunmaker—then was employed by companies in Germany and South Africa before joining Sweden's Interdynamic AB, followed by Interdynamic of America (Intratec).
In 1990, Kellgren founded Grendel, Inc., in Rockledge, Fla., where he developed a folding stock for a bolt-action rifle, the SRT, as well as a series of pistols, including the interesting, blind-magazine P-10 in .380 ACP. Then came the P-12, combining a polymer frame and a 10-round magazine in just 13 ozs. In 1993, Kellgren launched Kel-Tec CNC Industries as a machine shop to make components for Grendel. The original firm soon closed, but within two years Kel-Tec was making complete guns under its own name. At the time, the market's only .32 ACP carry gun was the Seecamp, a somewhat heavy, all-steel, blowback-operated design. Kellgren put his inventive mind to the task of developing a "proper locked-breech design, using lightweight polymer." The gun proved to be a game changer, one that has spawned an entire generation of concealed carry pistols. The design is still made today as the P-3AT. Kellgren followed with a 9 mm version, the P-11, and his designs have been copied by many major manufacturers. "We want to have a gun that most people can afford. I think that's important," Kellgren said in a recent interview. "Our guns are usually smaller and lighter than the competition. And have higher magazine capacity."
Kellgren also designed the SUB-9 semi-automatic folding carbine, which was followed by the SUB-2000, as well as SU-16 and SU-22 folding carbines. More recently, Kellgren and his design team have tackled projects such as the pump-action, double-barreled KSG bullpup shotgun. Interestingly, the .22 WMR PMR-30 and its carbine counterpart, the CMR-30, are refinements of guns Kellgren worked on back in the 1980s. Fascinated by bullpups, Kellgren developed the semi-automatic RFB as well as the RDB. "In the old days, it was just me doing the whole thing," said Kellgren. "Now we are five or six [at Kel-Tec], and I still like to do the advanced stuff. I still enjoy inventing firearms."
Kellgren has lived in the United States since 1979, and is very proud of his U.S. citizenship, as well as his NRA Life membership. He's also very proud of his work force—all NRA members. Still very active, George Kellgren is in the office daily, extending a distinguished career designing guns and continuing his legacy as a pioneer.